12 Zero-Waste Back-To-School Swaps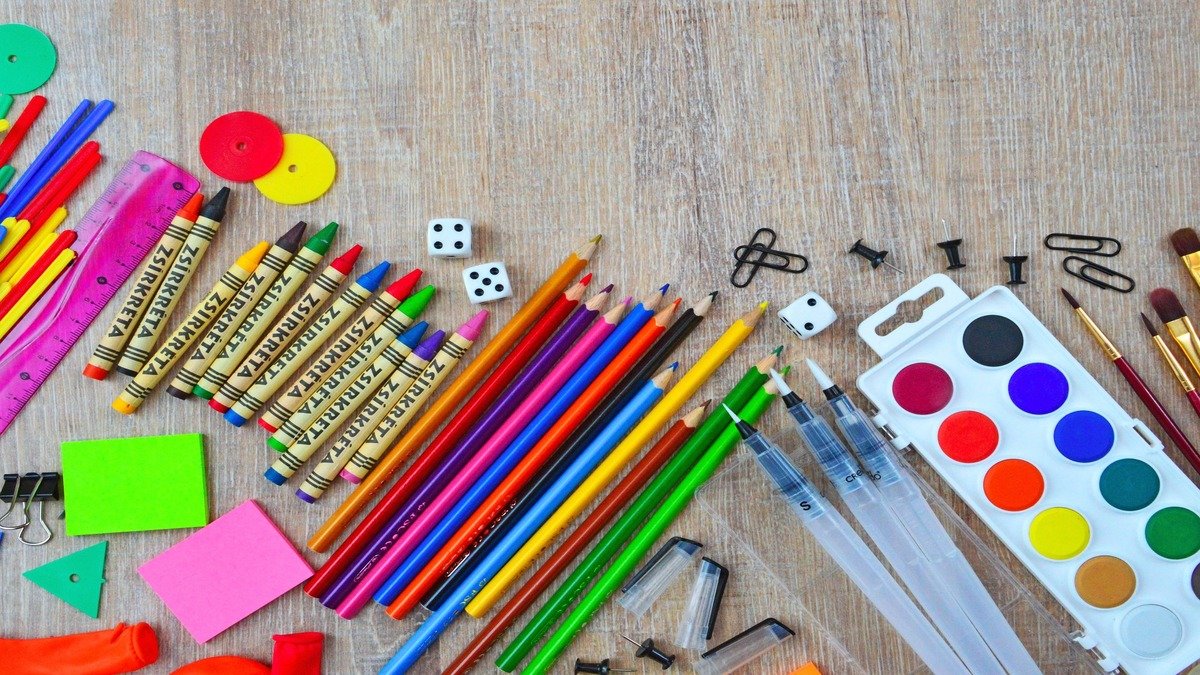 Being zero-waste means that you strive to ensure that nothing is sent to a landfill, preventing waste from being generated by your household. One of the worst times of year for generating plastic waste is the back-to-school season.
So many school supplies are packaged in plastic and only last a year or two. We can do better than that – by planning to use eco-friendly school supplies that will last and can be recycled or reused later on.
The best zero-waste back-to-school swaps are ones where you don't have to buy anything at all. In these 12 school supplies swap ideas, you'll find suggestions for how to make the most of what you already have at home.
If not, there are plenty of sustainable companies producing better equipment, whether you're buying for kids or going off to college.
Why you should make zero-waste swaps this school year
Making zero-waste swaps helps you cut down on the amount of waste you generate and allows you to support sustainable businesses.
Most sustainable businesses are small businesses run by one or a couple of people. Unlike big companies, these businesses are less likely to bulk-produce products, ensuring that waste is minimized.
Zero-waste school supplies to swap to
Here are all the top zero-waste back-to-school swaps you should make this year!
1. Pens
Making a zero-waste swap for pens is nearly impossible between the case, pen ink, and the cartridge that holds the ink. So the best thing to do here is to buy refillable fountain pens or look for sustainable casings.
Some eco-friendly pens include:
2. Notebooks
Stop buying packs of notebooks and start purchasing how many you really need. Swap from bulk-processed notebooks to sustainable alternatives made from recycled or seed paper.
Recycled paper is much better for being zero-waste, so ideally all of your notebooks – and journals – should be made with recycled paper.
Amazon has a bunch of recycled paper notebooks, including:
Most plantable notebooks only have seed paper covers, so make sure to purchase one that uses recycled paper inside.
Some of the best plantable notebooks include:
Studying from home but still want something other than a computer screen to take notes on? Try a digital notebook!
Digital notebooks help save on paper, allowing you to handwrite while saving the pages digitally.
The most well-known digital notebooks are Rocketbook and Remarkable. Alternatively, you could get a secondhand laptop or tablet to save on paper while using less electricity than desktop computers.
3. Water bottles
Instead of buying water bottles made of plastic, it's time to swap to a metal water bottle.
Metal water bottles last longer, hold up better against being dropped, and keep your drink cooler for longer – or even hotter for longer if you buy multi-layer stainless steel bottles.
Purchasing a durable water bottle is important in the fight against plastic. With more places to refill your water than ever, the bottle practically pays for itself.
There are also many BPA-free water bottles out there if a metal bottle seems too expensive or just not right for you. Check which brands are the most reputable, like Contigo or BJPKPK.
4. Lunch boxes
Lunch boxes are most well-known for having colorful graphics featuring cartoon heroes or being pretty dull. An easy zero-waste swap is to use containers you already have at home and beeswax wraps.
Or if you're really after a proper lunch box, switch to a sustainable lunch box.
HuskiHome makes reusable multi-compartment lunch boxes made from rice husks! Instead of tossing the rice husks away, the rice husks make really durable, non-toxic lunch boxes in a variety of colors.
Alternatively, a metal tin does well to keep food protected. Simply use a beeswax wrap to line the box to catch any crumbs so you save on washing up.
5. Pencils
The best zero-waste pencil swaps are biodegradable and as eco-friendly as possible. My top two swaps are plantable pencils and recycled newspaper pencils.
I have fond memories of using my first recycled newspaper pencil. It was so fun to sharpen and see how the pencil changed!
Plantable pencils are a step up from recycled pencils, but they're not ideal for everyone. You can plant them at the end of their use in your garden, pot, or local environment, but if you're not able to or you know you'll forget, it's okay!
For those who love the idea of plantable pencils, check out Sprout World for the most sustainable pencils.
If you'd rather stick with recycled newspaper pencils, look in your local stores or check out brands like Paper High and Onyx and Green colored pencils.
6. Backpacks
Before you start thinking about a zero-waste swap for a backpack, make sure you don't have anything else you could use from home. Maybe there's an old backpack you have stashed away somewhere or a laptop bag you can use during the day.
When purchasing a new backpack, look for something durable that isn't polyester. Or even look for recycled plastic backpacks, like these Vera Bradley recycled backpacks that come in an assortment of colors and are made from recycled bottles.
Check out these great sustainable backpack brands:
Or support an even smaller business like this hemp backpack made in Nepal.
You can even upcycle old denim into a backpack! There are lots of tutorials for this online, such as Scratch and Stitch's DIY denim small backpack for kids or Jenniffer Taylor's upcycled denim bag project.
7. Pencil cases
A pencil case is essential for keeping your stationery together, but don't fall for the plastic cases around. Instead, look for cotton or metal pencil cases.
If they get broken or you no longer need them, metal cases can be recycled and cotton cases can be upcycled or (hopefully) composted.
An even better zero-waste swap for pencil cases is to use a small container or bag you already have. It could be an old purse or a resealable plastic bag. You can even make your own roll-up pencil case with fabric scraps – check out Helen's Closet's DIY roll-up pencil case.
8. Paper
If you need paper for printing off at home or for children to draw on, look for 100% recycled multipurpose paper. You may need to check that the paper is designed to go through a printer first!
When buying paper just for coloring on, try making your own recycled paper or going for lower quality recycled paper. Nobody wants low-quality paper – and that's exactly why you should!
As long as the company is reputable, the funny texture and specks of color won't do you any harm, and you'll be helping reuse paper instead of contributing to more deforestation.
9. Pencil sharpeners
We're avoiding plastic as much as possible here, so goodbye to plastic pencil sharpeners (unless you already have one to keep using). Metal pencil sharpeners are the go-to swap, but you can also buy bamboo and metal sharpeners.
Did you know that you can recycle metal pencil sharpeners?
You can even recycle the blades in a bamboo pencil sharpener, then compost the bamboo body and you've made a completely zero-waste swap.
Onyx and Green sell double sharpeners made of bamboo and metal, but most office supply and dollar stores should have some metal sharpeners to purchase.
10. Erasers
Chances are that you have an eraser at home. It might not be perfect but if you can still use it, why not?
Instead of purchasing a new eraser from the dollar store, look online for natural or recycled erasers. These cut down on how much processing is needed to produce them.
For recycled rubber erasers, try Onyx and Green which sell a pack of 3 together or more if you're buying for a classroom. A set of 12 recycled rubber erasers is also available from Made By Humans.
Recycled rubber erasers are better for being zero-waste but if you only want to purchase one eraser look for natural rubber. Tombow sells single erasers made with natural rubber and silica grit, giving it a sandy feeling, and the sleeve is even used with recycled pulp.
11. Geometry sets
Plastic geometry sets barely get used (unless you end up drawing on them or going into mathematics), so forgo the plastic and opt for bamboo instead.
Bamboo geometry sets don't have the transparency of their synthetic counterparts but they do cut down on a lot of plastic waste. Another alternative is metal geometry sets, which will prove to be more zero-waste if you can pass the set down between siblings or family.
12. Stationery sets
Drop that stationery set! You really don't need it.
Stationery sets are packaged with a ton of plastic and usually give you far more than you need. Instead of buying a stationery set, challenge yourself to make one by yourself.
Find a dollar store or charity shop that sells loose stationery and put it together yourself or stop by your local office supplies store and look for stationery you're definitely going to use.
Buying for kids? Split packs of pens and pencils between them. Love a set of pens but know it's too much for you? Set some aside to let people borrow or pass them on to other people who need them.
While this isn't completely zero-waste, it's a better alternative to packaged stationery sets that give you too much or not enough.
Most of the items above are contained in a stationery set, so figure out what you need and piece them together yourself.