Contigo Water Bottles: 21 Most Commonly Asked Questions Answered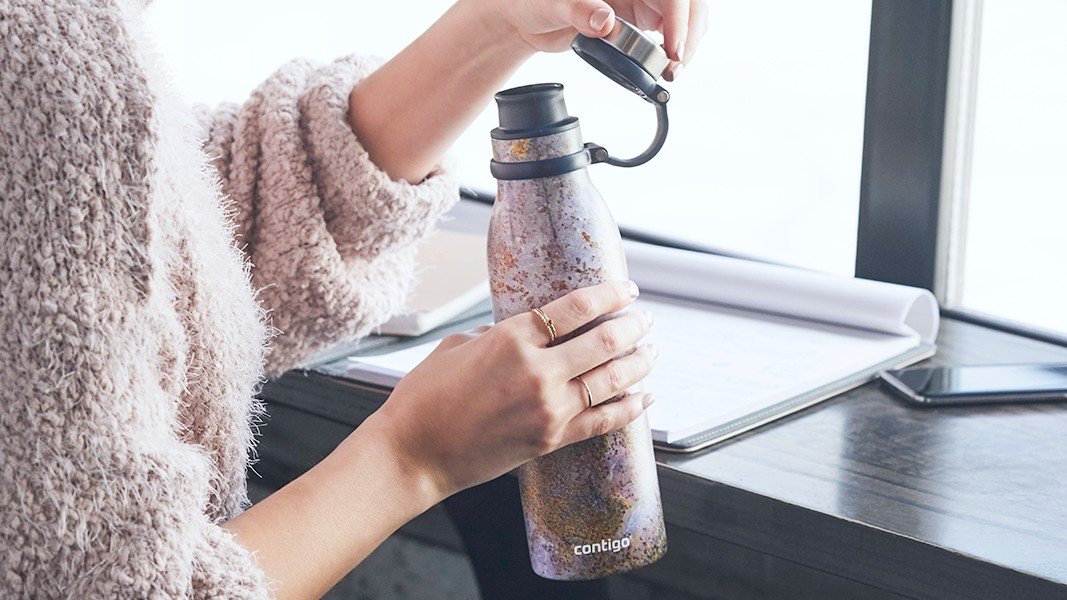 In this day and age, the Contigo water bottle is one of the most popular water bottle brands available. This is because their bottles are sleek, functional, and feature sustainability in their design.
It's therefore not surprising that people are always curious about these bottles, especially those who've never owned one before. As such, we're going to use today's post to answer some of the most commonly asked questions about these bottles.
Where does Contigo come from?
Contigo is owned by an American company called Newell Brands. Founded in 1903 in New York, this company is responsible for manufacturing, distributing, and marketing a variety of products.
These products include water bottles, home organization products, trash cans, glue, cookware, and writing instruments. Apart from Contigo, Newell Brands owns brands like Bubba, Rubbermaid, Coleman, Berol, and First Alert.
However, it's important to note that Contigo products are manufactured in China. Also, the brand's name, Contigo, means with you in Spanish. As such, this brand's water bottles and mugs are meant to be with you through the hustle and bustle of your daily life.
Is Contigo going out of business?
While Contigo is still in business, it has faced a lot of challenges in recent years. For instance, in 2020, Contigo recalled all its Kids Cleanable water bottles that it sold between April 2018 and 7th February 2020.
This recall was done in collaboration with the U.S. Consumer Product Safety Commission (CPSC). The recall was due to a problem with the silicone spouts of the water bottles – some of them would detach and be a choking hazard.
Fortunately, though, no accidents were reported in association with this issue.
Is Contigo a good water bottle?
Yes, Contigo is a good water bottle. Not only is it spill-proof and leak-proof, but it's also dishwasher safe. To sweeten the pot, it can be handled using one hand only and can keep your drink cold for hours on end.
Some Contigo bottles can even keep your water cold for a whopping 28 hours.
Is Contigo water bottle Safe?
Yes, Contigo water bottles are safe. They don't release any chemicals into your water or drinks. Even those that are made of plastic are free of bisphenol A (BPA).
Beyond that, they are made from a special type of plastic called Eastman Tritan. Not only is this plastic approved by the United States Food and Drug Administration (FDA) but it's also more durable than traditional plastic.
It even resists odors and stains better.
How long can you use a Contigo water bottle?
As long as you properly take care of your Contigo water bottle, you can even use it for a lifetime. After all, these bottles come with a lifetime guarantee.
Over the duration you are using them, you may just have to replace a few bits and pieces here and there – but the overall body of the bottles should remain intact.
Can you put boiling water in Contigo?
No, Contigo's water bottles aren't designed to handle boiling water.
Can you put hot drinks in a Contigo?
While you can't put hot/warm drinks in plastic or glass Contigo bottles, you can put them in stainless steel Contigo bottles. As long as the liquid is not boiling, everything should be fine.
How long does Contigo keep drinks hot or warm?
A stainless steel Contigo bottle can keep your drink hot/warm for up to 10 hours. This is because it features a double-walled construction that reduces heat loss.
This design also prevents condensation from forming on the exterior of the bottle and getting on table tops and other surfaces.
Another feature that makes these bottles good at maintaining the heat of your drink is their Autoseal technology. This ensures that the bottles are always sealed unless you're drinking from them.
However, keep in mind that stainless steel Contigo water bottles are better at keeping drinks cold than keeping them hot.
Ultimately, if you're looking for something to regularly hold your hot beverages, you're better off using a Contigo travel mug rather than a water bottle.
Can you put coffee in a Contigo water bottle?
Yes, you can put coffee in a Contigo water bottle. However, it will lose its heat after 5 to 10 hours.
Can you take apart a Contigo lid?
Yes, you can take apart a Contigo lid. To do this, follow the instructions below:
Remove the lid from the  bottle and drain it of any water
Use a screwdriver to remove the triangle screws inside the lid
Separate the top and the bottom of the lid, ensuring you keep the rings and screws safe
Pull out the different parts of the push button
How do you deep clean a Contigo water bottle and its lid?
While you can use your dishwasher to clean your Contigo water bottle on a daily basis, a deep clean requires more attention. The best way to do this is to use warm water and some dish soap.
To start, open the bottle and fill it with warm water. Afterward, add some drops of liquid dish soap into the water and use a bristle brush to scrub the inside and outside of the bottle. Once you're done, rinse the bottle thoroughly and lay it out to dry.
As for the lid and straws, you'll need to first disconnect them and soak them for around ten minutes in a mixture of warm water and dish soap. Afterward, use a cleaning sponge and bristle brushes to scrub the insides of the spout and straw.
Ensure you use soapy water for this – it will ensure that you get out all the debris lodged inside these items.
Once you're done, rinse the lid and straw in running water until you're sure that you've gotten rid of any dirt or soap. Remember to pass some water through the spout as well. Afterward, leave the lid and straw out to dry.
Don't assemble your bottle until all parts are 100% dry.
Can you put ice in a Contigo?
Yes, you can put ice in a Contigo water bottle. The mouth of the Contigo bottle is wide enough to let standard ice cubes in.
Also, since these bottles are designed to keep your cold water cold, they can maintain the integrity of your ice cubes for a while. However, they will eventually melt.
Ultimately, people usually add ice cubes to the water in their Contigo bottles to keep it colder for longer.
Is the Contigo water bottle freezer safe?
It's not advisable to place the glass or stainless steel Contigo bottles in the freezer –  you can only safely do this with the plastic ones.
If you place a glass Contigo water bottle in the freezer, you put it at risk of breaking, especially if it's filled to the brim.
On the other hand, it doesn't make sense to place stainless steel Contigo water bottles in the freezer.
This is because they have a vacuumed double-walled feature that makes it difficult to cool the liquid inside. Eventually, it will take a longer time to freeze liquids this way than when using a plastic container. And when the water finally freezes, it can deform the bottle.
Ultimately, freezing anything this way is both time-consuming and unsafe.
How do you get the smell out of a Contigo lid?
If your Contigo lid starts smelling, it means that it has accumulated dirt and/or mold.
To get rid of this smell, start by removing any mold using bleach or a mixture of vinegar and water. Afterward, wash the lid in a mixture of dish soap and warm water. While washing it, ensure that you use a bristle brush to remove any slime, gunk, or particles.
Once you're done scrubbing, thoroughly rinse the lid and then lay it out in the air to dry.
How do you remove mold from a Contigo water bottle?
There are three ways you can remove mold from your Contigo water bottle. These are:
1. Using soapy water
As long as you can clearly see the part of your Contigo water bottle that has mold, you can easily wash it out using dish soap and warm water. All you have to do is mix the soap and water in the bottle and then scrub out the mold. Afterward, place warm soapy water in the bottle, close it with its lid, and shake it well for a few minutes.
Once you're done, scrub the inside and outside of the bottle before rinsing it thoroughly. Finally, leave the Contigo bottle out to dry.
2. Using a mixture of water and vinegar
To remove mold from your Contigo bottle, you can use a mixture of equal parts water and distilled white vinegar. To start, pour this mixture into your bottle, close it with its lid, and then shake it a few times. Afterward, let the solution sit overnight. When you wake up the next day, rinse the bottle thoroughly and leave it out to dry.
3. Using bleach and baking soda
If you're dealing with a stubborn patch of mold or grime, a mixture of bleach and baking soda can be your saving grace. Just put a teaspoon of bleach and a teaspoon of baking powder in your Contigo bottle and fill it up with water. Afterward, let the solution sit overnight before you rinse your bottle with warm water in the morning.
How do you disinfect Contigo?
You can disinfect your Contigo water bottles using a solution of distilled white vinegar or a mixture of baking soda and bleach. If you go with the former, all you have to do is mix the solution in your bottle and let it sit overnight.
On the other hand, the latter route involves mixing one part baking soda with one part bleach and topping it up with water before letting the solution sit in your bottle overnight.
Ultimately, disinfecting your Contigo bottle requires the same chemicals you would need to remove mold from it.
Can you put Contigo bottle lids in the dishwasher?
Yes, you can put your bottle lids together with your bottle in the dishwasher – they are both dishwasher-safe.
Can you put carbonated drinks in a Contigo?
Yes, you can put carbonated drinks in your Contigo bottle. This brand's plastic, glass, and stainless steel bottles can handle all types of carbonated drinks. Even their travel mugs can handle these drinks.
Can you put a crystal light powder drink mix in this kind of Contigo water bottle?
Whether you're using stainless steel, glass, or plastic Contigo water bottles, you can put a Crystal light powder drink mix in them. This mix is not corrosive enough to negatively affect any of these bottles.
Can Contigo go in the microwave?
No matter which type of Contigo product you have, you shouldn't place it in the microwave. In fact, plastic Contigo water bottles even come with instructions not to microwave them.
Is Contigo better than thermos?
While some Contigo bottles are better than those of the traditional Thermos brand, this brand is yet to reach the level of industry leaders like Hydroflask and Yeti. So if you are looking for a killer water bottle, Contigo isn't the brand for you.
Final thoughts
All things considered, Contigo water bottles do what they were designed to do – to keep your drinks cold. However, they are not suitable for boiling water and aren't great at keeping beverages warm. You're better off picking a travel mug for these purposes.
To make matters worse, liquids have been known to get into the inner parts of Contigo bottle lids, causing molding. Otherwise, these water bottles are a solid option, especially at their price point.