How Can We Be More Sustainable This Easter?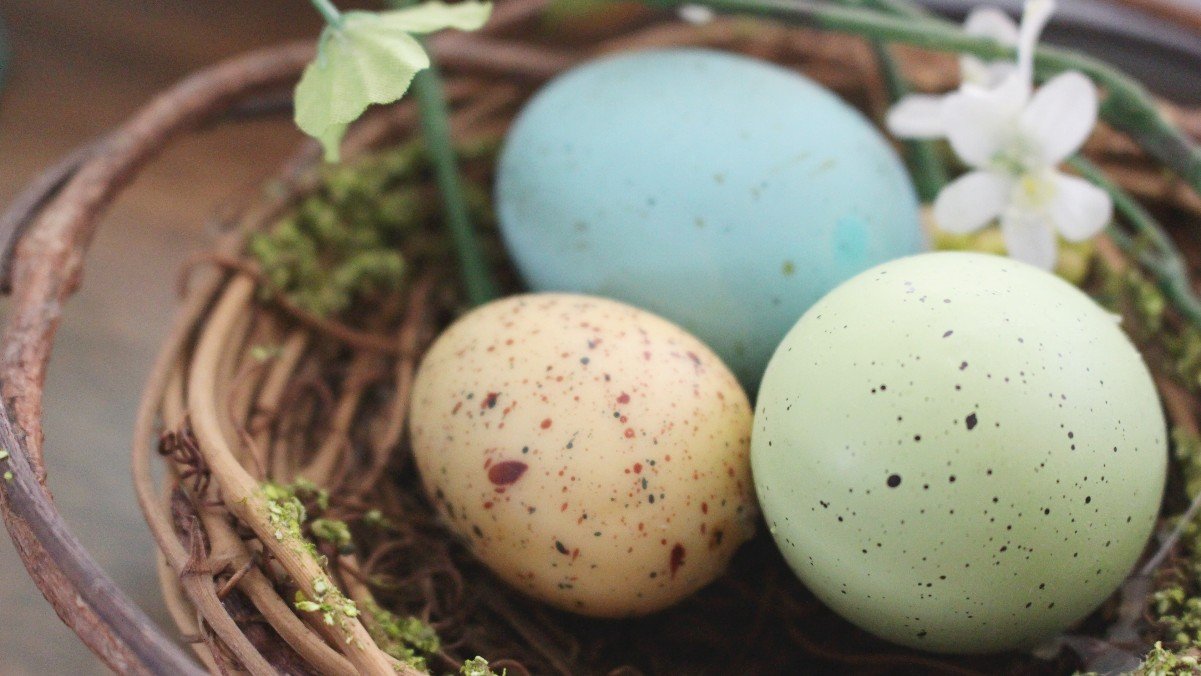 Easter is a time for chocolate, eggs, bunnies, and celebration. Mostly the chocolate for some of us!
Being more sustainable this Easter means acknowledging what the biggest environmental harms are: from where cocoa is sourced to what's happening with all the plastic in our crafts.
You can be more sustainable by buying organic and vegan chocolate, making crafts with the most eco-friendly materials, and reusing what you can. The crafts you make can be used year after year. Making your own decorations and baking treats also guarantees you cut down on packaging waste too!
What is the environmental impact of Easter?
Easter is celebrated in many different ways depending on what country you're from or if you take part in religious celebrations.
While most Easter festivities are celebrated with gathering together or chocolate (or both!), remember that environmental harm can come from travel emissions and waste.
Chocolate alone is one of the biggest environmental impacts during Easter – and other holidays too!
A 2018 study on the environmental impacts of chocolate found that around 10,000 liters of water are needed to produce just a kilogram of chocolate. The number is astronomical when you consider that the average UK resident ate 8.4kg of chocolate in 2017. It's thought that most children receive around 5-8 chocolate Easter eggs for the holiday, with each egg weighing approximately 200-500g.
It adds up fast.
The problem starts with cocoa production: deforestation, soil contamination, and herbicide usage are the main factors. 70% of cocoa beans are grown in West Africa, but global demand exceeds how much chocolate can be reasonably produced, especially because it can take a year for each cocoa tree to produce enough cocoa for half a pound of chocolate.
Unfortunately, cocoa production is rife with child labor and deforestation. To meet demand, cocoa farmers will often clear tropical forests to plant new crops instead of reusing the same land, with most of Côte d'Ivoire's illegal deforestation related to cocoa farming.
Easter egg packaging only adds to the problem. Many Easter eggs are still packaged with plastic and foil, which can account for 25% of the total weight of the Easter egg products we buy. There have been improvements in recent years, with plastic containers swapped out for cardboard, but it's important to know which parts of the packaging can be recycled and what can't.
Did you know that Easter egg foil can be recycled in most countries?
An Australian council demonstrated that the best way to ensure foil is recycled is to roll it into a large ball so it can be properly sorted at the recycling center. As long as you can scrunch the foil up and it doesn't spring back, you can be sure that it's recyclable aluminum foil.
How can we make Easter more eco-friendly?
As long as you reuse and recycle everything possible, your impact on the environment will be as low as possible. But there are still other improvements we can make.
Let's address chocolate. I'm definitely not suggesting we stop buying chocolate – I couldn't do it myself!
When picking out chocolate, especially chocolate Easter eggs, opt for less packaging. It's hard, I won't lie. Bulk buying can result in less packaging but it's not easy. Easter eggs don't always show whether they use plastic or cardboard packaging inside either, though most have improved in recent years.
Going the extra mile and buying vegan chocolate is even better. Most vegan chocolate sustainably sources cocoa and uses cardboard packaging. What plastic they use is typically compostable starch plastic.
Happi Free From, Montezuma, and Moo Free make some of the best chocolate Easter eggs out there.
If you're not sure about buying chocolate and you have the time, making your own chocolates and desserts for Easter is a great idea! Keep reading for more eco-friendly Easter ideas.
Eco-friendly crafts are an often overlooked part of any holiday's environmental impact. We use craft materials without really looking into how eco-friendly they are. There are many DIY craft blogs that claim to be eco-friendly yet use traditional glues or acrylic paint.
So how can we ensure we use truly eco-friendly craft materials?
We need to make sure we use what we already have. There's no point buying new things if it means we're more likely to throw out perfectly decent paper and pens.
Those dried-out markers you have? They might not be biodegradable, but it's better to use them up before sending them to landfills. There are ways to save your dried-out markers, like by using water, or you can turn dried-out markers into watercolors.
When buying new materials, always opt for compostable or recycled materials. Recycled paper is a must! Other great materials include:
Make sure to think about what you're going to do with your crafts before you've made them. Are they going to go into a box to be pulled out every year? Great! Will you forget about them before next year? Think about how they could be used instead.

Decorating egg cups is a great Easter activity that you know you'll use year after year. A set of wooden egg cups can be decorated in a variety of ways – paint, decoupage, or with those pens you've just rejuvenated.
Sustainable Easter tips
Being sustainable this Easter is made even easier with some basic tips that can carry over to other holidays.
Remember to:
It's important to make sure you know what you can and can't recycle. This may differ based on where you live. Some of the best resources I've found are:
These resources also serve as a good reminder when making Easter crafts – if it's not recyclable, it's best to not use it unless you're planning to keep and use those Easter decorations for a decade.
Eco-friendly Easter ideas
There are three things most of us associate with Easter: food, rabbits, and eggs. All of which can be incorporated into eco-friendly Easter celebrations!
Cooking is as eco-friendly as you can make it be. Easter is the perfect time to use what eggs you have for decorating, baking, or cooking. You don't even need to worry about buying the most eco-friendly packaged Easter chocolate if you have the time to make your own Easter treats.

You can even save on chocolate products by bulk-making your own chocolate treats, and you don't just have to struggle to make your own molded chocolate.
Instead, try making:
If you want to steer clear of chocolate, try making:
You can even use food coloring to make watercolor icing for any Easter cookies or biscuits you make!
Eco-friendly Easter activities
When you think of Easter activities, you probably think of Easter egg hunts. Thankfully, egg hunts are pretty sustainable as they are!
But there are some easy amendments to ensure you're as eco-friendly as possible.
Make sure that you're hosting it on private land, like a private field or garden, so you don't disturb animals (it's a big-time of year for animals, birds, and more to mate and lay eggs).

Use wooden or hard-boiled eggs for hiding, and always make sure to hide them where you can easily pick them out later.
Keep a record of how many eggs you hid and where you hid them in case you miss any.
Hard-boiled eggs will eventually spoil, which can be a hazard for pets and wildlife.
Wooden eggs are good for using again each year, but if you want participants to decorate eggs then hard-boiled is your best bet.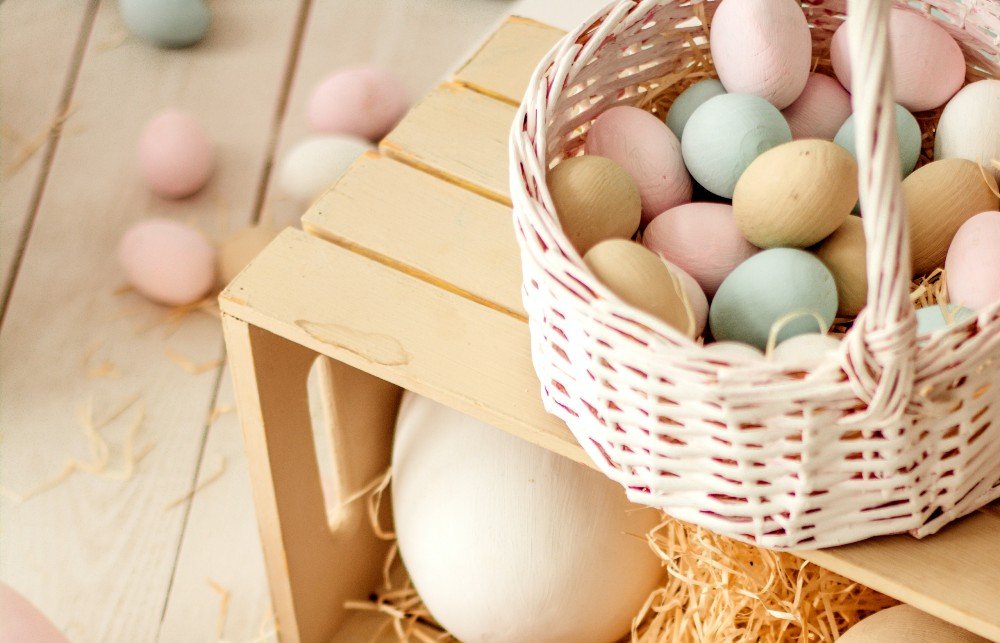 If you're decorating the eggs on the day, make sure to plan party games like musical chairs or egg-and-spoon races and have a craft station. This will give children and tweens enough to do while you wait for the eggs to dry and give you time to hide them when they're distracted too!
You could make your own Easter baskets by decorating the outside of a butter dish with some paint or tissue paper. Just make sure to make a sturdy enough handle. The great thing about butter dishes is that they have a sturdy lid to keep the candy fresh.
As for old Easter baskets, turn them into plant holders to put on your shelf, windowsill, or out in your garden.
If you want to dress up or can convince someone else to, consider renting out a bunny costume to give the Easter Bunny an appearance. You might even be able to book a children's entertainer in full bunny gear if you plan ahead enough!
Going on a spring walk is a great alternative to big festivities too. Bask in spring nature by picking that lovely nature walk you've been hoping for. It's a great time for fresh air and to appreciate the natural world.
Sustainable Easter decorations
Crafting your own Easter decorations is the best way to ensure you're being as eco-friendly as possible, especially if you make sturdy crafts that can be used for years to come.
You can also spend the days before or the morning of Easter crafting the decorations as an extra celebration!
Some great sustainable Easter decoration crafts: