Are Easter Eggs Bad for the Environment?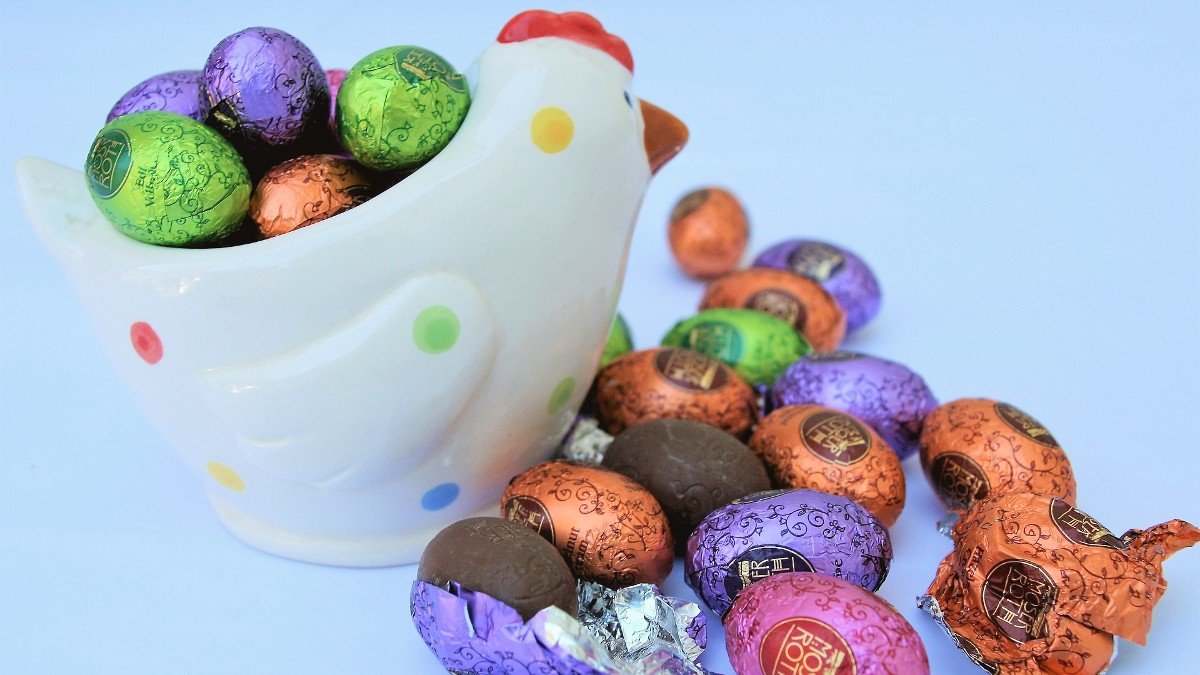 If you're excited for Easter, chances are you're most excited about the chocolate, whether you're religious or not. Children are especially eager for a visit from the Easter Bunny!
Unfortunately, Easter eggs are bad for the environment, mostly thanks to their packaging.
Traditionally Easter eggs have been packaged in cardboard boxes with either internal plastic shells or plastic windows that let you see the chocolate inside.
Improvements have been made over the years but some brands continue to use non-recyclable packaging.
It's important to make sure you properly recycle all your packaging and purchase from sustainable, organic brands. This will help cut down on plastic waste and the exploitation of workers and children in cocoa farms.
What is the environmental impact of chocolate Easter eggs?
According to Manchester University, the UK chocolate industry alone produces around 2.1m tonnes of greenhouse gasses per year. It's thought that 10% of chocolate sold each year is sold for Easter, to give you an idea of how much one weekend makes a difference.
Cocoa is produced only in tropical countries like West Africa by smallholders. 43% of the world's cocoa supply is produced in Côte d'Ivoire, with Ghana producing 20%. This means there's a huge amount of transportation emissions required to ship cocoa around the world for chocolate production.
There are around 5-6 million cocoa farmers, with 70% of cocoa grown on small farms. This makes it harder to monitor, manage, and work with all the farmers to ensure that they're using sustainable practices.
Poor management results in cocoa trees with low productivity and leads to deforestation to plant more cocoa plantations – resulting in the destruction of ecosystems, soil erosion, loss of biodiversity, and stream sedimentation.
Many cocoa farmers are extremely poor, and unfortunately forced and child labor are used regularly.
Certification programs like UTZ, Rainforest Alliance, and Fairtrade have helped reduce this, but it's still prevalent in non-certified cocoa suppliers.
This is why it's so important to buy certified organic chocolate, which supports small farms and ensures that they use sustainable farming which helps protect the environment.
How do Easter eggs affect the environment?
Easter eggs have other issues that directly impact the environment, especially when it comes to packaging. But even the ingredients in chocolate have an impact.
are made with organic milk chocolate using sugar, cocoa butter, milk powder, cocoa mass, and organic vanilla.
While Cadbury chocolate eggs are made with milk, sugar, cocoa butter, cocoa mass, vegetable fats (palm and shea), emulsifiers, and flavorings.
We already know the impact of cocoa, but Cadbury's inclusion of palm oil and shea butter is concerning. Shea butter is another ingredient sourced from West Africa (as well as Central Africa), and it requires a lot of water to process. Shea butter is also connected to deforestation.
Palm oil is a major contributor to deforestation and is linked to endangering orangutans, pygmy elephants, and Sumatran rhinos. The use of child labor and worker exploitation is rife throughout the palm oil industry.
Chocolate doesn't usually use palm oil, many biscuit fillings do contain palm oil. Some companies source their palm oil sustainably and others are palm oil-free like Montezuma and Moo FreeAffiliate link.
The amount of packaging used for Easter eggs has been an issue for years.
There have been improvements in recent years but some products continue to individually wrap smaller eggs even when sold in bulk. Making sure that you properly recycle aluminum foil is an important part of reducing waste with Easter chocolate products.
According to Zero Waste Scotland, around 12.3 million chocolate eggs were sold in 2018 and created almost 900 tonnes of Easter Egg packaging waste.
Luckily, most Easter egg boxes are made out of cardboard, but some brands go the extra mile.
According to Ethical Consumer, the most ethical and environmentally friendly Easter egg brands are:
Montezuma's
Moo Free
Cocoa Loco
Traidcraft
Divine
You should absolutely avoid Mondelez (Cadbury) and Nestle products, as they are completely unsustainable.
By purchasing from them, you're indirectly supporting animal testing and rights abuses, synthetic pesticide use, plastic pollution, the abuse of workers' rights, and child labor.
Why are Easter eggs better than normal chocolate?
Some people find that Easter eggs taste better than normal chocolate.
As someone who loves eating Easter eggs, I've found the taste of them can often be better than similar products by the same brand.
This is mostly due to how the molded, hollow egg functions with our taste buds.
Because the chocolate is thinner than a normal chocolate bar, it dissolves more quickly, so it feels creamier. And the smell of the chocolate is also enhanced by the shape and speed of melting, and the aromas affect your perception of the chocolate.
Easter eggs are also made differently, with the chocolate spun so the chocolate is thinner. This can also result in a different texture.
To reduce your environmental impact, it's important to limit waste, recycle packaging, and eat sensibly. If you love baking and want to reduce your impact even further, try making your own Easter treats instead!
Making your own chocolate eggs is pretty hard, and you may have to invest in silicone molds (which aren't exactly eco-friendly themselves), but it is doable.
What can I use for Easter egg hunts besides plastic Easter eggs?
Easter egg hunts are a big part of Easter for kids. Many people hide plastic Easter eggs, which are less destructible and won't melt or go rotten if lost.
If you use plastic Easter eggs already, keep reusing them. There's no point in throwing them away (unless you can give them to someone else to use) when you can continue reusing them for years, which helps you reduce waste.

The best inedible alternative to plastic eggs are wooden eggs that you can decorate yourself or with the participants of the egg hunt. You could give bonus points for anyone who finds an egg they decorated themselves!
Like plastic eggs, wooden Easter eggs can be reused year after year. They might get a bit grubby, so make sure to clean and store them properly between uses.
You can also use chocolate eggs wrapped in foil, but make sure you know exactly where they were put so you don't lose any. Otherwise, wildlife could eat them and choke on the foil!