How to Decorate for Christmas Sustainably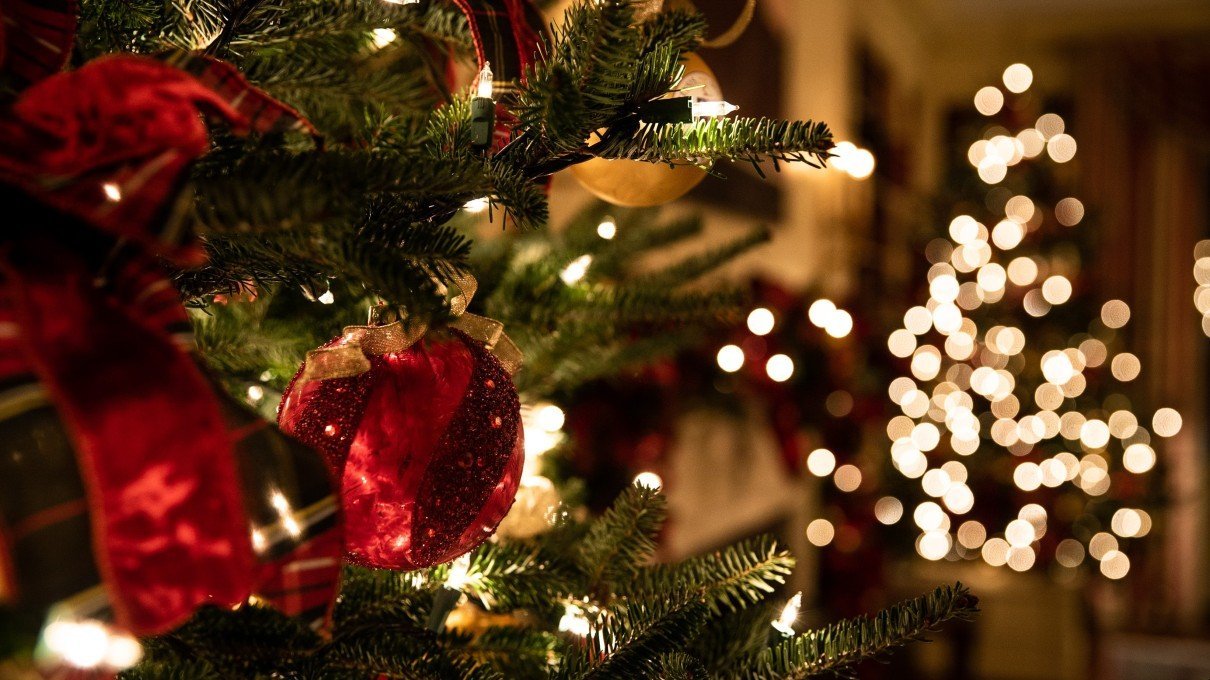 It feels like people, companies, and cities decorate for Christmas earlier every year. They also seem to be appearing in shops earlier – even before Halloween!
Many resources on making Christmas more sustainable forget about decorations. Most decorations you can buy are made with plastic and use toxic paints. Once broken or no longer needed, these decorations add to the massive amounts of landfill waste in the new year.
Decorating sustainably at Christmas doesn't have to be hard. You might not have to do anything differently as long as you make sure to reuse what you already have.
Like Thanksgiving and Halloween decorations, turning to handmade crafts can make a big difference to your home and carbon footprint.
Can Christmas decorations be eco-friendly?
Most Christmas ornaments are made from glass, plastic, ceramic, metal, wood, or polystyrene. Baubles used to be predominantly made from glass but cheaper plastic baubles have surged in number in modern times.
While wood and glass aren't necessarily bad for the environment when treated properly, many are painted with acrylic paint. Even many handmade craft baubles use acrylic paints.
The problem with acrylic paint is that it is a plastic-based paint that uses a solvent to be water-based. When you rinse your brushes after using acrylic paint, you're actually washing microplastics into the water system.
Paint materials have come a long way from using toxic materials like lead, but paints that aren't water-based are still toxic to the environment.
Christmas lights are a common Christmas decoration that we could probably do without as well.
According to the Energy Saving Trust, LED Christmas lights are 90% cheaper to run compared to incandescent lights. Solar-powered lights and lights that run on timers are also more eco-friendly as they use less electricity.
According to Stanford University, Americans "throw away 25% more trash during Thanksgiving to New Year's holiday period than any other time of year", resulting in over 25 million tons of garbage.
While much of this is likely to be food waste, many people also throw out decorations that they no longer want or use.
Is reusing Christmas decorations sustainable?
For many families, reusing Christmas decorations is just the done thing. Many decorations are heirlooms or from their childhood.
Reusing Christmas decorations is sustainable, provided you're not buying more than you need.
You shouldn't need to buy new at all! Instead, package up your decorations safely each year and only buy or swap secondhand decorations.
If a decoration breaks, try fixing it instead of throwing it out. If you want to get rid of Christmas decorations, make sure to try selling or giving them to other people first.
As long as you're reusing your decorations for as long as possible, you're making a difference by not buying new ones every year.
When you do need new decorations, don't buy new – look for DIY crafts that you can make yourself.
Are real Christmas trees better for the environment?
Real Christmas trees are more sustainable than artificial trees because they're made of organic matter.
Even better than the conventional felled Christmas tree are those you can buy with roots. These living Christmas trees can be planted in your garden or even rented out to you for the season. This means you can have your Christmas tree for the season and be safe in the knowledge that a tree hasn't been killed.
If you're still not sure, consider the comparison between artificial, real, and living Christmas trees: artificial trees are made from plastics, real trees are farmed for around seven years before being cut down, and living trees can be replanted.
Real Christmas trees will always be more eco-friendly than artificial trees due to the amount of energy needed to produce artificial trees.
Many Christmas tree farms also use land that isn't considered worth growing crops on, and most Christmas tree farms are also run by small businesses.
Organizations like the British Christmas Tree Growers Association in the United Kingdom and Forest Stewardship Council worldwide certify sustainable tree farms. Their certifications check that forests are managed properly and with biological diversity in mind.
Once the season is over, make sure to recycle your Christmas tree (or plant it if you've opted for a living tree). You can even compost them yourself if you have the equipment.
It's also worth asking yourself if it's worth having a Christmas tree at all.
Instead, consider making a DIY tree using rolled-up newspapers, wooden shelves, bookcases, or branches. You can display your Christmas ornaments here and use paper to spruce them up to look more festive.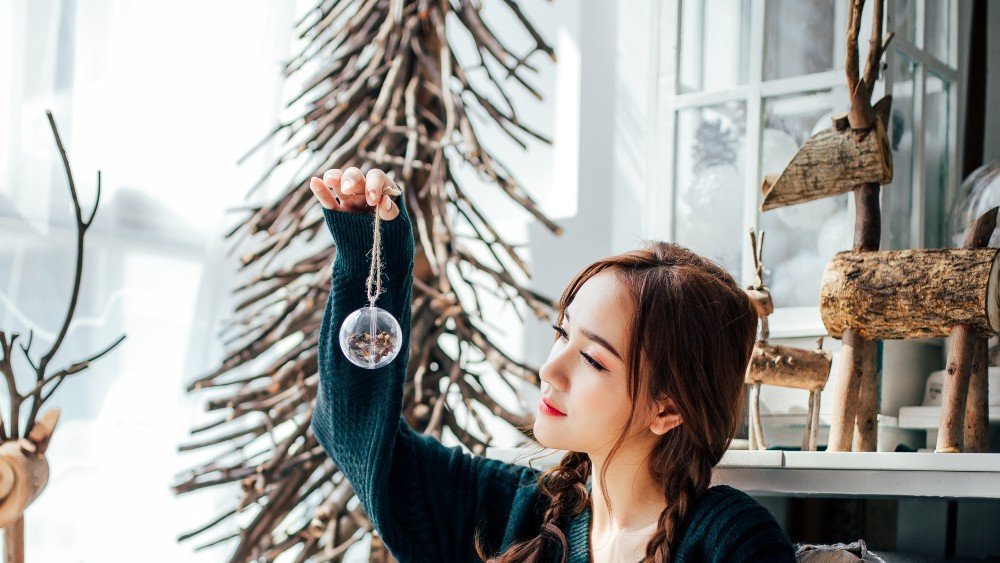 How to make sustainable Christmas decorations
Making sustainable Christmas decorations can be a fun and festive activity to get into the holiday spirit. It also guarantees that you use only eco-friendly materials for your decorations, making them as sustainable as possible.
Some eco-friendly craft materials include:
Plant-based glitter
Recycled paper and card
Fabric offcuts
Water-based or chalk paint
Beeswax crayons (unless you have paraffin crayons to use up)
Recycled yarn
There are so many eco-friendly decorations you can make with these materials.
You could make paper snowflakes, paper chains, origami or twig stars, and even festive candle holders.
No matter what you make, it's important to use up what you already have. You might find that you're able to upcycle your waste, such as toilet paper rolls or plastic food containers in danger of being thrown away.
Save your paper offcuts to use for colorful camouflage or for your own paper confetti!
Even arranging your Christmas cards can make a decoration – from wall displays to quilted Christmas card holders.
If you have a lot of old Christmas cards (or maybe some from people you're not too fond of) there are a number of DIY Christmas card ornament ideas, such as upcycled wreaths, handmade banners, and garlands, and hanging ornaments.
Making sustainable Christmas crackers
Christmas crackers are full of plastic and are one-use only. Most come in a cardboard box with a plastic window and the toys inside them aren't always worth it.
Instead of buying Christmas crackers this year, try making your own! You can pick the secret gift to put inside them, and personalize its contents.
The Simple Things' eco-friendly crackers use brown paper, cardboard tubes, cracker snaps, string, and double-sided tape.
Thoroughly Modern Grandma's plastic-free Christmas crackers use recycled card and tissue paper with twine and sticky tape.
If you're stuck for what to fill your crackers with, try:
Local seeds that benefit bees and butterflies
Handmade soap blocks
Reusable cotton wipes
Cotton handkerchiefs
Eco-friendly play dough
Metal pencil sharpeners
Organic produce bags
Reusable makeup remover pads
Creating reusable advent calendars
Instead of buying advent calendars every year which are stuffed full of plastic, buy or create a wooden advent calendar that you can restock each year. You could make your own chocolates or cookies to put in (using beeswax wraps or reusing some aluminum foil) or add in small gifts.
You could also put craft materials into the boxes and challenge the family to make something with that day's crafts. Or maybe try writing down a festive task to do that day!
Making a natural wreath
Making your own wreath can be a great way of decorating the outside or inside of your house. You can use what's around you to make the wreath, collecting twigs, leaves, pine cones.
Or you can make a paper wreath. BBC Bitesize also has a tutorial on making a Christmas paper wreath.
Sustainable Christmas tree decorations
You're bound to have a ton of Christmas tree decorations already, but some households have traditions in adding new ornaments each year. If you're looking for Christmas tree decorations, look for plastic-free or eco-friendly ornaments sold by green companies and small businesses.
Websites like Etsy can help you find handmade decorations, with many using up all the materials they have instead of throwing them away. You can also message sellers and check what materials they're using or see if they allow requests (such as swapping out a synthetic ribbon for some twine).
Small businesses that use plastic-based materials are still more eco-friendly than big businesses due to the handmade element of their work. Make sure to buy locally as well!
You could also try needle-felting, making paper baubles, or creating wooden crafts to hang on your tree. Recycled yarn or natural twine can be used to hang them unless you have some ribbons leftover.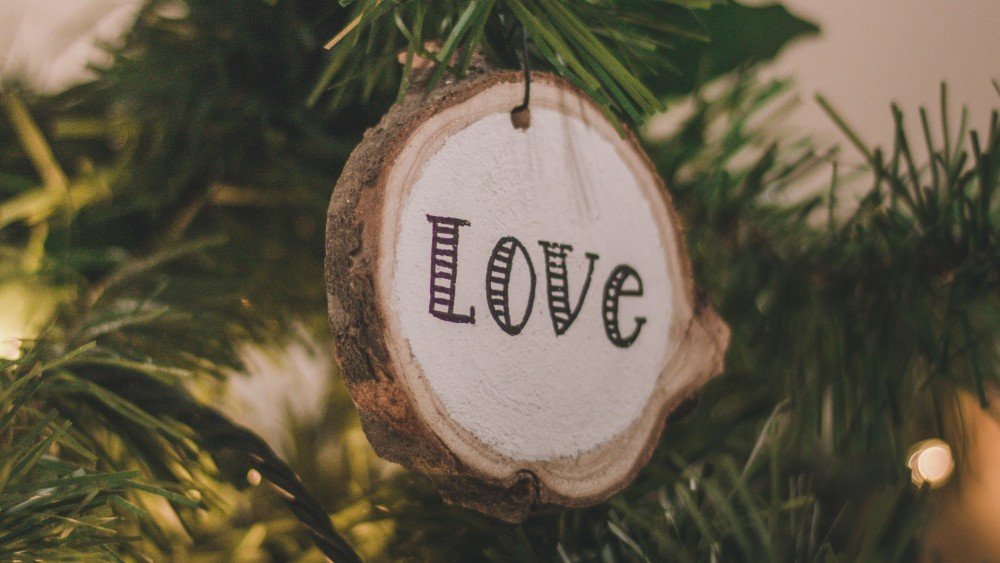 Eco-friendly Christmas table decorations
Decorating your Christmas table can be as easy as going out into the garden and picking up some twigs. With a cotton tablecloth and some creative placements, you can decorate your table to have a winter vibe and add festive treats like vegan sugar cookies to complete the look.
If you're looking for a natural Christmas centerpiece, try looking for pinecones, acorns, and dried flowers to create a wonderful spread in the middle of the table. You can add candles (at safe distances or within tall candle holders) for lighting.
You could even suspend branches over the table – provided you secure everything properly so it doesn't fall!
Christmas treats can also be used to dress up your tableware by placing cookies on top of plates.
The best way to create an eco-friendly Christmas table is by using food, which is completely sustainable – by using the food you're about to eat as the decor! It will require more food preparation, but by adding bold red and leafy green plates to your table you can create edible wreaths or cheese ball Christmas trees.