Sustainable Halloween Decoration Ideas You Can Make Yourself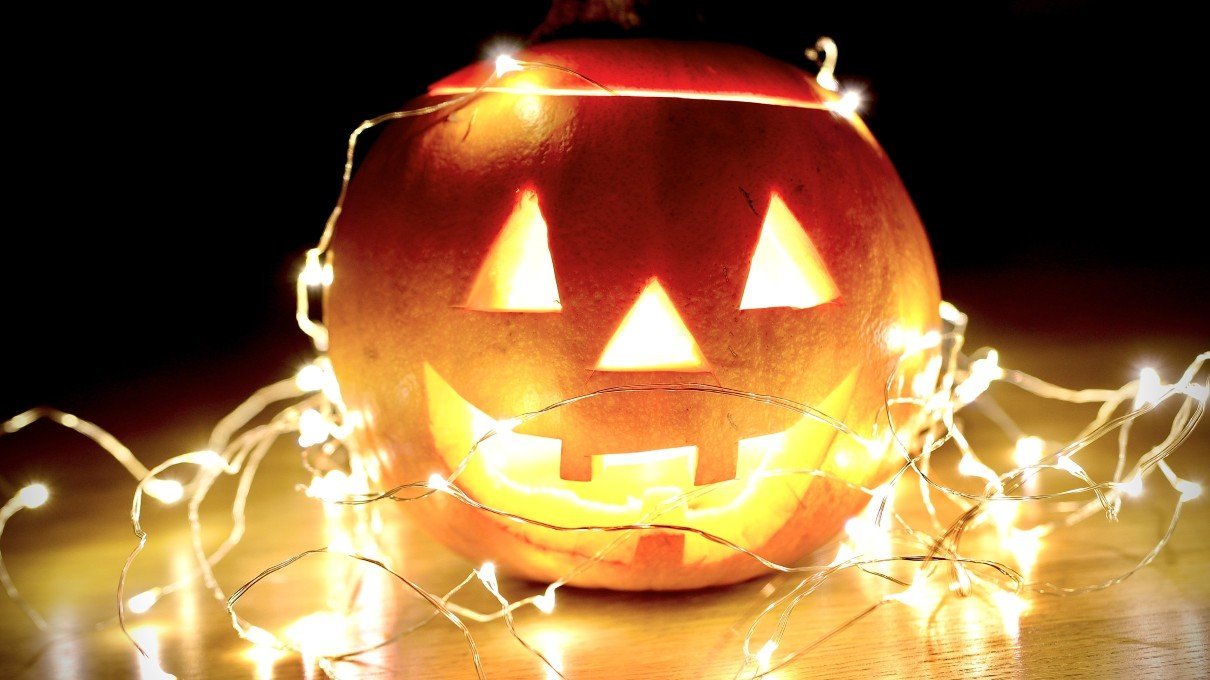 Halloween is a holiday full of waste and making your celebrations sustainable can look difficult. Every year more Halloween decorations make their way into stores, many of which are thrown away or damaged during the spookfest.
When it comes to buying decorations, you should aim to store them for as many years as possible, reusing them every Halloween. You probably already do the same for Christmas, and hopefully, you don't go out buying massive inflatables for every decorated holiday each year.
You can also make your own decorations. It's a great holiday activity to get kids into as well. By using eco-friendly materials you can cut down on more waste and dispose of them properly.
What materials should I use for eco-friendly Halloween decorations?
To decorate for Halloween, you need to get everything ready and prepared.
First, you need to source all the eco-friendly supplies you can. It's best to have an idea of what you need before going shopping – don't just buy in case you'll use it.
Take a look at any craft boxes or drawers in your house first as well. Maybe you'll be able to use up that old glue stick this year!
Eco-friendly craft materials include:
Paper (especially recycled)
Cardboard
Wool twine
Are made from polylactic acid (PLA) – vegetable starch
Compostable confetti
Natural materials like plant leaves and flowers (harvested responsibly)
Natural and water-based paint – linseed oil paint, natural mineral paint, chalk paint
Beeswax or soy crayons
Eco-friendly glue
Cellulose film glitter
Paper straws
Recycled yarn (if it's not going to be washed), recycled cotton yarn, or hemp yarn
Organic plant-dyed felt
Modeling clay (not polymer)
Using up what you have in the house already is important too. If you have colored paper at home, you should use that before going out to buy recycled colored paper.
You can use up materials that would otherwise be put in the bin as well. Bottle caps, old milk bottles, food cans, fabric offcuts, toilet paper rolls, and more can be used for Halloween crafts.
Gourds, pumpkins, and hay bales might be sold by farmers in your area, so find your closest farms selling Halloween goods and check what they offer.
Hay bales are a great natural material to use for building scarecrows or setting out extra outdoor seats. Coupled with some gourds, pumpkins, and maybe an autumn wreath and you can have an autumnal decoration that isn't just suitable for Halloween.
How to sustainably decorate your house for Halloween
Natural Halloween decorations
Instead of carving gourds, you can wrap gourds in yarn to create aesthetically pleasing decorations or make them into little monsters.
Instead of a pumpkin-headed scarecrow, why not pick a misshapen gourd and wrap it in some fabric to look like a face? You can even make them into three-dimensional ghosts by draping white fabric over the gourd and drawing a simple face.
You don't even need to clean gourds – their dirty, crusty exterior can look creepy enough poking out of the grass or bushes. A bit of carving and mushy red food might make severed limbs out of them with a bit of luck!
Decorating outside with gourds is far better than using fake spider webs.
Fake spider webs are dangerous to birds, bees, and more, as they can get caught up in them and stuck. Every year wildlife hospitals like Wildcare treat entangled animals, especially birds. From pigeons to screech owls, "anything that dangles, loops, or flutters is a potential hazard" to birds. Loops or closed circles can strangle foraging animals, dangling parts can be swallowed, and strings of lights can catch on birds or even the antlers of deer.
Always keep in mind how your local wildlife might interact with your decorations. Keep them off the ground if they could be a choking hazard, pin lights to walls, and avoid leaving out loose netting.
Twig wreaths and stick figures are some of the simplest Halloween decorations you can make.
Search your neighborhood or go for a hike and collect as many twigs on the ground as you can, then come home and grab some twine. I recommend twine over glue to be more eco-friendly, as you can always unwrap it afterward and compost the twigs or set them down outside for wildlife to make use of later.
Halloween crafts
Make a magical apothecary with some mason jars and some creativity.
You can make eco-friendly slime with cornstarch, water, and some natural food coloring to fill the mason jars. Add some creepy objects like a foam ball eye, swirl in some red coloring for blood, and some dirt or pumpkin seeds for insects and you've got a whole shelf in no time.
For lighting, you can make use of any LED lights you have and place them in particular places. Make sure to avoid draping them or hanging them across the air in case they catch a bird or real bat!
Swap cheap candles for eco-friendly materials – you can even make your own non-toxic candles with soy wax or beeswax.
Of course, if you don't have time to dedicate to many crafts you might feel like you don't have enough decorations. Don't give up and go Halloween shopping though! Instead, check out thrift stores, charity shops, and anywhere selling antiques for old candle holders, lamps, picture frames, glassware, and more.
You might even be able to reuse and upcycle some into decorations. For instance, a worn old book could do with a new dust sleeve, making it a spooky introduction to the dark arts.
Broken old toys can also be transformed into zombies or ghouls too!
More Halloween decoration ideas and inspiration
There is an abundance of ideas for Halloween decorations on Pinterest – try searching for "Halloween decoration ideas" or "DIY Halloween decorations" to get some ideas.
Sadly, most of these won't use sustainable or eco-friendly materials, so make sure to check what they use and try to substitute them with what you already have at home or other materials.
For instance, when it comes to painting, always opt for paints you have already and use water-based paints. Acrylic paint is toxic to the environment and is one of the most prevalent DIY materials.
There are all kinds of edible Halloween treats you can make that can also function as decorations. A platter of gross cookies or muffins could help set the mood even as you snack on them throughout the night.
What to do with your decorations after Halloween
Once Halloween is over, package up all the decorations you want to keep for next year. Even this year's crafts have their place in your box.
Your pumpkins and gourds definitely won't make it to next year, so consider the best ways of disposing of Halloween pumpkins.
Gourds can stick around throughout autumn if you like, otherwise composting them is the best choice if you can't eat them.
Hay bales can also be composted, or you might find that a local plant nursery accepts hay donations. Hay can be used to mulch or add to the nursery's own compost heap.
How to store Halloween decorations
No matter where you intend to store your Halloween decorations, make sure they're clearly identifiable.
An orange box or large dissolvable label makes sure that you won't miss it when you're searching for them next year. The last thing you want is to go out and replace all the decorations you've temporarily lost!
You should store your decorations in a cool, dry place. The attic is one of the most common places to store decorations, and it's a good idea to keep them by the Christmas decorations like a little holiday corner. This can make it more memorable where they are and save time worrying about where it might be stashed.
You can use resealable bags to store fabrics or paper in as well. When properly stored, they'll keep out any bugs or moisture that might degrade them.
Placing small items inside larger items can help make the most of your space and keep them secure if the box falls over. You could place your collection of egg carton ghosts inside a cardboard pumpkin.