How to Celebrate New Year's Eve Sustainably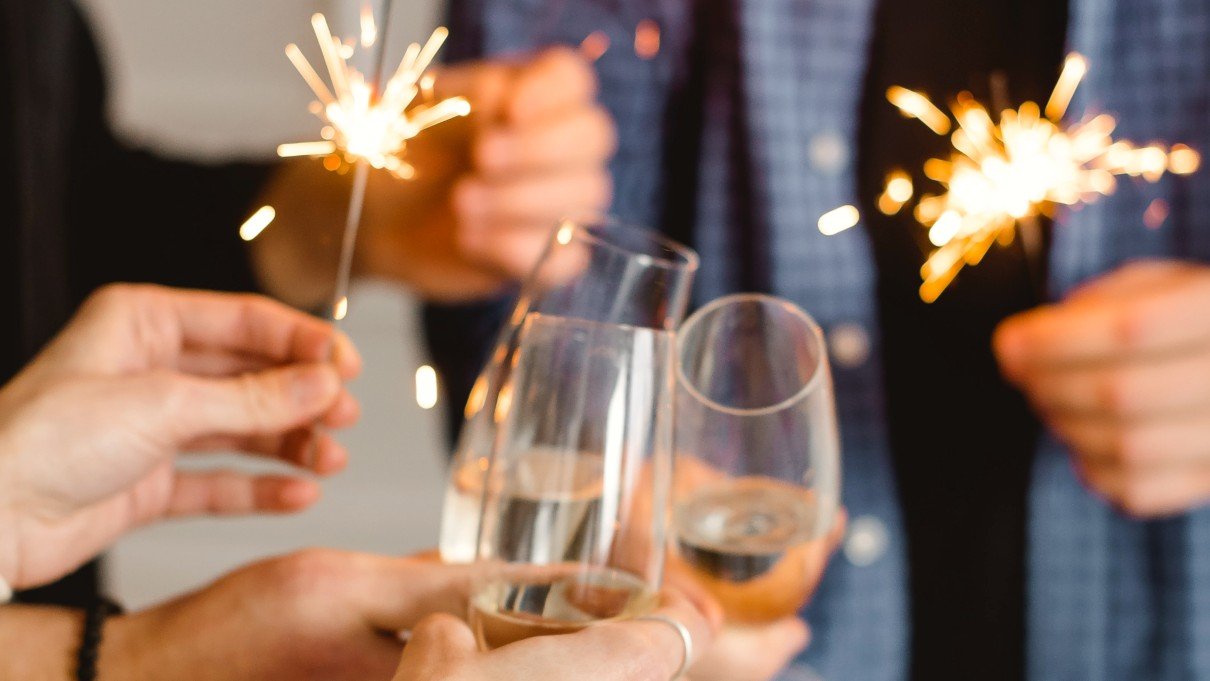 New Year's Eve is a time for celebrating the past year and looking forward to the next. But it's also a time where most people don't think of their environmental impact.
In Times Square alone, over 3000 pounds of confetti litter the streets, many of which can't or won't be recycled. Over 48 tons of trash has to be cleaned up, from confetti to balloons, party hats, pizza boxes, and bottles.
So what can we do to celebrate New Year's more sustainably?
Committing to sustainable resolutions, using and making eco-friendly decorations, and forgoing fireworks and sparklers can all help the environment. As with any other holiday party, it's also important to be aware of our travel emissions and the amount of waste we produce.
How to have a sustainable New Year's celebration
New Year's Eve is one of the biggest nights for celebrating across the world. Parties can range from watching televised countdowns to partying all night long. Some even have fireworks displays.
When you're not hosting a party yourself, you have less control over ensuring that the celebrations are eco-friendly. But you can still bear in mind some important points.
Fast fashion is unsustainable and should be avoided at all costs – so instead of going out shopping for a new outfit for one night, try pairing your current wardrobe to create the perfect outfit instead.
If you can't find something, stop by charity or thrift stores instead. Even renting clothes for the night is more sustainable, even if it might be a little pricey.
You could even arrange a clothes swap with friends!
Public transport is more eco-friendly than everybody piling in separate cars and clogging up the streets with traffic.
If you can't use public transport, make sure to carpool instead. That might mean asking your friends for a designated driver or electing yourself to drive and offering your seats out to any friends – even if you're not going to the same party, if you can drop them off on the way then it's better for the environment.
You should also make sure you don't drop your trash or litter. Instead, take a reusable bag if you're not sure there will be bins there. You could even offer to help clean up after the party. Make sure all recyclables go in the right bin too.
If you're hosting or have a say in organizing a party, avoid fireworks. Fireworks contribute to air pollution and use synthetic chemicals so it's best to ditch them.
Instead, try to focus on the now with your friends and fellow party-goers, and or just watch somebody else's fireworks display – many are even broadcast online or on the television.
Tips for hosting an eco-friendly New Year's Eve party
When hosting a New Year's Eve party, sustainability might not be at tgw top of your priorities but it's good to start your year off with a commitment to being more green.
It also allows you to showcase how to be green to your friends and relatives, enabling them to see sustainability as something to aspire to. You can even recommend products to them when they comment on what you use.
It's never been easier to host an eco-friendly party, so do your research and prepare ahead of time.
My top tips for hosting a sustainable New Year's party are:
Buy organic ingredients
Use reusable dinnerware
Send out invitations electronically
Minimize food waste by planning just enough for your guest list
Borrow or make your own decorations
Organic food is more eco-friendly than other ingredients.
The organic certification ensures that synthetic fertilizers and pesticides haven't been used on the crops, leading to more sustainable practices such as crop rotations and the use of animal and crop waste for nutrients. Organic food from livestock and poultry also ensures that the animals are raised organically and are able to graze and live outside year-round.
It's best to swap to organic food whenever possible to support the organic industry. If you can't find suitable organic ingredients, prioritize making vegan recipes, as they're more eco-friendly.
Reusable dinnerware like bamboo plates and cups, reusable straws, and palm leaf plates are better for the environment than disposable utensils and paper plates. Though it might mean more to wash up after the party,
Using electronic invitations cuts down on paper waste and allows you to keep track of how many guests to expect. Even if you use Facebook's events, it's more sustainable to use electronic invites.
If you really want to personalize it, there are electronic invite services like Evite, Paperless Post, and Greenvelope.
According to Greenvelope, they've planted over 26000 trees and saved almost a million pounds of paper.
By using electronic invites, you can utilize settings to track who is able to attend. This will give you an extra advantage: minimizing food waste.
When you have an approximate number of guests to expect, you can plan your catering or meal planning to ensure you have enough servings for people without having lots of leftovers.
Make sure to plan how to use your leftovers – whether it's allowing people to take some with them or adding it into your own meal planning to eat in the days after the party.
For decorations, you can borrow or buy second-hand decorations to spice up your party room – or go DIY. Making your own decorations sounds like a lot of work but you can make it fun and even get your guests involved on the day.
Eco-friendly New Year's decorations
While it might feel easy to go to a party store or order New Year's decorations, the vast majority of commercial decorations aren't eco-friendly at all. Made of plastic or non-recyclable materials, these decorations are rarely kept each year, instead of being thrown out to add to the waste in landfills.
If you're someone who hosts or plans to host regular New Year's parties, you should absolutely be keeping decorations to reuse each year.
Boring? Not really – most people won't notice the decorations around them, especially if you switch things up each year with placement.
Shiny or sparkly Christmas decorations can be reused for a New Year's Eve party by adding a bit of glamour to the party room. Even baubles can be creatively placed to form a clock on the wall or spell out the year.
But don't go buying new.
Instead, see if anybody is selling or giving away their decorations after Christmas. You can give these decorations a new life by carefully selecting some that can be used for all kinds of parties. Plain decorations can be reused again and again for different occasions.
You can also make your own decorations. With some shiny wrapping paper, you can make paper chains or garlands with a bit of creative effort or follow this tutorial for paper star medallions.
You can reuse your Christmas waste or household materials to create these fantastic decorations:
Edible treats are an even better way to decorate – you can do your decorations and snacks at the same time! My favorite New Year's themed recipes include:
Ideas for sustainable New Year's resolutions
Committing to being more sustainable in the new year is also an important part of celebrating New Year's. Think about what you could do to improve yourself and your home.
If you're worried about sticking to your resolutions, break your ultimate goal (being more sustainable) into smaller steps like using your reusable water bottle, turning off devices to reduce electricity wastage, committing to eating less meat, swapping to eco-friendly cleaning products, and more.
Sustainable resolutions can also include:
Being and showing more gratitude to people
Carrying reusable utensils and straws
Taking more public transportation or cycling and walking more
Donating to environmental charities
Shopping locally
Going paper-free
Donating to charity shops instead of throwing away