How to Have a Sustainable Fourth of July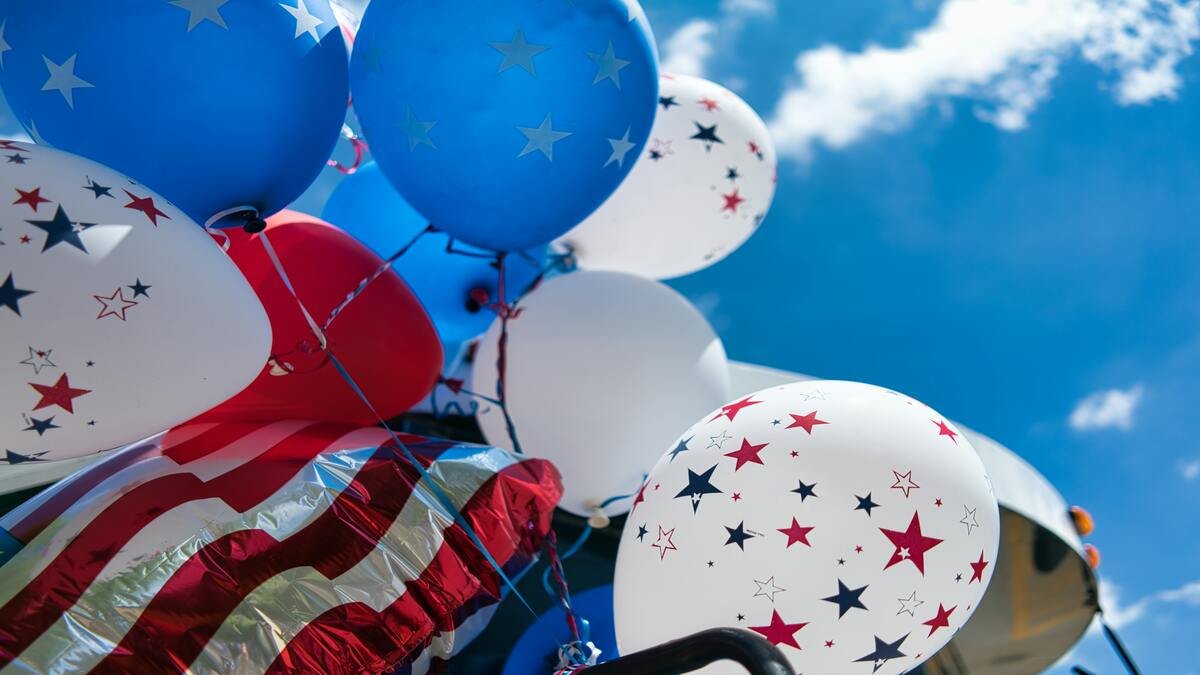 Most Fourth of July celebrations don't have sustainability in mind, and many common ways of celebrating Independence Day have a negative impact on the environment and our health.
Even if you dismiss the environmental concerns around fireworks and sparklers, there are many ways of celebrating the Fourth of July that can be much more sustainable.
You can have a sustainable Fourth of July whether you're a party guest or a host – especially by going over the reduce, reuse, recycle mantra. Make sure to use what you already have and opt for organic, locally-grown ingredients for your meals.
Don't buy fireworks; instead, enjoy community fireworks displays or watch them on TV (or a more sustainable drone light show!).
How can you have a sustainable Fourth of July?
You can have a sustainable Fourth of July by being aware of simple ways to be sustainable and applying them to your party-going. Whether you're attending a party, hosting it, or celebrating at home, you can do your part to make Independence Day a little greener!
People often celebrate the Fourth of July with fireworks, barbecues, parades and carnivals, concerts, baseball games, and family reunions. For most, you'll be the guest. There are still things you can do to help save the environment though!
For meals, go for plant-based hot dogs and burgers instead of grilling up some meat. A meat-free Independence Day can make its own impact, especially since it lands on Monday this year! Or you could challenge yourself to go meat-free during the weekend and celebrate as normal on the Fourth of July.
Make sure to minimize food waste too – plan ahead and only buy and make as much as you need, or plan to use the leftovers afterward.
When it comes to decorations, outfits, and accessories, use what you already have instead of splashing out on something new.
Skip the fireworks in the shop too. Instead, attend community fireworks, step outside when a neighbor is setting them off, or watch fireworks displays on your television. This way you'll get the excitement of the fireworks without adding to air pollution.
Are Fourth of July fireworks displays eco-friendly?
Firework displays aren't eco-friendly – they actually release synthetic chemicals into the air and cause air pollution! The more fireworks go off, the more pollution enters the atmosphere. This can lower air quality and disturb wildlife.
Fireworks have been shown to impact wildlife by:
Causing birds to abandon their nest
Panicking livestock, causing them to become injured as they try to run through fences
Stressing out wildlife to the point of health problems, especially with repeated and frequent exposure to fireworks
Damaging the hearing organs of animals
Killing birds susceptible to tachycardia or death by fright
Disorienting birds, causing them to fly into buildings or out to sea
Instead of setting off your own fireworks, always look out for local fireworks displays or tune in to one on television or online.
This can reduce the number of fireworks set off each year and allows you to snuggle up with your family and friends instead of taking the risk of being burned.
How to host a sustainable Fourth of July party
Hosting a party can be difficult at the best of times, but making it sustainable can be even harder. Remember, it's okay not to be perfectly sustainable! Even one step towards sustainability can make a difference and make it easier to take the next step.
When preparing food, it's important to know exactly how many guests you're going to have and plan accordingly. Buying too much food could cause you to throw out more than you're expecting, so plan how to use leftovers as well. With so many bugs around in summer, you should also ensure food is stored in resealable containers when outside.
Grilling on Independence Day might be popular but giving it a miss could help your budget and the environment.
Charcoal grilling emits polycyclic aromatic hydrocarbons when grilling meat with hardwood charcoal. These hydrocarbons can cause lung cancer with too much exposure, so skipping the grill for the oven helps reduce your and your guests' exposure.
Coupled with fireworks, charcoal grilling can also increase air pollution in your local area. Grilling can also release carbon monoxide and carbon dioxide, so unless you have an electric grill it's really not worth it for your health or the environment.
If your party goes into the night, make sure not to use too much light or make too much noise. Light pollution disrupts nocturnal ecosystems and has other negative impacts on wildlife – including mammals, birds, reptiles, fish, amphibians, invertebrates – and plants.
Light pollution can be caused by LED lights, laser light shows, and light projectors, so either string up lights indoors or opt for more eco-friendly and sporadic lighting like solar lights. Or let your guests go home early so they beat any late-night traffic!
So if you can't have fireworks and you need to limit light pollution, what can you do?
You can light candles or use artificial candles to create a display in multiple colors. Watching fireworks on television with all the lights off can transform your dark room into a spectacular array of colors – it's also less likely to disturb any pets you or your neighbors have!
Tips for an eco-friendly 4th July party
The best tips anyone can give you when hosting an eco-friendly Fourth of July party are:
Ditch the disposable cutlery and make sure to reuse
Buy food locally or go completely organic
Make only as much food as you need
Cook instead of grilling
Decorate with what you already have – or get involved in crafts over the weekend
Don't host your own fireworks display!
Some even smaller tips for hosting an eco-friendly Fourth of July party include:
Using cloth napkins instead of paper
Inviting guests to bring their own food – and takeaway containers!
Reduce travel where possible – or use public transport
Have a recycling bin set out and labeled for your guests
Set out a container for composting or ask if any of your guests would want to take food waste home for their compost
Eco-friendly 4th July decorations
When it comes to decorating for your Fourth of July party, make sure to use up all the decorations you have at home.
You can even repurpose those white and red decorations you put away after Christmas and use them to complement a blue tablecloth. Ask your guests to bring their favorite decorations from home – or to pick an outfit of just red, white, and blue!
If you have kids, find some fun and easy crafts you can do during the weekend with the rubbish or craft materials you have at home. Then make sure to store them properly and use them every year. You don't even have to commit to making new crafts every year that way.
How to make a Fourth of July cake
There are all kinds of recipes out there for Fourth of July-themed treats. If you're a baker or want a challenge, you could try making a vanilla cake and decorating it with blueberries and raspberries like this American flag cake.
You can make a layered Fourth of July cake with sprinkles and buttercream, or forgo the layering completely and just take inspiration from the simple decorations!
Or if you're better off using cake mix, you could make something like Betty Crocker's red, white, and blue layered cake.
How to dress for the Fourth of July
Even if the party you're attending is meant to be super extravagant, you don't need to splash out for new clothes.
To dress for Independence Day, you can look at one (or some!) of these options:
Drag something red, white, or blue out of the back of your wardrobe
Use any star accessories you can get your hands on
Borrow something from a friend or relative
Thrift a new outfit locally
Check Facebook and other websites for pre-owned goodies