Is Rattan Furniture Sustainable?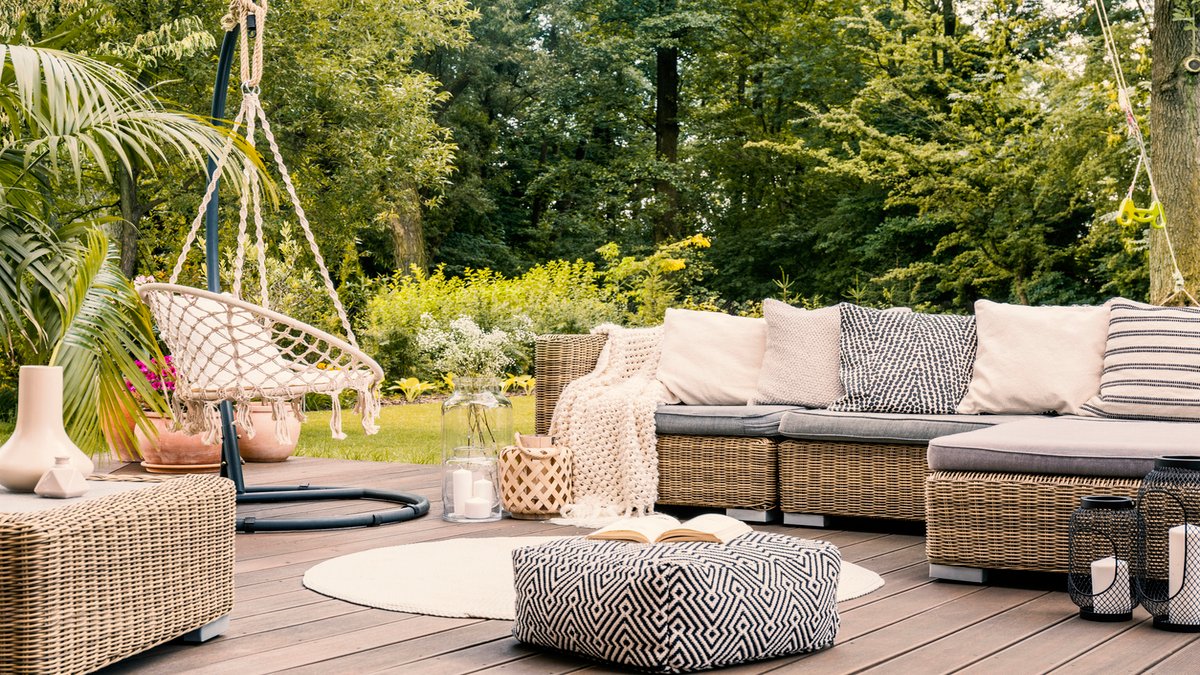 Rattan furniture is commonly spotted during the summer for its warm, natural look.
Easily confused with other wickerwork furniture, rattan's distinctive appearance is especially popular for achieving a Bohemian style. But does that mean rattan is eco-friendly and sustainable?
Natural, or real, rattan furniture is sustainable, but there are concerns about how rattan is treated with synthetic chemicals like diesel.
More prominently is the confusion between natural rattan and synthetic rattan, as many sellers capitalize on confusion by describing plastic rattan furniture with the same name as the plant.
Is rattan bad for the environment?
Growing rattan isn't bad for the environment, but common methods of harvesting and processing the plant are. There's also a common misunderstanding between natural and synthetic rattan which often encourages the purchase of synthetic rattan furniture.
Like bamboo, rattan grows very quickly. In ideal conditions, it takes only five years for rattan plants to be ready for harvest.
Rattan is threatened with overexploitation in areas it grows naturally. Though some rattan can halt deforestation by providing higher income than timber, in other places rattan can cause deforestation as people attempt to grow more at the expense of natural biodiversity.
Rattan grows best alongside other plants, as it relies on trees and vegetation for survival and to climb up.
Processing rattan can be extremely eco-friendly, with just the use of a knife, file, and brushes.
However, the more modern method described in the Pro-Agro Collection soaks rattan canes in boiling diesel oil to cure it. This is said to produce more high-quality rattan, rid the canes of pests, and increase durability "from 1.5 months to at least six months". This makes it not only more expensive but also far less eco-friendly.
Even though rattan can be grown, harvested, processed, and weaved in a completely eco-friendly way with no synthetic chemicals, much of the industry prioritizes putting out as much rattan as possible.
Is rattan a natural material?
Rattan furniture can be made from the rattan plant or synthetic fibers. The majority of cheap rattan furniture is made from synthetic fibers which are more durable but bad for the environment.
What is rattan made out of?
Natural rattan furniture is made from plant fibers. Rattan comprises around 600 species of climbing palms found across Africa, Asia, and Europe. Of these, 20% are used to create rattan furniture and products through weaving the rattan wood.
Some brands advertise natural rattan as 'real rattan' but don't necessarily make the distinction for synthetic rattan.
Synthetic rattan is more common and should be avoided. Made using plastic fibers, synthetic rattan is common in rattan garden furniture.
Polyvinyl chloride, polyurethane, and polyethylene are usually used to make synthetic rattan furniture.
Is rattan biodegradable?
Natural rattan is biodegradable and in ideal scenarios could even be compostable. It's important to only treat natural rattan furniture with natural products, especially oil, and avoid paint.
By painting rattan furniture or adding varnish or finish, the rattan will no longer be biodegradable. Instead, the plant will break down with petroleum, microplastics, and chemicals bonded to its molecules.
What makes rattan eco-friendly?
Natural rattan is as eco-friendly as bamboo, as both grow exceptionally fast and produce wood-like materials. It can also grow and be harvested from the wild. Growing rattan can even encourage farmers to retain forest in order to grow rattan instead of cutting down trees.
Sustainably sourcing rattan isn't as widespread as it could be, but you can always check with a brand or supplier if their rattan furniture is treated with diesel, petroleum, or other synthetic chemicals.
Are rattan and wicker the same?
Rattan is a material, while wicker is a technique. A piece of furniture could be made from rattan using the wicker technique, but not the opposite.
Most wicker furniture is made from willow, rush, and rattan.
Does rattan furniture last?
Rattan furniture can last for years with proper care.
Natural rattan furniture should be kept away from any damp or wet areas, as the water will damage the rattan and cause it to begin rotting away.
This makes rattan furniture perfect for indoor purposes! But unless you live somewhere with no rainfall all year round or can predict the rainy season accurately, it's best to avoid putting rattan furniture outside.
Always make sure to mop up any liquid spills around rattan furniture quickly. If you find a stain, use a damp but not dripping cloth or rag and add a dot of dish soap to wipe it away. Dry it immediately after.
Is rattan furniture durable?
Natural rattan is a very durable material, and it's also strong. While it has weaknesses – especially moisture – it has the potential to last for years with proper care.
To care for your rattan furniture, here are some great tips to prevent wear and tear:
Never drag your furniture – lift and carry it
Don't leave it outside, even with covers on, if there's any chance of rain
Protect the rattan from clothes snagging on fibers with cushions for the seat and back
Use a rug to protect the rattan legs from splitting if moved accidentally
Keep away from radiators or fires
Ensure there's proper ventilation around your rattan furniture
Use a cover to protect rattan from dust when you're not using it
Excessive heat and humidity can damage rattan by drying out or warping the furniture. This is why well-ventilated areas are best for rattan because it won't get too dry or too hot or too warm.
How to clean natural rattan furniture
Taking care of natural rattan furniture is easy with natural cleaning methods.
Simply vacuuming rattan furniture regularly with an upholstery brush can help remove dust and prevent build-up on the weaving. Make sure to get the brush bristles into any crevices.
Mix mild dish soap in water to create bubbles, then use only the bubbles to wipe down the rattan with a cloth or rag. If you dip the cloth into water, wring it out before touching the rattan.
A toothbrush can be used to apply bubbles to any grooves and crevices. Make sure to wipe down with a dry cloth or rag and then set the furniture in a well-ventilated, sunny area to dry thoroughly.
Remember not to rub into the rattan, because you could damage the fibers.
Cleaning grooves and crevices are essential, but it also raises the chance of mold using moisture to clean it.
Mold is usually found in the legs of rattan furniture, but it's worth checking any grooves. If you check regularly, you can treat the mold with baking soda.
It's hard to say what the best way of using baking soda to treat mold on rattan furniture is. I've found suggestions of mixing a paste with water, but this could result in moisture being retained in grooves.
My suggestion would be to try gently spraying water on grooves with suspected mold and then using a dry toothbrush to apply baking soda into the groove. The baking soda will react with the water, and it will also absorb some water. Then leave it to air dry in a well-ventilated area.
Prevention is key to taking care of natural rattan, so make sure to dust thoroughly and regularly!
If your rattan furniture has become too dry and started splitting, you can treat it with boiled linseed oil. Boiled linseed oil is a product available in most hardware stores – you don't have to boil linseed oil yourself!
Kingsway Cane recommends restoring with boiled linseed oil by:
Dipping a soft cloth into boiled linseed oil
Apply it to the furniture until it's no longer absorbed
Wipe the furniture clean with a different soft cloth
Allow the oil to dry and harden before using the furniture again
Is natural rattan furniture weatherproof?
Natural rattan is intended for indoor use because it's not weatherproof. Rattan is particularly susceptible to damage after becoming wet, so you should avoid keeping it outside.
If you see rattan garden furniture, it isn't made from natural rattan.
Is rattan garden furniture any good?
If you want natural rattan garden furniture, it's best to keep it in a conservatory or in front of open windows instead of outside. While the sun won't fade rattan, your garden furniture may begin biodegrading in wet conditions.
Is poly rattan recyclable?
Poly rattan is synthetic rattan made from polyethylene fibers and is recyclable. Also known as PE rattan, poly rattan is one of the most common types of synthetic rattan, and is the only one that appears to be recyclable.