Are Quip Toothbrush Heads Recyclable?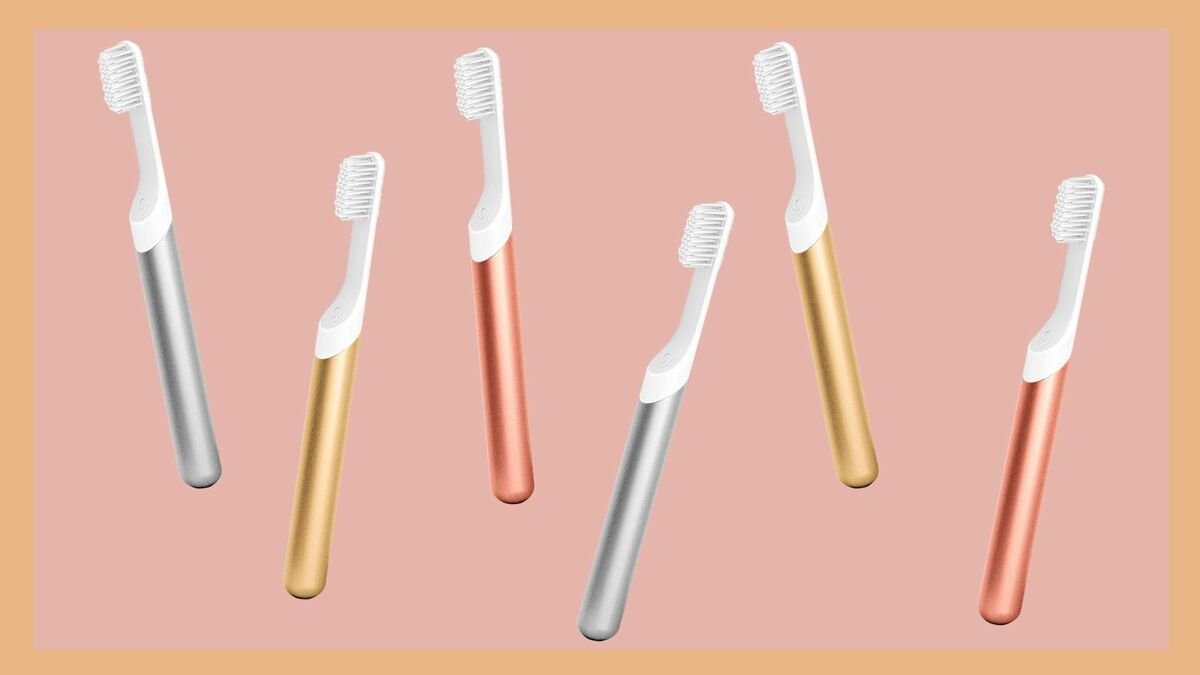 Have you ever considered getting an electric Quip toothbrush? Are you concerned about what you would do with all the old toothbrush heads though? If so, you've come to the right place.
In today's post, we're going to deep dive into how to properly care for and eventually get rid of toothbrush heads.
What is so special about a Quip toothbrush?
The main thing that makes Quip toothbrushes special is the fact that they can last a lifetime. This is because they use replaceable AAA batteries and come with refills of toothbrush heads.
For only $5 per delivery, Quip can send you toothbrush heads and floss refills every three months. They can even deliver toothpaste to you as well if you're willing to spend $5 more. You even have the option to add replaceable batteries to your refill plan. But just know that you can always opt out of using single-use batteries altogether and use rechargeable ones instead.
Another thing that makes Quip toothbrushes special is the fact that dentists designed them to have maximum impact on your oral care. That's why they have cool features like sonic vibrations and 30-second pulses.
It also helps that these toothbrushes are quiet, sleek, and lightweight. This makes it easy for you to carry them around and use them at night when others are sleeping.
Finally, both the toothbrush and refills come packaged in plastic tubes that can be recycled or reused.
Is Quip toothbrush eco-friendly?
Yes, Quip toothbrushes are eco-friendly. For one, the bases of their brushes are made of metal or recycled plastic. This can last you a lifetime and can also be recycled if need be. Also, the fact that these brushes don't need a charging stand reduces the amount of plastic used in the products.
There's one problem though; the bristles of the Quip toothbrush heads can't be recycled. This is because they are made of nylon. However, this material is what makes them great for gently cleaning your teeth. Also, nylon bristles can easily be reused around the house, particularly in cleaning.
But before you reuse them, you need to clean and disinfect them. According to the Quip website, you can do this by first leaving them under running warm water and then using antibacterial soap to scrub them clean. This usually takes 30 to 60 seconds, but you can keep going until you're sure the bristles are clean.
Afterward, soak them in a mixture of water and hydrogen peroxide for around 15 minutes. To make this solution, just mix one cup of water with one teaspoon of hydrogen peroxide. Whatever you do though, don't try using a dishwasher or boiling water to disinfect these bristles.
How long does Quip brush heads last?
Quip brush heads should be replaced after every three months. This is about the same time that this toothbrush's replaceable batteries last as well.
Can you clean a Quip toothbrush head so you can use it longer?
While you shouldn't use your Quip toothbrush head for longer than 3 months, keeping it clean will ensure that it serves you well during that time. Ensure you give it a deep clean once every few weeks and do some light cleaning every day.
To do the former, soak it in a solution of water and hydrogen peroxide for around 15 minutes before thoroughly rinsing it. To do the latter, ensure that you rinse your toothbrush head with warm water before and after brushing your teeth.
It's also important to clean the top part of your toothbrush handle whenever you are changing your brush head. After all, this is the part that will attach to the new brush head.
To clean it, you can use a damp towel to wipe it clean. But if you find a lot of grime, you can use an old toothbrush head to scrub it off. Once you're done, ensure the area is rinsed and left to dry before a new brush head is installed.
Beyond that, remember to store your toothbrush appropriately to avoid contamination when you're not using it. To do this, always keep it with its brush head facing up. This will allow it to air dry adequately.
How do you properly get rid of a Quip head?
The best way to get rid of Quip heads is to reuse them or throw them out in the trash.
Consider Quip
If you're looking for an electric toothbrush that's sleek, effective, and long-lasting, Quip is a good option.