Is Motor Oil a Recyclable Waste?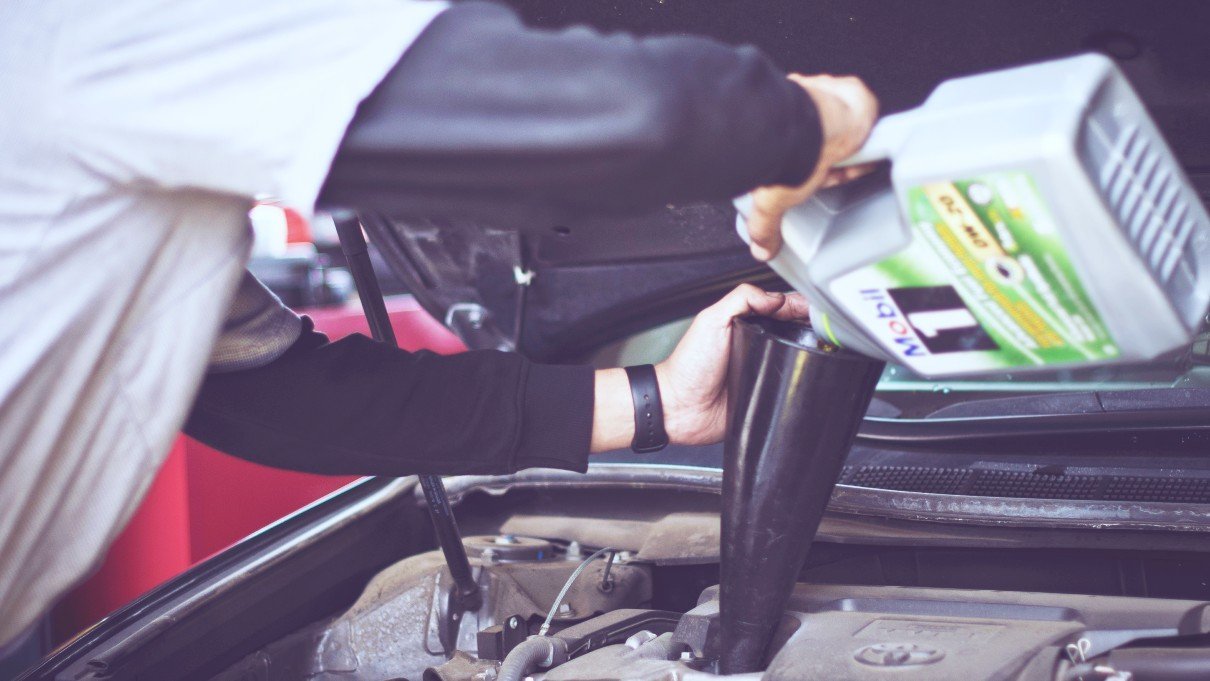 According to the United States Environmental Protection Agency (EPA), used motor oil from one oil change can contaminate up to one million gallons of freshwater.
This is a year's worth of water supply for 50 people.
So if you're one of those people who change their own oil, you should be really careful when disposing of used motor oil.
Coming up with a reliable system of disposing of this waste is the best way to prevent contamination accidents.
To help you out, today we are going to talk about all the disposal options available to you.
Whether you have been thinking of recycling, burning, or dumping your used oil on the ground, today's post is going to answer your most pressing questions.
By the time we're done, you'll have all the information you need to handle your motor oil waste in a sustainable, environmentally friendly way.
Is motor oil a recyclable waste?
Yes, motor oil can be recycled. In fact, it requires less energy to recycle a gallon of this oil than to create it from crude oil.

If all American do-it-yourself oil changers recycled their motor oil they could fuel 50 million cars a year.
How does recycling motor oil work?
To recycle motor oil, pour it into a clean container and drop it off at a recycling facility.
You can identify a suitable facility by conducting a quick internet search or asking your local authorities. Your state may provide you with a list of certified recycling centers or let you know about any dedicated drop-off sites.
Alternatively, you could try contacting motor oil retailers like Walmart, Advance Auto, and AutoZone – most of them accept used motor oil for recycling. Many service stations do this too.
While some of these recycling programs prefer you pass your motor oil through a filter before dropping it off, others have no restrictions other than the assurance that you didn't mix it with any other fluids.
Interestingly in some states like California, the government will pay you whenever you drop off your oil for recycling – the payment is usually less than one dollar per gallon though.
Whatever you do, remember to drain and recycle your used filters as well. Fortunately, most of the collection centers that accept motor oil for recycling accept filters too.
Once used motor oil arrives at recycling facilities, contaminants like water, chlorine, nitrogen, heavy metals, and dirt are removed from it. It is refined until it can safely and efficiently be used in engines again.
How do you recycle motor oil at home?
You can't recycle motor oil at home. So if you can't take it to a recycling facility yet, you're just going to have to store it in a sealed container in your home until you can. Just ensure you keep it away from kids, pets, water, heat, and sunlight.
As you wait, you can use some of it in your workshop to loosen rusted bolts and coat machine parts left in storage.
Is recycled motor oil any good?
Yes, recycled oil is good – it is just as good as new motor oil.
While this may have not been the case in the past, the advanced recycling techniques of today ensure that it's surely the case now. The resulting oil is usually high-quality and possesses the same performance and production quality as new motor oil.
As such, it can be mixed with new motor oil without worry – you can even switch back and forth between the two. Moreover, it is usually certified by the American Petroleum Institute (API).
How do you recycle reused motor oil?
Reused oil should be recycled in the same way as oil used for the first time.
This is because the only difference between these two types of oils is that reused oil is dirtier – none of the two is more worn out.
As long as you filter the reused oil before dropping it off for recycling, things should be fine. But if you are in doubt, ask your chosen recycling facility beforehand.
Can used motor oil be burned?
Yes, used motor oil can be burned in a waste oil burner.
This is a type of furnace that uses used motor, fuel, or hydraulic oil to heat up a business or home.
Not only does burning used motor oil this way provide you with free heat, but it also saves you from the costs associated with traditional heating systems.
What's more, waste oil burners are more environmentally friendly than traditional heating systems.
They meet the EPA's clean air preservation requirements and the motor oil used in them has more energy than coal and #2 fuel oil.
Can you dump used motor oil on the ground?
No, you can't dump used motor oil on the ground or even in your trash bin or toilet. These disposal options only lead to contamination of soil and water bodies.
That's why 38 US states and the District of Columbia have even banned motor oil from landfills. The only waste material that has been banned from landfills in more states is car batteries.
Interestingly, oil filters are banned from landfills in two states – Wisconsin and North Carolina.
How bad is motor oil waste for the environment?
When disposed of inappropriately, motor oil can pollute the environment.
When it makes it to a water body, it floats and forms a layer on the surface. This keeps oxygen and sunlight from penetrating the water, negatively affecting fish and underwater plants that rely on these resources to survive.
Also, since motor oil contains toxic chemicals like arsenic, chromium, dioxins, cadmium, lead, polycyclic aromatics, and benzene, it can harm plants and animals living on the ground that it is spilled on.
Reuse and recycle!
Ultimately, the best way to deal with used motor oil is to find a way to reuse or recycle it. This ensures you don't cause any environmental pollution and even helps you reduce your carbon footprint.
The sooner you get used to doing this the better!