How to Plan an Eco-conscious Thanksgiving Meal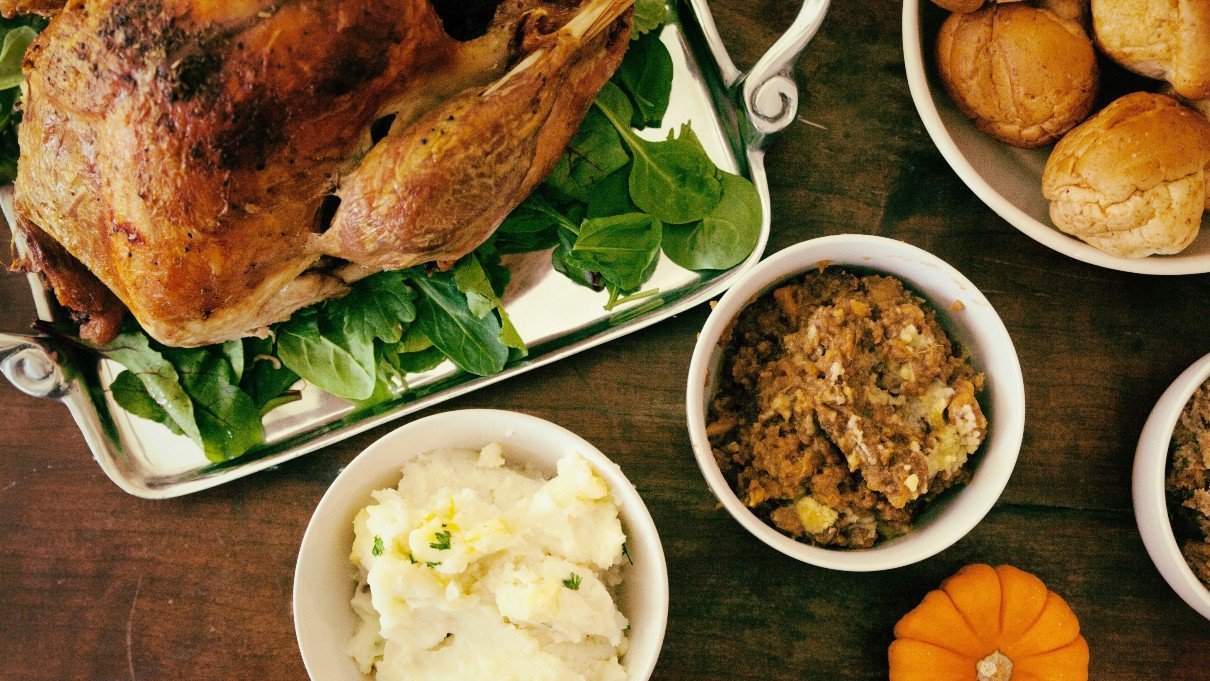 Food waste is one of the biggest concerns for people looking to celebrate Thanksgiving in an eco-friendly way.
According to the Natural Resources Defense Council, over 200 million pounds of turkey meat alone is thrown out every Thanksgiving.
This revelation has led to many across America switching from turkey to plant-based meals. But that isn't all we can do to plan an eco-conscious Thanksgiving meal.
Planning a sustainable Thanksgiving can be pretty simple. Calculating portion sizes, swapping to vegan recipes, cutting down on meat, and donating leftovers can all help create an eco-conscious meal.

How to be more eco-conscious this Thanksgiving
According to the Calorie Control Council, the average person consumes around 3000 calories just from the typical Thanksgiving meal. This is based on four appetizers, one roasted turkey, several side dishes, one cup of sweet tea, and pecan pie for dessert.
A quick experiment for The New York Times reached up to 2486 calories.
The amount isn't a problem in itself – it's what happens when you prepare too much food.
Cooking too much food leads to food waste, much of which ends up going to landfill where it's mummified and contributes to greenhouse gases.
Only 6.3% of food waste is composted, based on research from the Environmental Protection Agency.
So how do we create an eco-conscious Thanksgiving meal?
Plan portion sizes and cut down on leftovers
Switch out meat for vegetables or plant-based recipes
Buy local ingredients
Avoid disposable tableware
Cooking sustainably
Donate or use up leftovers
Planning portion sizes
Calculating portion sizes helps cut down food waste right from the beginning.
Instead of covering a table in food, it's better to work out how many people are coming and plan ahead with your portions.
If you only have four people eating at your table, do you really need five different side dishes that could feed eight?
It's also important to plan ahead before you purchase your ingredients, so you can make the most of what you've bought and reduce how much will be leftover.
If you need to purchase a bag of potatoes but will only use half, make a meal plan to use up those potatoes before it's too late.
Good Housekeeping recommends an 8-pound turkey to feed 8 people.
The smallest size turkey you can buy is a 6-pound turkey. When you have less than 6 people, you should either plan how to use the rest of the turkey later on or forgo the turkey entirely.
You can safely freeze turkey in the freezer for up to 1 year without losing quality.
You can store leftovers in the freezer as long as they haven't been left out at room temperature for more than 1 hour, which can then be used within 2 to 6 months.
The USDA's Safe Food Handling and Preparation articles can be used to determine how best to freeze and thaw your food.
Cutting down on meat
You don't have to give up on all meat for Thanksgiving. Just trimming down the amount of meat you use can make a big difference.
Making vegan side dishes can make an even bigger difference.
By making even small steps to add more vegan recipes to your repertoire, you can help reduce dietary emissions.
Plant-based food also uses less land and water than the amount needed to sustain livestock.
Some great plant-based recipes for Thanksgiving include:
Buying local and organic ingredients
Supporting local businesses helps the environment and your community. The closer a shop or farm is, the fewer emissions are released when transporting goods.
Farmers' markets are an ideal place to buy produce, and you can bring your own bag to cut out plastic.
Certified organic ingredients are always better than processed food as well.
Spend some time working out what you need and then compare ingredients from different shops. If there are any organic or health food stores near you, try to buy as much as possible in one trip.
When buying the turkey, make sure to go for local, free-range turkey. It's a big bonus if you can find certified organic turkey!
Avoiding disposable tableware
Disposable cutlery and plates are the worst you can use to set your table. Washing up dishes is a pain in itself, but it doesn't harm the environment half as much as disposable tableware does!
If you really can't avoid disposable tableware for some reason, look for those made from recycled or compostable materials. After you're done, you can dispose of them properly.
Just make sure to avoid plastic and styrofoam!
Cooking sustainably
Cooking sustainably is a big part of all these tips. To cook sustainably means:
To buy local
To substitute as many animal products with plant-based ingredients as possible
To eat seasonal foods
To reduce food waste
Harvard's 5 tips for sustainable eating recommends prioritizing plants, minimizing meat, prioritizing new seafood (by avoiding overfished seafood), looking locally, and eating mindfully.
Eating seasonally is especially important at Thanksgiving, and it can even be part of your decor.
Cranberries, thyme, pumpkins, chestnuts, sweet potatoes, celeriac, shallots, sage, and sprouts are all seasonal foods that you can take advantage of this season.
Try looking for recipes that highlight these ingredients, whether for side dishes or as part of your centerpiece.
It's also important not to turn away from food that just looks a bit misshapen.
Imperfections in vegetables often leads to shoppers avoiding buying them or throwing them away, contributing heavily to food waste. Some stores even have imperfect produce bins to help you buy food no matter what it looks like.
Make sure to use up all of the produce you've bought too – from stem to leaf, or beak to tail – to reduce food waste.
Consider whether you really need to peel your vegetables, or if you can use those peelings for something else.
Donating Thanksgiving food
You can donate meals and leftovers to help others.
Feeding America advises you to find your local food bank and check whether they're currently accepting food donations. Sometimes they list what their most needed items are.
For Thanksgiving, most food banks will accept:
Boxed stuffing
Instant mashed potatoes
Canned vegetables
Dry macaroni
Cranberry sauce
Canned pumpkin
Food banks won't accept your leftovers or perishable goods. Instead, you should look into using them up yourself or composting everything you can.
You may be able to find homeless shelters, housing shelters, or non-profit charities that might allow food donations. Always call ahead, though, to check their policies if you can't find information online!
Unopened or untouched foods can be donated to local food rescue organizations or food pantries.
Find out where your closest centers are and call ahead to check if they're taking what you need to get rid of.
Using up leftovers
If you haven't already prepared a meal plan on how to use up your leftovers, check with your friends and relatives if they'd like any leftovers. You can use reusable freezer bags to package their leftovers, which they can give back when you see them next.
You're likely to have leftovers still, whether from the meal or from what you weren't able to use up.
There are recipe search engines like SuperCook and RecipeLand you can use to find what your leftovers can make.
These search engines ask you to input what ingredients you have at hand and generate recipes that use them. You don't even need to use their suggested recipes. Instead, use it to generate ideas and then look for recipes that work for you.
You can use turkey leftovers to make broth in a slow cooker or stockpot. By putting the bones and drippings into the slow cooker, you can add any leftover onions, carrots, celery, herbs, and bay leaves to make Good Cheap Eats' turkey stock overnight.
For vegetables, you can add them to stock, pickle them, and even make them into smoothies. Plant With Purpose has some great tips on using up all your vegetable leftovers.
For anything you absolutely can't eat, you should compost instead of chucking them in the garbage. Even bones can be composted if you or anybody you know does bokashi composting.