How to Be a More Eco-Conscious Wedding Guest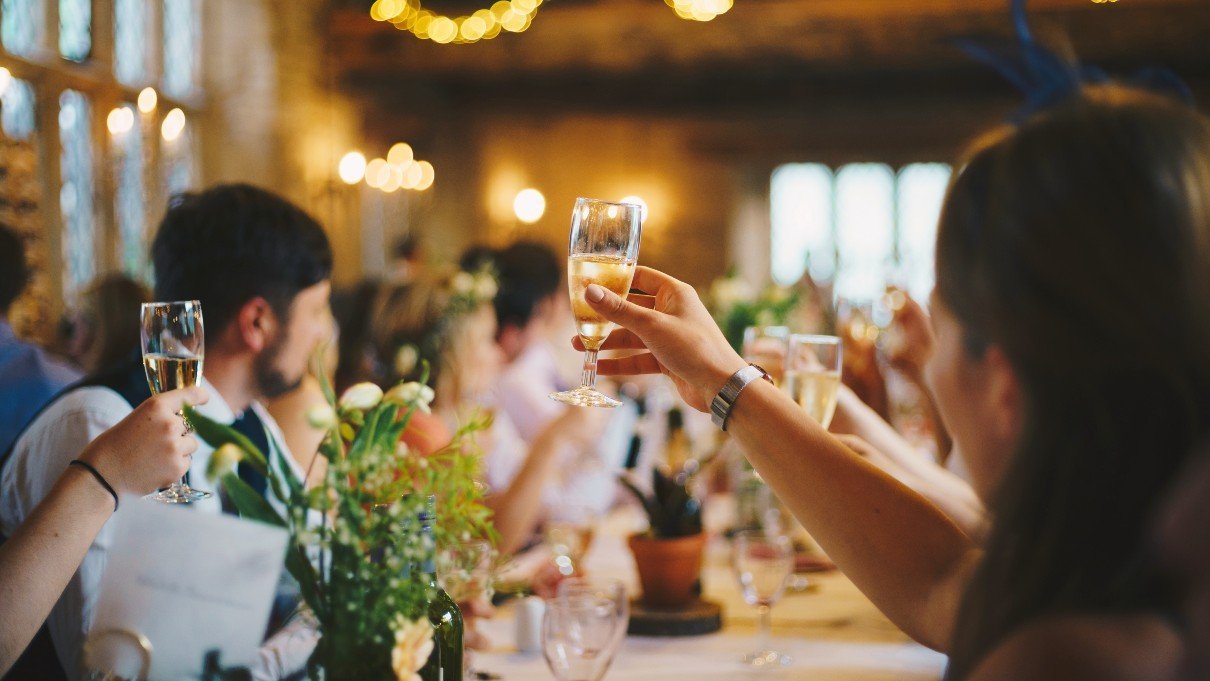 An average of 2.4 million weddings happen every year in the United States alone, with between 50-150 guests per wedding – and sometimes even more.
Being eco-conscious isn't at the forefront of every wedding guest's mind, but just a small, consistent change can work wonders. You have even more impact if you're the kind of person invited to multiple weddings a year.
Follow these tips to learn how to be more eco-conscious as a wedding guest, and if you're planning your own wedding consider encouraging your guests to think the same way.
How can I be an eco-friendly wedding guest?
Here are the top 8 ways to be a more eco-friendly wedding guest:
Take a train or boat instead of a plane if traveling long distances.
Carpool or use public transport.
Make sustainable choices with your accommodation plans.
Wear an ethical outfit and avoid buying new just for the event.
Use eco-friendly makeup and personal care brands.
Buy or make an eco-friendly wedding gift.
Use recyclable or reused wrapping paper.
Buy or make biodegradable confetti.
Being eco-conscious as a wedding guest is a little easier if the wedding is close to home, especially if you're able to carpool or stay around a family or friend's house instead of booking a hotel.
Destination holidays make this a more difficult task. Not only do you have to plan meticulously, figure out travel plans, accommodation plans, and prepare for the wedding, you have to do that for a (typically) completely unfamiliar place. It's not as easy to be eco-conscious either.
The best way to be eco-friendly and sustainable for destination weddings is to plan it as a proper vacation if you can.

Transportation
Taking a train or boat is much better for the environment than a plane, and you can even stop in different locations along the way. A sleeper train can double as your accommodation overnight, removing your need to book a hotel, especially if you're packing light.
On the topic of transportation, make sure to use public transport or carpool instead of loading up the whole parking lot with individual cars. If you have an extra seat, see if any other guests need a lift on the day.
Accommodations
According to research conducted by American Express in 2019, British people spend an average of £391 just to attend a wedding. Hotels, outfits, and gifts are the biggest expenses guests deal with, and all of them can have an impact on the environment.
Picking the right hotel is difficult enough. Trying to find which hotels are actually sustainable is even harder.
Your comfort always matters – just try to find somewhere within walking distance or that has public transportation you can use to get around. You can cut down on costs of more expensive rooms by sharing with other guests.
Supporting local hospitality is more important now than ever, but hotels aren't the only option out there.
Airbnbs aren't the most sustainable alternative either, so instead check out local bed & breakfasts and hostels to find cheaper and sometimes closer accommodation.
Wedding glam
Wedding outfits don't always have to be brand new either – you can reuse outfits you already have, borrow clothes from somebody else, or buy secondhand clothes that you sell on or donate after the event.
When buying secondhand clothes, make sure to check out charity or thrift stores first so you aren't directly contributing to or encouraging fast fashion.
Eco-friendly makeup and personal care can make a small but impactful difference as well.
Do you need to buy new makeup, or could you use up some of what you already have?
Could a friend help with your hair with products you already have?
Asking yourselves these questions can offload a lot of stress about what you need to buy and help kickstart some sustainable habits to keep.
Eco-friendly wedding gift ideas
The best eco-friendly wedding gifts you can give are those that are reusable, sustainable, and are useful for the newly married couple. While many have a wedding gift list, others don't, and sometimes they just don't work.
You don't have to buy physical gifts either – you can buy experiences, like tickets, memberships, or courses and days out.
Maybe your friend has always wanted to try baking, so you gift them a couples' cookery class; if they're adventurous, look at zip wire experiences or memberships for outdoorsy adventures. You can donate to charity in their name as well, which includes adopting an animal.
For more physical gifts, take a look at these ideas:
Zero-waste kitchen kits.
Bird dishes or feeders.
Eco plant pots with a garden starter set.
Bamboo towels and bathrobes.
Organic cotton throw pillows.
Bug hotels (if the couple is okay with bees and bugs!).
Recycled glass vase.
Sustainable bedspread.
Zero-waste travel kits (cutlery, haircare, essentials, and more).
Eco-friendly candle sets.
Make sure you buy from ethical, sustainable companies. Where possible, try to buy reusable, long-lasting gifts, especially ones that can be passed to others.
Personalized gifts are fantastic but they're more likely to be chucked in a landfill than donated!
Sustainable outfits for wedding guests
More than 100 billion garments are made every year, with a lot of them burned or tossed into landfills. In 2018, the BBC reported that fashion brand Burberry burns around £28.6 million worth of unsold clothes, accessories, and perfume just to "protect its brand". They weren't alone, and it still continues.
Fast fashion is the clothing industry's fight to put trendy clothes into stores to meet the demands of consumers. Clothes tend to trend for around one year, sometimes less. Because of this, new clothes are rarely worn more than a few times before they're discarded.
Fast fashion is an unsustainable practice that prioritizes cutting corners, endangering workers, using environmentally unfriendly materials and chemicals, and encouraging a culture of one-use clothing.
Here are a few ways to choose your wedding outfit while staying eco-conscious.
Buy from ethical designers
Eco-fashion is gradually getting more popular. Ethical designers are those who:
Minimize their impact on the environment.
Support better working conditions for manufacturers and suppliers, including fair wages.
Use sustainable materials like cotton and plant-based dyes.
That said, you should avoid brands that only have eco-fashion lines rather than making it their whole business.
If you can't, then only support the eco-fashion line and don't buy outside it. Money talks and is your best way of communicating that you support sustainable fashion.
Borrow from friends and family
If you know you're about the same size as a friend or family member, try asking if you can check out their closet and if they'd be okay with you borrowing an outfit for a wedding.
This way, you save money and don't contribute to fast fashion.