Where Can I Buy Sustainable Pajamas: Best Sustainable PJ Brands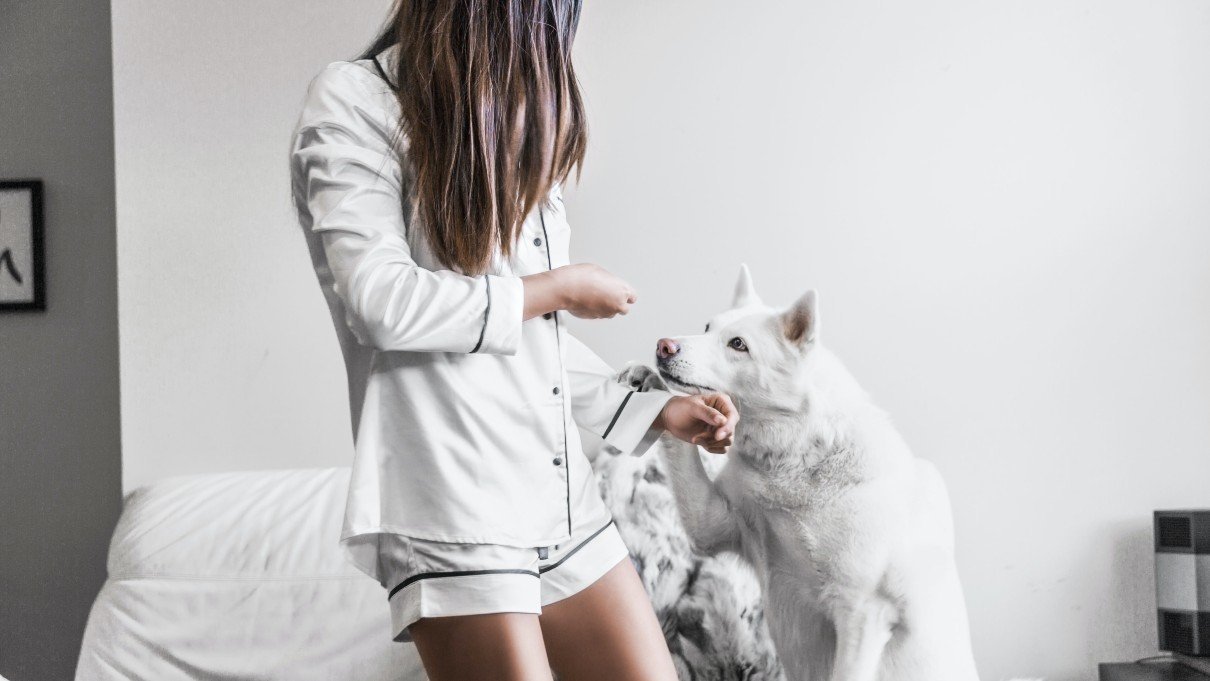 Sustainable fashion is the answer to fast fashion – it's about making sure that our clothing doesn't ruin the environment any more than it already has. By minimizing the environmental impact of our PJs we can help stop more and more fabric from being sent to landfills.
While the first step is always to keep using your clothes for as long as possible, sometimes we have to give in and buy something new.
Buying secondhand is generally preferable, but supporting sustainable companies is also an option. You'd be surprised what's on offer!
Below you can find some of the best sustainable pajama brands. Buying local or from small businesses in your country can help cut down on emissions too!
Where to buy sustainable pajamas
Sustainable pajamas are pajamas that are made from sustainable materials and are ethically made. This means using fabrics like organic cotton, bamboo, hemp, linen, silk, and wool.
Recycled fabrics – including polyester – are sometimes added to this list, depending on whether you're looking to cut out microfibers entirely.
When looking at pajamas to buy, prioritize buying pajamas made from:
Organic cotton
Linen (sometimes blended with cotton)
Hemp (sometimes blended with cotton)
Organic bamboo (or bamboo linen)
Tencel lyocell (semi-synthetic)
Other sustainable pajama fabrics include modal (semi-synthetic), bamboo viscose, conventional cotton, rayon, conventional hemp, and wool.
Research into environmental benchmarks for fibers from Made-By determined that all of these are less sustainable than organic fabrics or recycled cotton, wool, and nylon.
Bamboo is often marketed as eco-friendly but turning bamboo into fiber is often unsustainable. Brands that use bamboo sustainably are those that use Fair Trade, non-toxic chemicals, and recycled water.
When buying pajamas, always look for certified organic brands and logos to ensure you're buying sustainable clothing.
17 best sustainable PJ brands
With the push for more sustainable clothing and an end to fast fashion, more sustainable brands have popped up over the last few years.
Here are some of the best sustainable pajama brands out there.
Leticia Credidio
A sustainable sleepwear brand, Leticia Credidio sources their fabrics in India and Europe, using non-plastic packaging made from discarded fabrics.
All their products are made in a family-run atelier in Italy.
They even have an upcycle scheme – after owning their products for at least 3 years you can trade it back to them for 25% off your next purchase so they can clean, amend, treat, and resell products instead of discarding them.
The Ethical Silk Company
Using mulberry silk from India, The Ethical Silk Company uses sustainable practices to make luxury women's sleepwear.
They use Fairtrade units to produce their clothes and only make as much as demand asks for to reduce waste.
10% of their profits go to charity and they are guaranteed Fair Trade.
Sustain
Sustain was founded on the principles of slow fashion – good, clean, and fair clothing. Their women's sleepwear uses natural dyes and is manufactured in Los Angeles.
All their products are made using 100% natural materials. The use of organic cotton, organic linen, and plants for dyeing give them a negative carbon footprint.
Boody
Boody uses organic toxin-free bamboo to create their products and use all of the plant, ensuring limited waste. They even use recycled water.
is made for women and babies.
The company includes a list of their certifications: Ecocert, SGS, ISO 14001 & ISO 9001, WRAP, and PETA Vegan Approved. They also work with and support charities with sales.
MATE the Label
MATE has eight factors they stick by: clean, essential, organic, ethical, woman-centered, plastic-free, circular, and local.
Based in Los Angeles, they ensure their products are knitted, cut, sewn, and dyed in LA. Their materials include organic cotton jersey, Tencel, and linen, only using natural, plant-based fabrics. They also have a recycling scheme to transform old products into new.
MATE is certified Climate Neutral and donates at least 1% of profits to 1% for the Planet, which totaled over $95,000 in 2020.
Thought Clothing
Thought's nightwear is made from organic cotton, hemp, or bamboo and made for women, though they also sell loungewear.
They commit to responsible sourcing and fostering change, and support several charities: Smart Works, Trees for Cities, and The Woodland Trust. They're also one of the founding partners of Ethical Fashion Forum.
Noctu
Noctu specializes in organic cotton nightwear, though they also have linen blankets and lambswool hot water bottles. You can find Noctu sleepwear for children and adults.
They use Global Organic Textiles Standard-approved cotton.
Noctu supports the World Land Trust with every purchase to save 10 square meters of endangered wildlife.
Pact
Pact wants to be Earth's Favorite™ Clothing Company – which they've trademarked. They use organic cotton and Fair Trade factories to create sleepwear for womenAffiliate link, men, children, and babies, as well as organic cotton quilted comforters and pillowcases.
They have a 'give back box' to donate old clothes to nonprofits, offset the carbon footprint of shipments, and minimize packaging lifecycle footprints.
People Tree
Based in London, People Tree is committed to using sustainable fabrics like organic cotton, TENCEL lyocell, and responsible wool, and have a number of certifications, including PETA-approved vegan and guaranteed fair trade. They make nightwear solely for women.
People Tree is also partnered with Give Back Box to take clothes donations for charity.
Petrizzi
Petrizzi uses organic cotton and Nottingham-made lace. They use compostable, plastic-free packaging and labels.
Founded in the UK, they make clothes that can also double as maternity wear.
Luna and Noon
Luna and Noon make sustainable pajamas for men and women, as well as unisex loungewear. They use organic cotton sourced in the Netherlands and vegan silk made from cotton waste.
They recognize that it requires chemical treatment but ensures a vegan alternative to silk and reduces cotton waste. They even use wooden and shell buttons.
For every sale they donate $1 To Project Seagrass, $1 to One Tree Planted, and 1% of their revenue to Mães da favela, though their collections have also supported other charities.
Coyuchi
Coyuchi uses organic cotton and linen to create their beddingAffiliate link and nightwear for men and women. Based in San Francisco, they ship all their products from Nevada.
The materials they use are certified organic – using organic cotton, organic linen, and organic latex, as well as working with Fibershed to support the textile industry.
They have a take-back program for linen products to avoid adding to landfills and a renewed program to clean, mend, and resell some of their products. They also use organic fabric bags for their packaging, though are not yet plastic-free.
Cozy Earth
Dedicated to using responsibly sourced bamboo for their loungewear and pajamas, Cozy Earth invests in their supply chain, getting to know the farms, fiber producers, yarn makers, weavers, and treatment facilities.
They test their products to ensure they're free of any harmful chemicals and use recycled water during the fiber process.
The company is based in Utah with their bamboo and supply chain based in China.
Nightire
Nightire is based in London, UK and uses organic bamboo to create their silky pajamas. They cater to adults and children, and also make eye masks and pillowcases.
Though Nightire doesn't explicitly commit to sustainability, they do use sustainably sourced and recycled packaging and use an ISO9001-certified company in China to create their pajamas.
Dog Tired Pyjamas
Dog Tired makes organic cotton pajamas in the UK and Turkey, ensuring ethically and sustainably made pajamas with recyclable packaging.
They commit to only using organic cotton and ensuring high standards of health and safety and employee welfare. Their store includes pajamas and loungewear for children and adults.
Pop My Way
Pop My Way is a UK-based brand dedicated to being environmentally conscious who create clothes for babies, including sleepsuits.
With how quickly babies grow, it's important to lessen the environmental impact of baby clothes, and Pop My Way's are free from chemicals.
They use GOTS-certified organic pima cotton from Peru, nickel-free poppers and zippers, and GOTS-approved dyes. They also use plastic-free packaging and reduce textile waste by using fabric offcuts for attachable accessories.
Sudara
Sudara is partnered with sewing centers in India to create their loungewear pants – Punjammies.
They are a certified B Corporation, ensuring that they meet standards of social and environmental impacts, transparency, and legal accountability.
While they use cotton in their sleepwear, they don't specify that they use organic cotton, but they are committed to sustainable change and helping women gain skilled employment.