The 8 Best Hemp Shower Curtains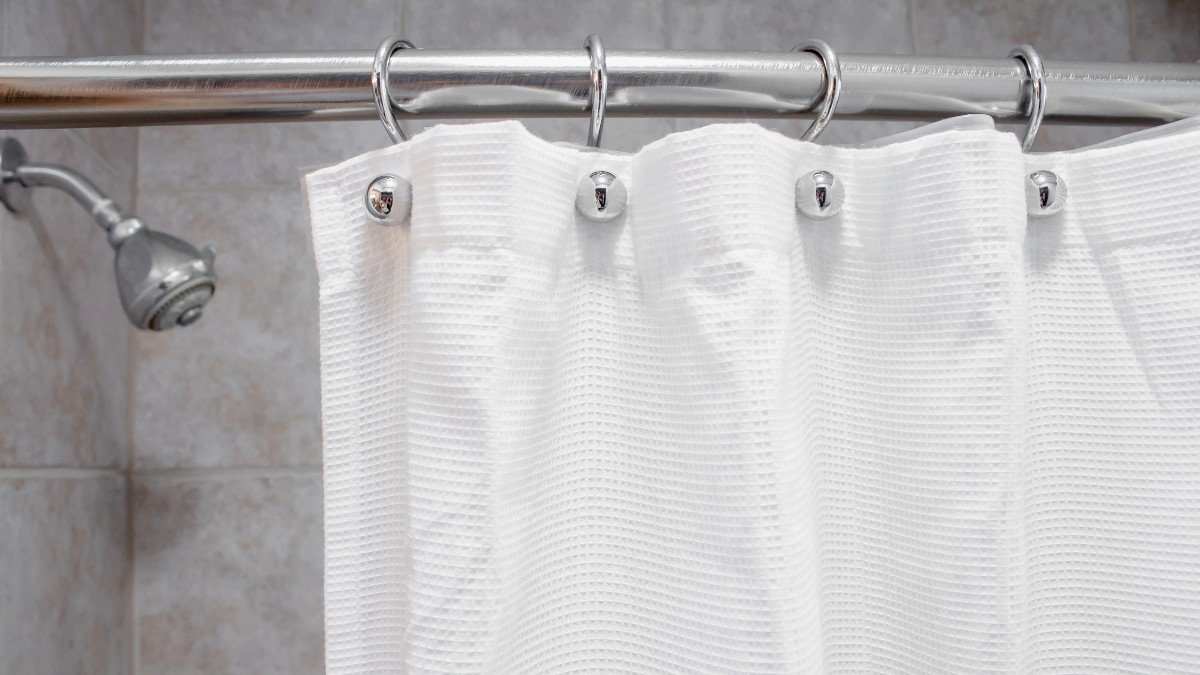 Shower curtains aren't always a top priority when it comes to making your bathroom eco-friendly, but they should be!
Shower curtains often contain PVC, which has been found to release "as many as 108 volatile organic chemicals" into our bathrooms.
That new shower curtain smell is actually the smell of toxins entering the air, including VOCs, phthalates, organotins, and metals. The Center for Health, Environment and Justice found that the level of VOCs exceeded the recommended guidelines for indoor air quality by more than 16 times!
Alternatives to PVC shower curtains are made from hemp, cotton, or linen.
Hemp shower curtains are the most sustainable fabric, as the plants require less water to grow and cotton production is rife with synthetic chemicals. Because hemp is resistant to mold and bacteria, they're also easier to maintain with proper, regular care.
There are many great options out there for hemp shower curtains, so let's get the rundown on 8 of the best hemp shower curtains and how to choose the right one for you!
Top 8 Best Hemp Shower Curtains
Bean Products Hemp Shower Curtain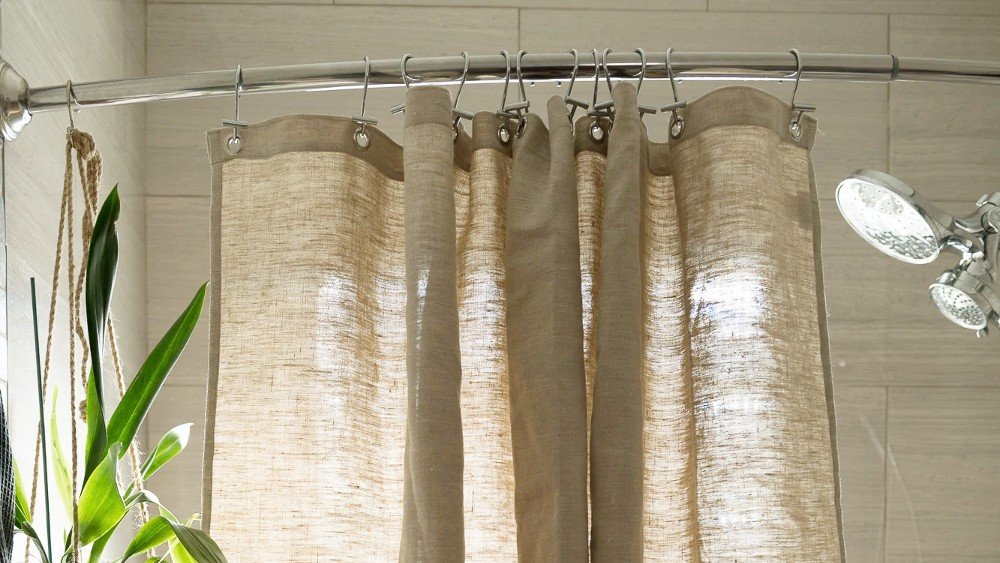 The Bean Products hemp shower curtain is a sustainable choice for any eco-home, with care taken to ensure the hemp is sourced and processed as eco-friendly as possible.
Leakproof and multipurpose, Bean Products' hemp shower curtain can be used as a shower curtain for your tub, bath, stall shower, or even as a room divider. The natural appearance of the hemp might seem plain but it ensures light can still pass through and no toxic dyes are used, unlike most shower curtains.
They use rust-proof nickel-plated brass grommets as eyelets, helping to ensure that the curtains are as long-lasting as possible.
Bean Products is an American company that prides itself on handcrafting environmentally friendly home essentials. The shower curtains are grown naturally with no pesticides or fertilizers in Europe before being cut and sewn in Chicago. The company plants a tree for every product sold!
Cleaning the shower curtain is as easy as putting it in a cold machine wash and hanging it to dry. When dried fully between uses, it can retain its sturdy shape and avoid growing mold.
Eco-friendly material
Easily removed and dissolves
Can stick to a mason jar lid
Comes in two sizes
Doesn't smudge writing
Needs to be hemmed to the right length
Machine drying causes shrinkage
Dream Designs Hemp Canvas Shower Curtain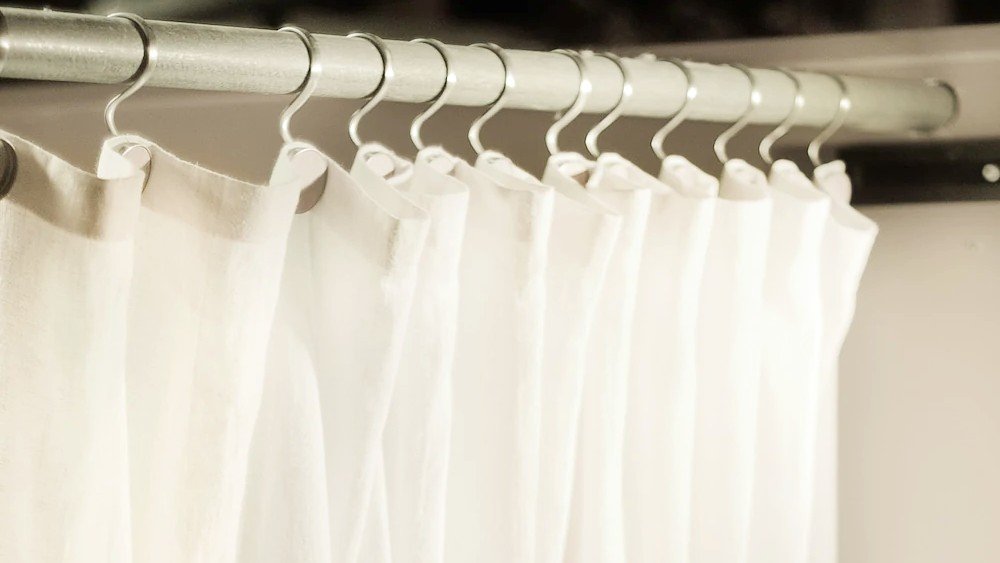 Dream Designs hemp canvas shower curtains are durable enough to last for years with proper care, and with four decades in business you can trust them to deliver quality.
High-quality and well-sewn, the Dream Designs shower curtain is made to last. Thick enough to trap heat, they can help retain the warmth of your shower or bath and cut down on how much heating your bathroom needs, even helping you reduce energy consumption!
These hemp canvas shower curtains are available in four colors: natural non-dyed, seafoam (green), sand (brown), and mimosas (yellow-green).
Dream Designs' hemp canvas shower curtains are made with 100% hemp, which is tightly woven instead of being blended. All shower curtains are handmade in Canada.
They can be machine washed in cold or lukewarm water and dried by machine tumble dry or hanging in the bathroom or outside. Dream Designs recommends washing the shower curtain twice a month or as frequently as your towels to avoid mold and mildew build-up.
Dream Designs has its cotton products certified by GOTS and OEKO-TEX, proving their commitment to being eco-friendly. While their hemp is not certified organic, the curtains are OEKO-TEX certified non-toxic – even when dyed!
Leakproof
Dries fast
Nice fabric texture
Durable
1-2cm shrinkage after first cold wash
Needs additional hemming
Rawganique Organic Hemp Shower Curtain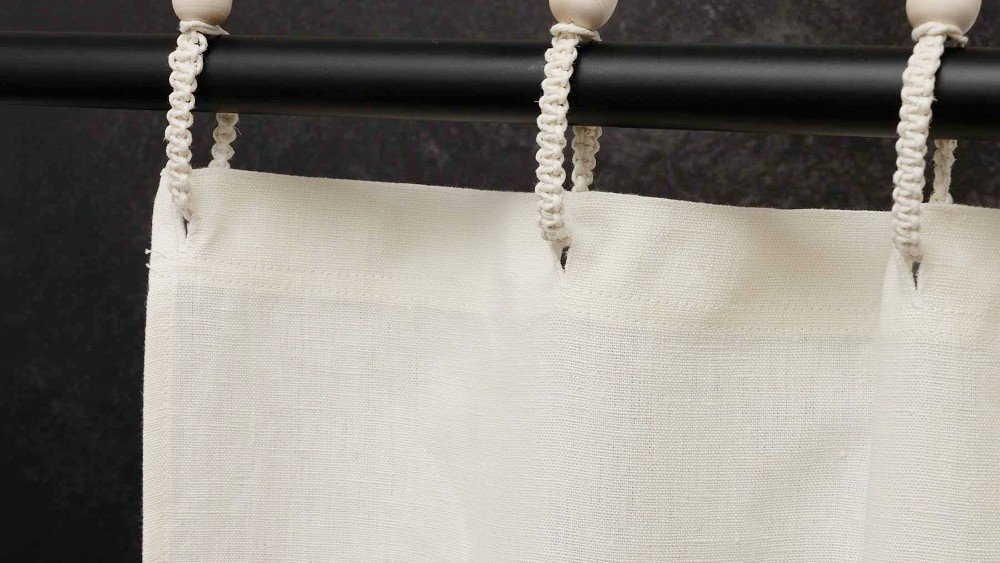 Rawganique's organic hemp shower curtains are made with over two decades of experience in the industry and even include macrame rings made from hemp.
Made in Europe, these hemp shower curtains are breathable and dry fast, especially when properly hemmed and cared for.
These hemp shower curtains come in up to 16 different colors, from natural and bleached colors to dyed. 7 colors are available on Amazon, including natural, ivory (bleached with hydrogen peroxide), black, indigo, lime, sage, and terracotta. That's more choice than most companies provide for eco-friendly fabric shower curtains.
Rawganique is best when it comes to being clear about how to take care of your shower curtains. They even sell natural wax bars to help with waterproofing!
The company recommends using a liner if you want to make the most of your money and have it last many years – this way, the curtain can last as long as 10 years. Their website contains plenty of advice on caring for shower curtains, including how to tackle mold and mildew, how to ventilate your bathroom, and best practices for maintaining the fabric.
High quality
Doesn't bunch up or stick to itself
Durable
Clear instructions on how to take care of it
Comes in a lot of colors to chose from
Shrinks in wash
Needs hemming
Wringing bottom of the curtain causes wrinkles
Rings don't slide well
Nestwell Solid Hemp Shower Curtain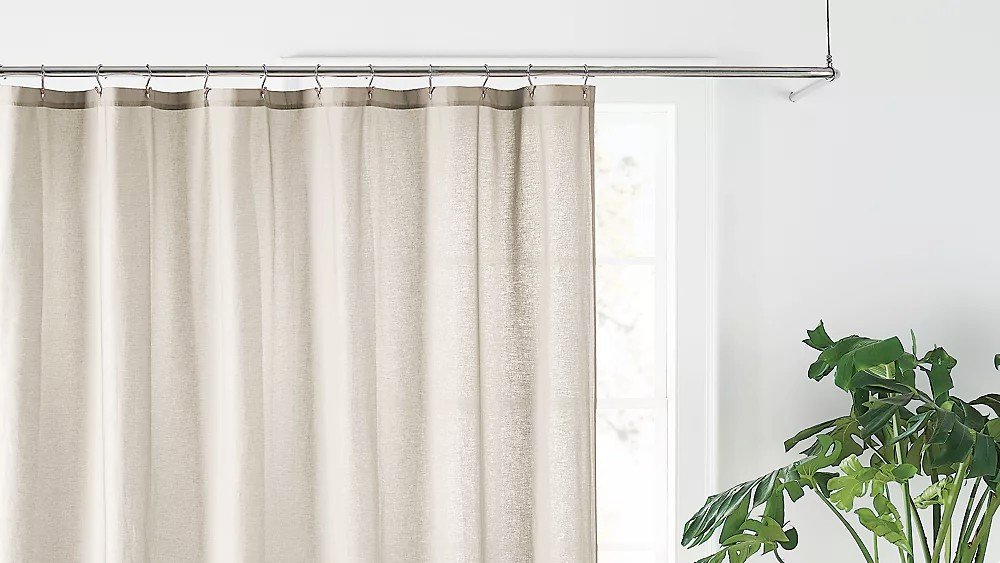 Coming in four different styles, the Nestwell solid hemp shower curtain gives more range of use by including measurements for standard, stall, long, and extra long sizes.
Made from a blend of hemp and cotton, these shower curtains absorb water well and are very thick. Because of the fabric blend, the curtain texture is closer to linen.
The shower curtains come in seven solid color options: sharkskin, shadow gray, quiet shade, folkstone gray, egret, dove, and blue fog.
Certified Standard 100 by OEKO-TEX, these curtains have been tested for harmful substances, ensuring that they don't contain any toxins that harm human health. It's not clear whether the dyes have also been tested.
A brand of Bed Bath & Beyond, Nestwell is a bed and bath collection designed to aid your comfort and style at home. The collection isn't made with sustainability in mind, but the hemp shower curtain is certainly promising.
Bed Bath & Beyond recommends purchasing their PEVA liner to reduce water splash. This helps prevent as much mildew. The curtains can be machine washed and dried.
Nice fabric resembling linen
Pretty texture
Good weight
Holds well against bleach
Requires a liner
Colors not accurate
Holds wrinkles
Stains easily
Shoo-foo Hemp Shower Curtain
Shoo-foo's hemp shower curtains are a great option for keeping your bathroom eco-friendly and spruced up with pastel color options.
Made from thick and tightly woven hemp, Shoo-foo's shower curtains repel water naturally and have a natural resistance to bacteria and fungi. They air-dry quickly in well-ventilated bathrooms.
These hemp shower curtains are toxin-free, water repellent, odor-resistant, durable, and machine washable. Shoo-foo advises machine washing curtains every few weeks in cold or lukewarm water. You can even add vinegar or borax to get better results when washing. They also recommend drying the curtains in the sun once in a while as it's the best natural bleach you can get.
Shoo-foo is a sustainable and healthy brand dedicated to reducing toxins in the environment while making safe and comfortable products. Their hemp shower curtains are made in Canada using 100% natural hemp canvas.
The company is aware of the harm vinyl PVC shower curtains do to our health and environment, and even has a list of 6 benefits of hemp shower curtains to inform others. This includes being plastic-free, toxin-free, zero waste, and allergen-free.
Dries quickly
Not too thick or thin
Nice quality
Doesn't leak
Too long
Shrinks when washed
NikkiDesigns Hemp Shower Curtain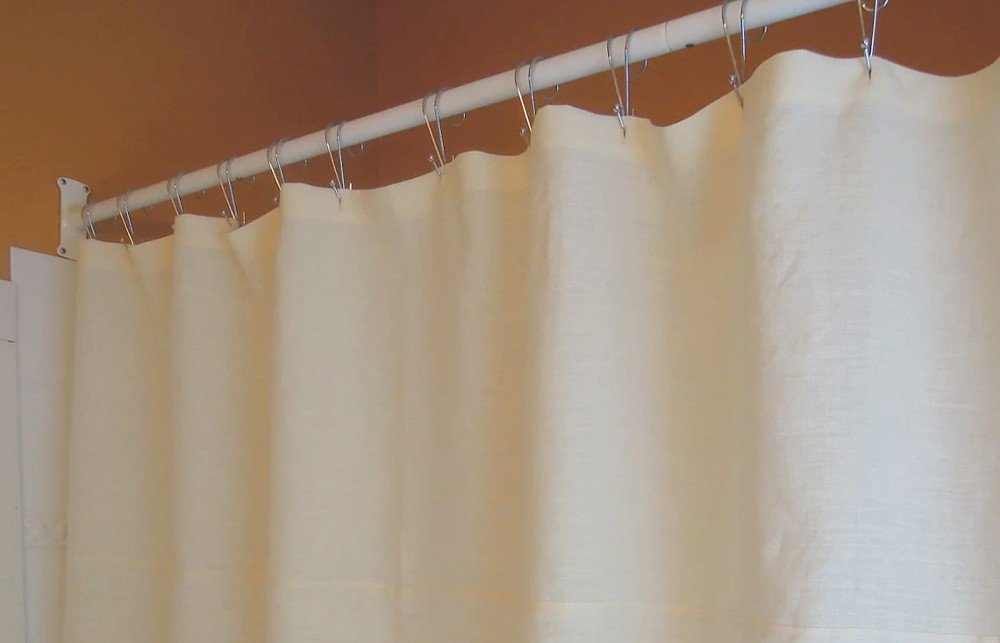 Perfect to be used as a shower curtain or a regular curtain, the NikkiDesigns hemp shower curtain is a high-quality choice from a sustainable brand in Canada.
Designed by a seamstress, NikkiDesigns's hemp shower curtain was designed with the environment in mind. The curtain is PVC-free, VOC-free, and not made in a sweatshop. It's also not dyed, ensuring that the curtain is completely natural.
The hemp shower curtain is made from GOTS certified 100% hemp, ensuring that the fabric is organic. The hemp is grown in the USA or Canada.
NikkiDesigns washes hemp before the shower curtain is made to minimize shrinkage for customers, giving a more accurate size to buy. They advise machine washing the curtains once a month in cold or warm water with natural soap and using a low heat setting when drying, or else drying in the sun.
If the shower curtain gets mildew or stained, NikkiDesigns says a paste of borax and lemon juice rubbed into the stains helps. After letting the paste sit overnight, machine wash and dry to clean it thoroughly.
You can even contact NikkiDesigns through their Etsy shop or website to ask about custom orders!
No leaks
High quality
Minimal shrinkage
Strong
Comes only in one color – natural
WildCanaryShop Organic Hemp Linen Shower Curtain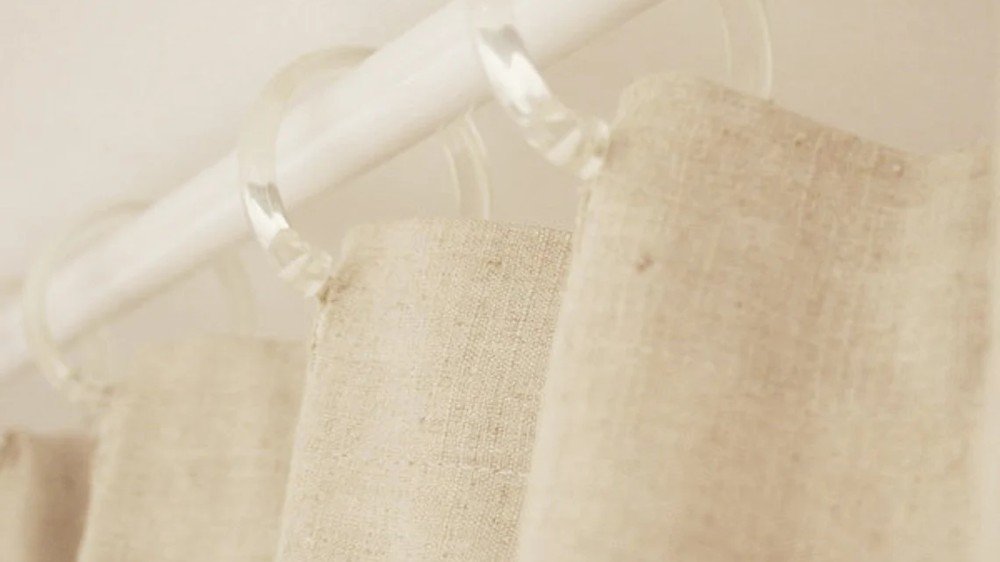 WildCanaryShop's hemp linen shower curtains are lighter than most, making them perfect for hanging on weaker shower rails.
The hemp linen shower curtain is made with natural, handwoven hemp linen, with matching stitching and no bleach, dye, or chemicals used. It comes in two colors: white or pure natural.
Unlike other hemp curtains, WildCanaryShop's shower curtains are made with open-weave, light-weight hemp linen. While it will air dry quickly with proper ventilation, it won't absorb as much water without dripping, so make sure to wring it out before air drying.
The hemp linen can be washed in a lukewarm machine wash with natural detergent. Line drying is ideal for hemp linen, as the thinner material may be in danger of breaking down with too much heat and movement from a tumble dryer.
Available in five sizes, you can purchase this curtain at 72″ x 72″, 72″ x 67″, 54″ x 72″, 54″ x 90″, and 36″ x 72″. The curtain is made to order and handmade, so you can be certain that your order isn't being mass-produced in a factory. The shop notes that sizes may differ slightly because they are handmade.
WildCanaryShop is available on Etsy and ships from Thailand internationally. They also offer expedited or discounted international shipping – the discounted shipping goes by sea freight and on ground shipping.
Well-made
Nice fabric
Quick to dry
Light
Shrinks
Slow delivery
Thin
Tight buttonholes
Draper's Organic Hemp Shower Curtains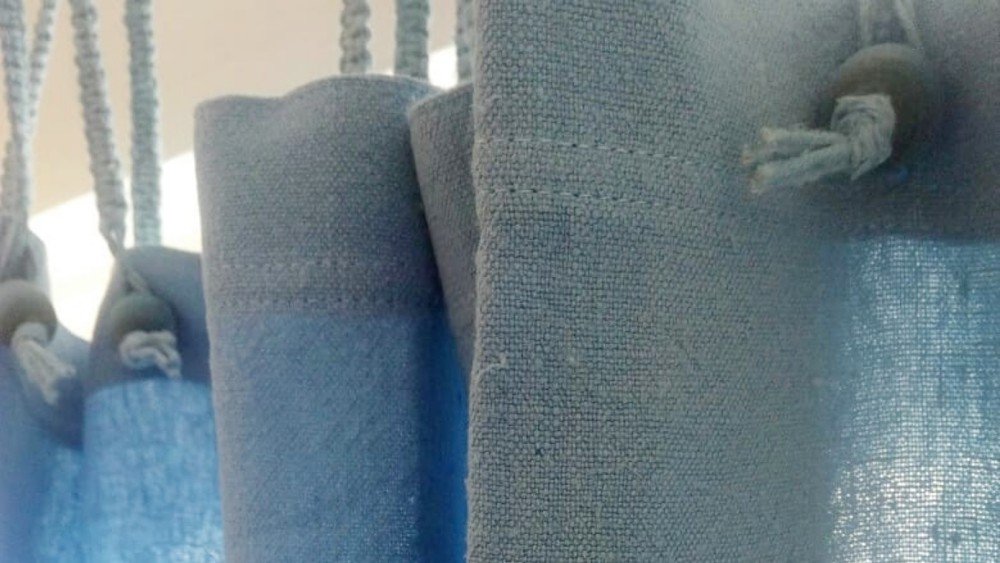 Draper's Organic hemp shower curtains offer the most range over sizing and color, with years of experience helping them provide colorful, sustainable hemp products.
Available in widths of 143cm (56″), 180cm (71″), and 90cm (35″), you can select specific lengths (or 'drop') to suit your bathroom needs. When washed, there may be up to 7% shrinkage. The curtains also come with hemp rope rings.
The hemp shower curtains are available in 14 different dyed colors, as well as natural. Some of the shower curtains have a different texture and weight than others – the Purely collection of shower curtains is more akin to linen.
Founded in the UK, Draper's Organic uses naturally organic hemp and dyes them with low impact dyes which don't use animal byproducts, azo, or formaldehyde. For ivory and white colors, they use hydrogen peroxide.
Draper's Organic recommends washing their hemp shower curtains in low temperatures by machine with a gentle cycle. A cup of white distilled vinegar in rinse water can help maintain color and remove soap. They advise air drying the curtains flat and out of prolonged direct sunlight to avoid fading.
The hemp rope rings should not be washed with the curtain.
If mold or mildew appears, Draper's Organic says to use oxygen bleach, borax, distilled white vinegar, antibacterial cleansers, or tea tree oil. Pieces of charcoal, humidity absorbers, and fans can also help soak up moisture in the bathroom.
Made from 100% hemp
Comes in many different colors
Comes in many different sizes
Ships from the UK so might be subject to import taxes
How to pick the best hemp shower curtains
With all these great options on offer, it's difficult to decide which is best for your individual needs.
The ideal hemp shower curtain needs to be sturdy and absorbent without being prone to too much mold or mildew buildup.
There's a reason most of these brands carry a warning about needing a well-ventilated bathroom: without ventilation, mold and mildew will grow on the curtain no matter how high-quality the hemp is.
While sizing is important to make sure that it properly covers the shower or bathtub you have, it's worth remembering that most products will have a sizable amount of shrinkage. Hemp shrinks approximately as much as cotton does, so make sure to take this into consideration when selecting a size.
Draper's Organic estimates their product shrinks 7% of its size during the first wash, while NikkiDesigns pre-shrinks the fabric to minimize shrinkage for the customer. Don't hem your hemp shower curtain before checking how much it shrinks in the first wash! It might be worth washing on delivery.
For some people, the range of colors on offer might be what sways your decision. Some hemp shower curtains come in a variety of colors and style options, and if you're particularly fond of interior design then the more options the better.
The material used between products also varies.
WildCanaryShop and Nestwell have textures akin to linen, which makes them lighter weight. Nestwell is the only brand that combines hemp with cotton to give a unique feel, though this is why a liner is required to use with it, as the curtain won't absorb or hold up against much water.
Weighty hemp canvas fabrics used by NikkiDesigns, Dream Designs, Bean Products, Rawganique, and Shoo-foo are more likely to hold up well in absorption but they might not be ideal if you don't have a secure rail to place them on or if you hang other weighty options on the shower rail.
Some brands are also more committed to sustainability and the environment than others. Bed Bath & Beyond isn't a sustainable brand, while Draper's Organic, Shoo-foo, and Rawganique were founded with sustainability in mind.
It's telling that Bed Bath & Beyond lists their hemp shower curtains as 'imported' instead of being clear about where the hemp is sourced from. Bean Products sources hemp from Romania while Rawganique uses European hemp.
Some products also specify that they were either handmade or made in Europe, the USA, or Canada, while WildCanaryShop operates out of Thailand.
With this in mind, it's important to ask yourself some essential questions:
Do you want to use a liner?
Would you prefer to match the shower curtain color to your bathroom?
Can you clean the shower curtain regularly or would a liner or wax bar be needed to take care of it?
Are you planning on buying two different sizes for your house or family?
Can you reduce transportation emissions by ordering from a domestic brand?
Would you prefer to buy a certified organic shower curtain?
Do you want to support a small business?
Knowing how much you can commit to caring for your hemp shower curtain is important, as otherwise, you could be wasting money on an expensive curtain only to have it covered in mold within a year. Make sure to look at the care instructions the company provides.
How do you care for a hemp shower curtain?
The best care you can give your hemp shower curtains is preventative. A well-ventilated bathroom can make a world of difference in combating mold and mildew.
While hemp is naturally resistant to mold and mildew, resistance doesn't mean that it won't happen. It just means that mold grows more slowly. There's no such thing as mold-proofing, but you can prevent it.
Make sure your bathroom is well-ventilated, with an effective fan or vent or a good system of opening your window during baths and showers.
You should take care of your hemp shower curtains by allowing them to fully dry between uses and avoiding leaving the bottom in your tub or on a wet floor. Stretch out your shower curtain across the rail after use to air dry both sides fully.
Soap scum buildup is the biggest concern for trapping moisture because it clogs fibers and traps moisture. The type of soap and shampoo you use can make this worse too – natural soaps are less likely to leave as much scum behind.
You can wash away the soap scum between uses to help prevent mold and mildew, but it's important to regularly wash the curtain fully.
How do you clean a hemp shower curtain?
Most companies include instructions with the product or on their website for how to clean a hemp shower curtain.
Bean Products advises washing their hemp shower curtains at least once a month, while Dream Designs suggests twice a month is best. You should wash your hemp shower curtains at least as often as you wash your towels.
Hemp can be machine washed in cold or lukewarm water with natural detergents, though hooks and hemp rings should be removed before putting the curtains into a machine. Distilled white vinegar can be used instead of detergents, or you can try natural, plant-based laundry detergents to reduce water pollution.
Rawganique's cleaning instructions recommend using biodegradable detergents and front-loaded machine washes. You can add ½ cup of borax or ¼ cup of distilled white vinegar to the wash to prevent and cure mildew.
If you use water-repellent wax, don't machine wash! Instead, use cold water to lightly scrub the fabric with a soft-bristled brush. If you need to, use mild soap on areas that need more help, then rinse it away. Allow the curtain to air dry before reapplying the wax as needed.
How do you dry a hemp shower curtain?
You should be drying your hemp shower curtain between uses of your bathroom by simply spreading the curtain across the rail. When it comes to drying your curtain after a machine wash, you should line-dry them to allow both sides of the fabric to be ventilated.
While Shoo-foo recommends drying hemp shower curtains in the sun once in a while as a natural bleach, it's not advised for dyed curtains like Draper's Organic shower curtains. Drying in the sun will cause fading over time, so if you're not worried about faded colors then it's a good way of speeding up the drying process while preventing and killing mold spores.
If the curtain is prone to wrinkling, you can iron them, though most curtains should be fine.
Should I use a shower liner?
Shower liners are made using polyvinyl chloride (PVC), which releases toxins when hot and wet. This is known as off-gassing, where toxins like phthalates, dioxins, ethylene dichloride, lead, bisphenol A, and more are released.
It's better for your health to avoid using a PVC liner, though there aren't many alternatives that aren't made with plastic. PEVA shower liners are slightly more safe than PVC liners, and should only really be an option if you aren't able to tackle mold in your bathroom.
Polyester is the least harmful petroleum-based liner fabric out there, though you can also purchase cotton liners and use wax bars to make them water-resistant.
A cotton shower liner won't last years, and it will no doubt eventually succumb to mold and mildew, but it's a less expensive option than replacing your hemp shower curtain each year. Beeswax can be used to wax fabric and make them water-repellent.
can be used on hemp and cotton, helping to give fabric a protective water-repellent layer without the use of paraffin, silicone, or petroleum-based synthetic ingredients.
Frequently asked questions about hemp shower curtains