The 10 Best Blank Dissolvable Labels For Food Storage And Canning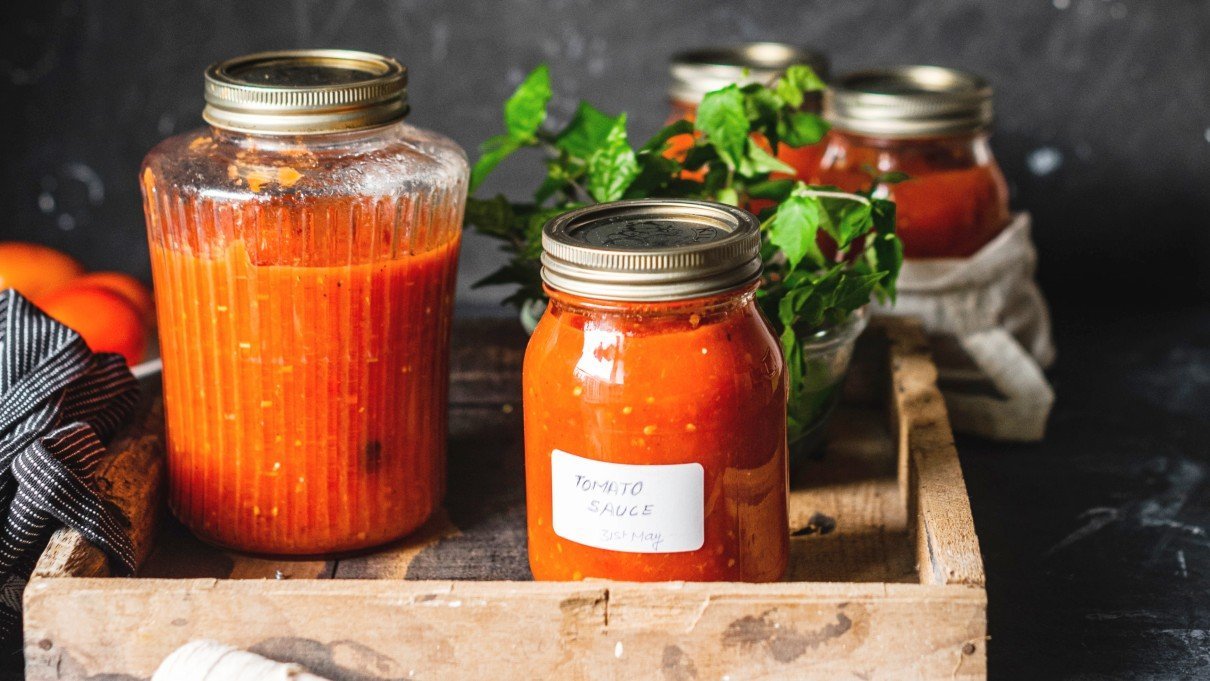 When you're pushing to make your food storage as eco-friendly as possible, you're going to come to a big dilemma: how do you remember what everything is and when you should eat it by? Reusable freezer bags, bottles, beeswax wraps, and storage containers are all great for preserving food and leftovers, but how are you meant to write on them?
Dissolvable labels are the best answer to that food storage problem. Also known as wash-away labels, these dissolvable stickers dissolve in water – even the adhesive!
The main reason for their popularity is how eco-friendly they are compared to traditional stickers and labels. Most labels use an adhesive that remains behind even after the label has been removed, leading to adhesive build-up.
I've compiled the best water-soluble labels for food storage and canning in this article to help narrow down your options and pick the best of the best. My buyer's guide can be found below to aid you when making that decision too!
Top 5 Best Dissolvable Food Storage Labels
FoodSafe Dissolvable Food Labels
FoodSafe is a small business committed to food safety and is known for their great quality in food labels.

There are two options of FoodSafe dissolvable food labels: blank or fill-in. The blank labels have a small logo in the bottom-right corner, while the fill-in labels include fields for item name, date, time, use by, and more, as well as a large logo on the bottom. If you're used to food labels, you'd be better off getting the blank labels to ensure you have enough space to write.
These dissolvable food labels work in the freezer and between -40°F to 176°F, so they're perfect for the refrigerator and freezer. If there's too much moisture on the surface you want them to stick to, the adhesive will not be as effective, so make sure it's dry first.
Some customers report that the label vanishes when washing dishes or using the dishwasher, while others find residue. A small rub or wipe of the residue can dislodge this, or you can run the faucet over it until it dissolves completely.
Easy removal
Works in temperature between -40°F to 176°F
Can be written on with ballpoint pens or markers
Sticks nicely on any smooth surface
Will fall off if the container is already damp or oily when applied
Fill-in labels have little space for writing more than a few words
Long-time (1 year+) storage reduces their adhesive ability
Y Essential Blank White Dissolvable Labels
The blank dissolvable labels from Shenzhen Essential Paper Co., Ltd are perfect for home or commercial use, with no logo taking up any room.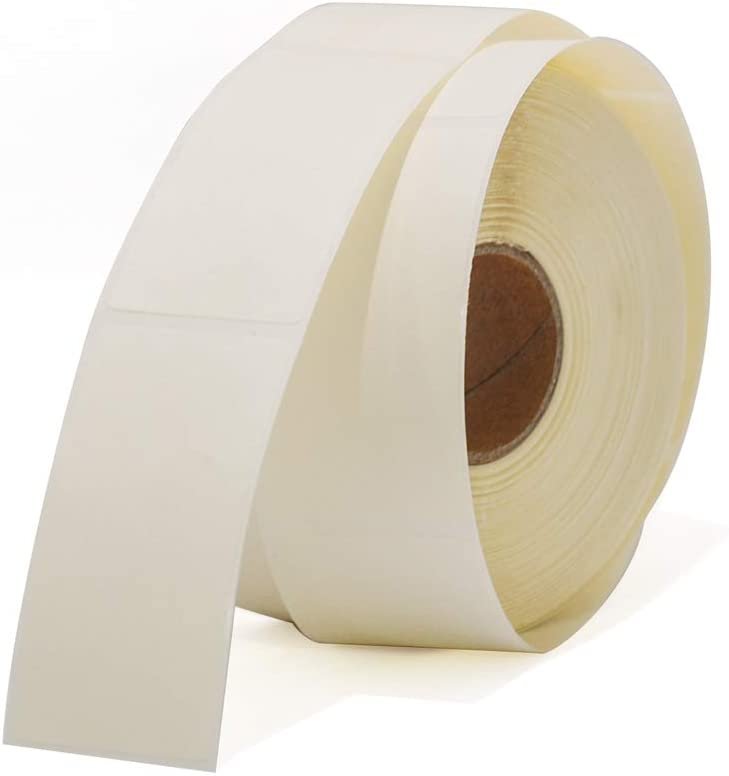 Made for use on all kinds of food containers, including Tupperware, these food storage labels can be written on with a pen, pencil, or marker. Blue ink has the best visibility due to the material used.
Thanks to the lack of a logo on these dissolvable labels, the space given is more than enough to include all relevant details for your food storage purposes. If you find that there's too much room for your needs you can always try cutting them down.
Make sure not to use them with wet hands or gloves though, because they won't stick as well and this can make them start dissolving.
Can be easily used on jars, plastic, glass, bags, and medicine bottles
Needs minimal scraping
Dissolves completely with warm water
Works just as good as those sold through food service suppliers
Used by several restaurants
They don't dissolve as easily after being used in the freezer
Not suitable for writing on with felt pens
Waxy surface isn't easy to write on
Ink runs after defrosting or with condensation
H.S.P. Dissolvable Food Storage Labels
The dissolvable food storage labels from H.S.P. are noted to comply with the FDA, using an adhesive that is safe to use even if it has "incidental contact" with food.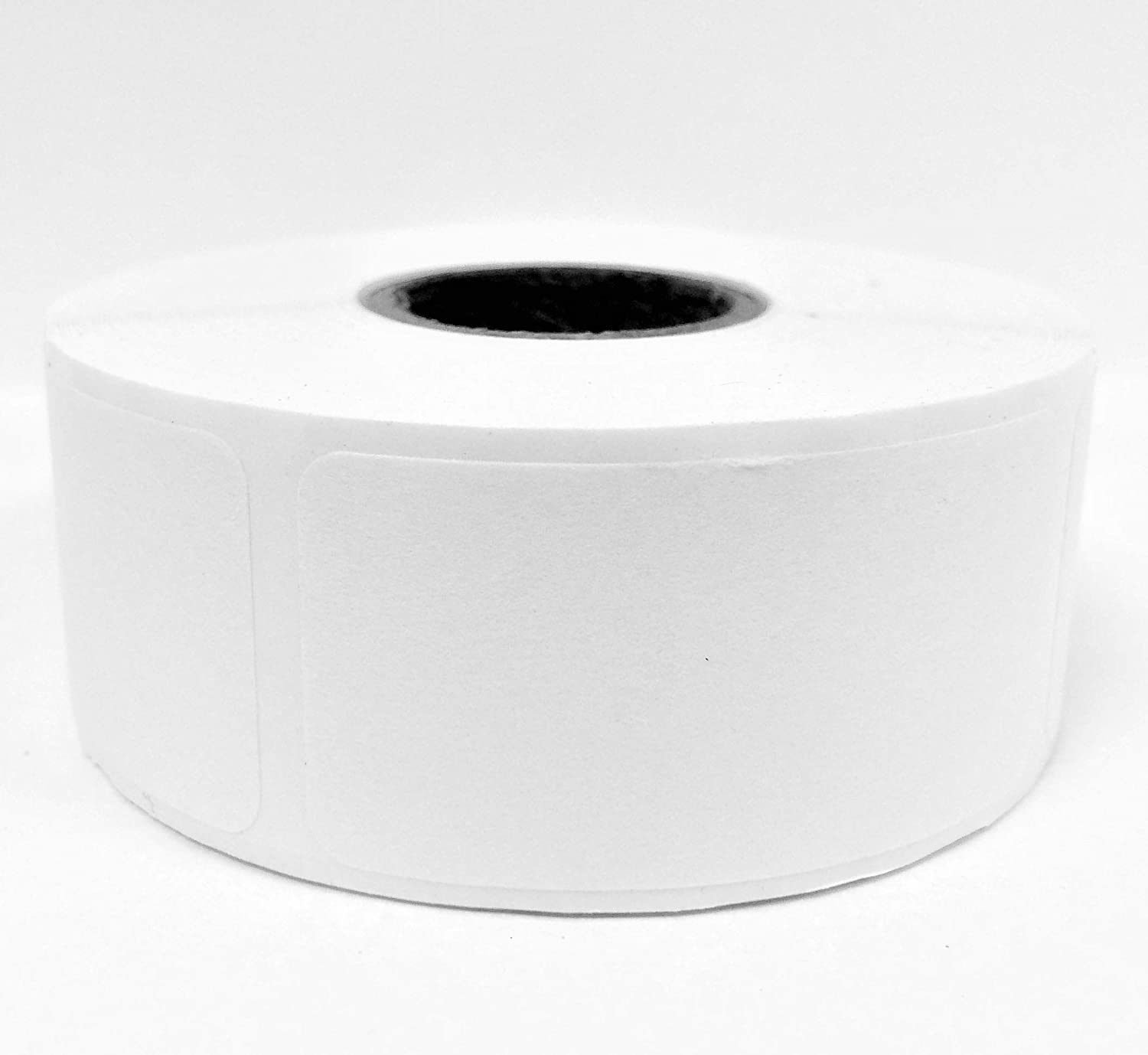 H.S.P. helpfully includes more details than most of their competitors under the product details, including its minimum application temperature. Any temperature above 21°F is ideal for applying the label to a surface, as anything under this will not stick or start dissolving the adhesive early. Like the other brands, the labels are fine to work within -40°F to 176°F temperatures.
Also included in the product details is what the adhesive is. Described as "wash-away emulsion acrylic adhesive", this helps us understand how the labels work. Emulsion acrylic adhesive is one of the most used adhesives in the food and beverage industry, pioneered by Avery Dennison, a manufacturer of pressure-sensitive adhesive materials.
Works with glass, wood, metal, and plastic containers
Can be written on with pencil or marker
Dissolves easily in the dishwasher
No residue
Wash off easily with a wet cloth
Small business that doesn't always update when the product will be available again
Can't be used with frozen containers without defrosting and drying first
Brewing America Dissolvable Food Labels
Brewing America's dissolvable labels are made in the USA and are made with plant-based materials.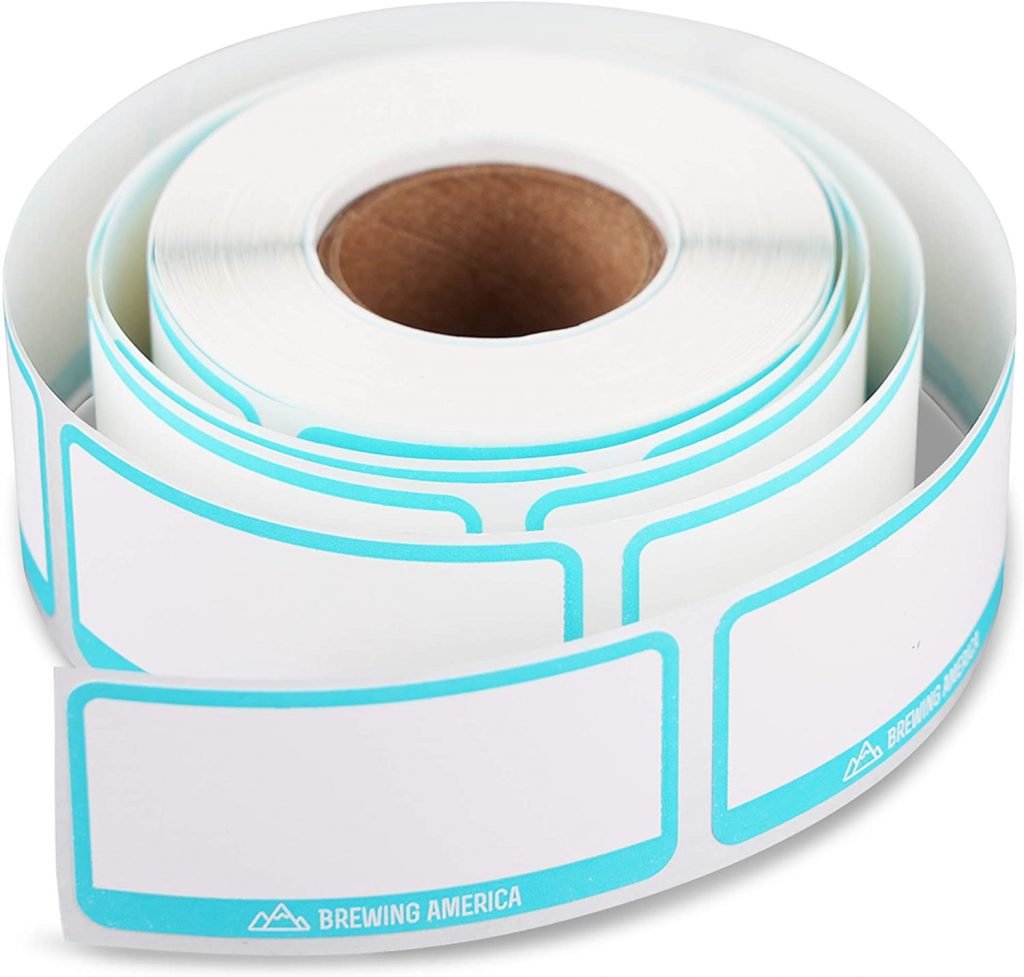 This is one of the most eco-friendly choices in food labels, as most aren't made with plant-based materials. The company also offers more products for kitchen and pantry organization, so if you're looking to get started with more equipment, check out their mason jar funnels and lids.
These dissolvable food labels are seen as a higher quality product with a distinctive bright teal border and logo on each label. While the border takes up some room, it can easily be written over, especially with black ink.
Guaranteed satisfaction with every purchase or get a full refund/exchange
Works with any dry surface, especially glass, plastic, and metal
Uses plant-based materials sourced in America
Freezer, microwave, and dishwasher safe
No proof that the adhesive used is plant-based
Ink may smear if written on after applying
More expensive option
InStockLabels Dissolvable Blank Labels
The dissolvable labels from InStockLabels.com are the most sustainable food label I've found, made from cornstarch and water-based inks.

While I can't guarantee the adhesive used is plant-based, using cornstarch for the label means that they are at least more eco-friendly than most labels. The manufacturer notes that they use eco-friendly inks to print labels and create them in the USA, reducing their environmental impact greatly.
However, it's important to note that they do not have any certifications to guarantee them as eco-friendly.
The labels work for temperatures between -20°F and 150°F – a smaller working temperature range which doesn't always make them ideal for using in the freezer. As long as you defrost the container and dry it before applying the label, you should be able to store the container in the freezer without the label becoming unstuck.
Can write on them with pen, pencil, or marker
Wash away in the dishwasher easily
Very easy to remove
Easy to write on with pen, pencil, or marker
Square shape and smaller size makes it difficult to fit long words or many details
Smaller working temperature range
No certifications for eco-friendly materials
Top 5 Best Dissolvable Canning Labels
L LIKED White Dissolvable Canning Label
With an attractive oval design, the L LIKED labels are a great choice for home use without being too plain.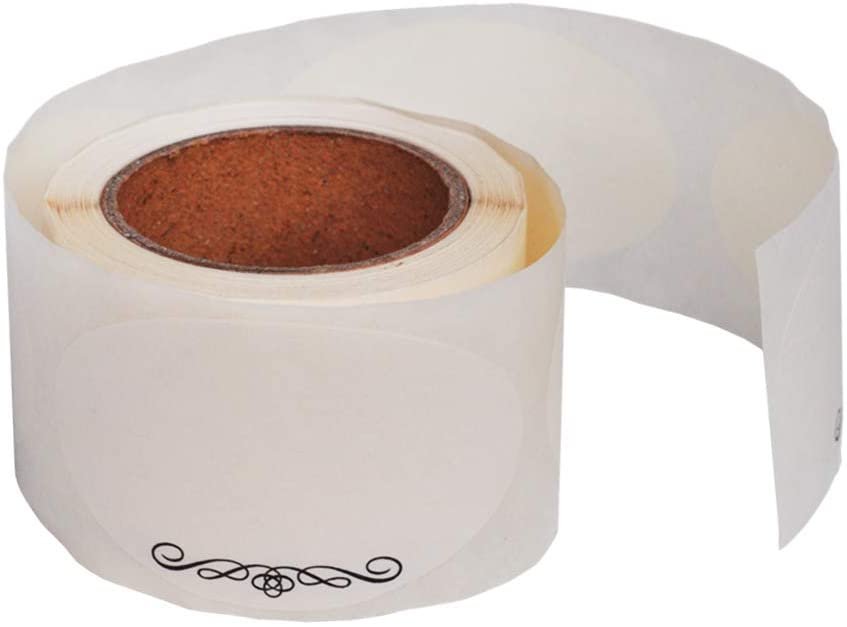 They dissolve quickly under water of any temperature; a video on the product page shows a label dissolving under running water within 20 seconds. This is one of the quickest and most reliable times for water-soluble labels and perfect if you know you're going to reuse them a lot.
These dissolvable labels for canning stay on jars when in the fridge, freezer, or pantry, and even stick well to resealable bags. They work in temperatures between -40°F to 150°F without any problems. 
Though the label has a small ornate border, there's plenty of room to write unless you're using a marker and have larger handwriting. The quality and price are ideal for home use, though the cheaper quality paper used might not be preferred if you intend to gift or sell your jars.
Small border leaves room for writing
Box can be used as a dispenser
Dissolves in cold, hot, or warm water and leaves no residue
Condensation makes them begin dissolving
Very thin and almost transparent
Juvale Dissolvable Canning Labels
If you're looking for something more decorative, Juvale's canning labels include 8 assorted designs to spruce up your jars.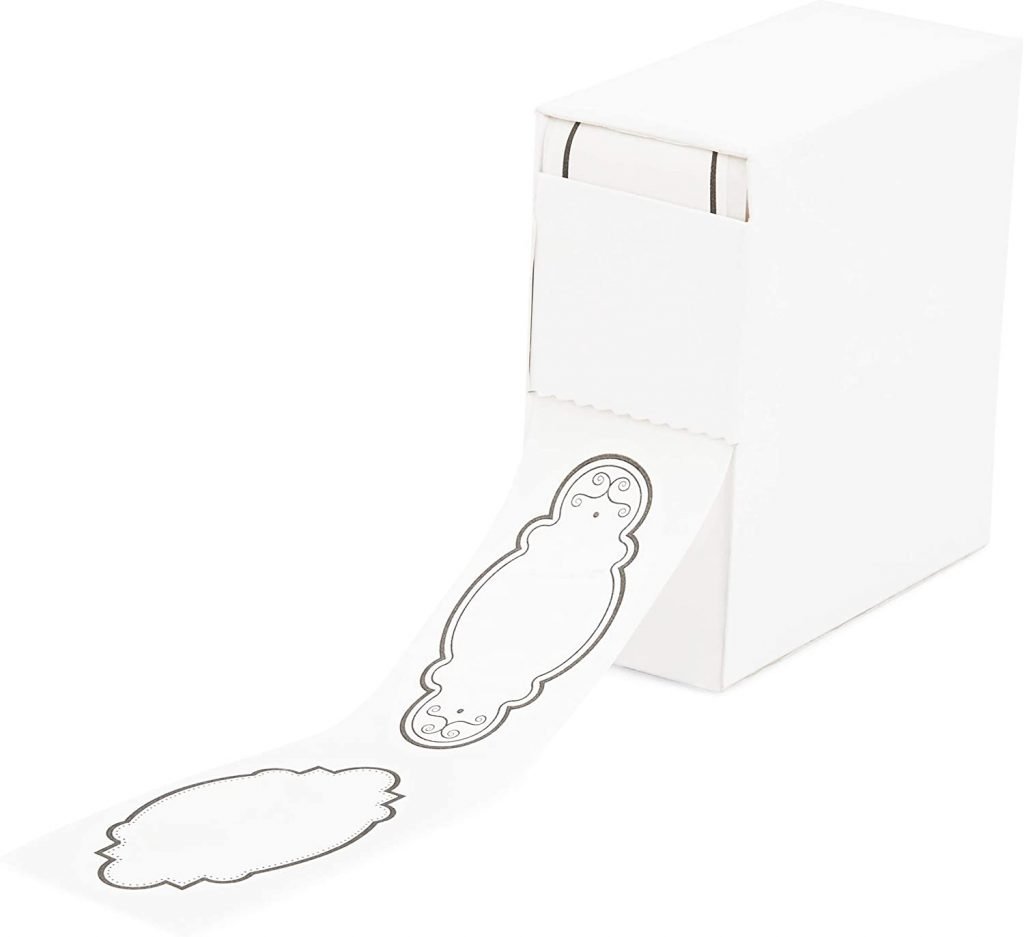 The designs given to these dissolvable labels gives them a more professional touch. Each border design is crisp and ornate. Some people may struggle with the space left for writing, but small printed letters will still stand out. They draw the eye, so if you're looking to sell your canning goods these might be for you.
Made from cornstarch and water-based inks, the labels are an eco-friendly alternative to other products. This also helps them to dissolve quickly.
Multiple pretty border designs
Box can be used as a dispenser
Made from eco-friendly materials
Melt away in the dishwasher
Borders take up space for writing
May dissolve in the freezer with too much moisture
Ball Dissolvable Canning Labels
The Ball dissolvable labels for canning come with a box designed to be a dispenser and can even be used as gift tags.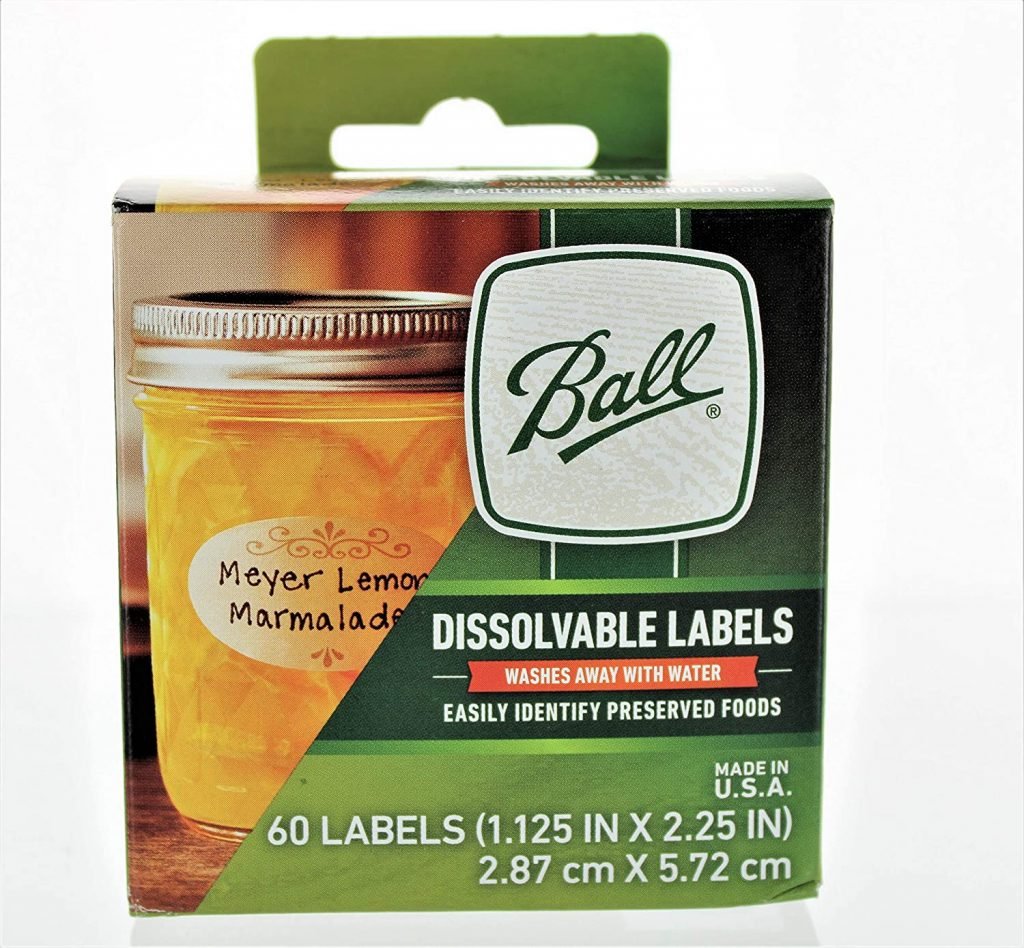 The ornamental border design at the top gives the label a more ornate feel, despite reducing the amount of writing space. Writing on them with a ballpoint pen is best to avoid tearing or running ink.
Ball is known for their canning products, including glass jars, lids, and more. Their canning labels work perfectly with their own products as well as on other glass surfaces.
Wash off very easily with no residue, even soaked
Sticks well on glass
Looks great on gifts
Border takes up writing space
Doesn't stick as well to materials other than glass
Thin and easy to tear
Starts dissolving with damp fingers
MESS Fully-Dissolvable Canning Labels
Not only do these dissolvable canning labels have a bold design, they also have two guidelines and 10 colors to pick from.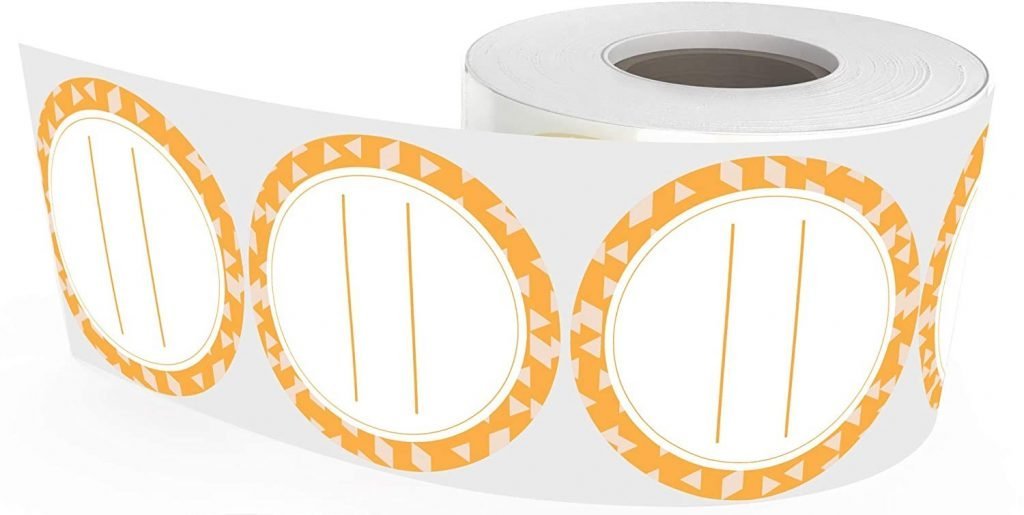 If you're looking for a label that stands out and looks nice, the MESS dissolvable stickers are ideal. Their geometric pattern comes in orange, artichoke, black, chestnut, cobalt blue, coral, eggplant purple, light blue, green, and amber.
You could even buy multiple colors and just write dates on them, since the colors will differentiate them from one another!
Thanks to their circular design, these canning labels fit on top of mason jar lids. This is ideal for anybody who prefers to line up jars and look from them top-down rather than on eye level in the pantry.
10 bold designs to choose from
Very stylish
Easy to write on with pen, pencil, or marker
Sticks well and dissolves quickly
Can stick on top of a mason jar lid
Thick border reduces writing space
Doesn't stick to silicone, wood, plastic bags, or ridged glasses very well
Thin material
MESS Brown Dissolvable KRAFT Stickers
While most canning labels are white, these stickers are made with kraft paper which is more durable – and more eco-friendly since it's not bleached white!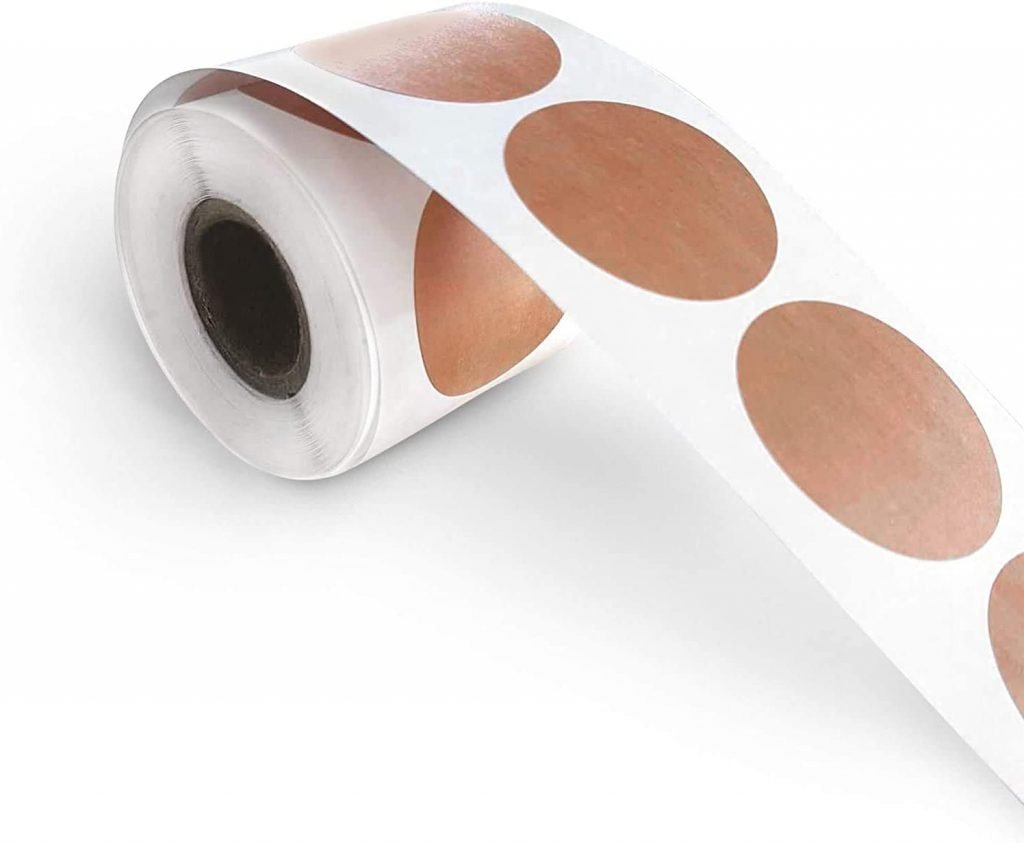 These dissolvable stickers give more of a rustic aesthetic to your canning jars, with textured brown easily written over with pen, pencil, or marker. This doesn't stop it from being easily dissolvable either.
You can choose between a 2″ circle or 1.5″ sticker, so if you have smaller bottles or jars you can use the same style. Because they're circular, they can easily fit on a mason jar lid without creasing over the edge or ridge.
Eco-friendly material
Easily removed and dissolves
Can stick to a mason jar lid
Comes in two sizes
Doesn't smudge writing
Thin and semi-transparent
Less adhesive on other materials
Not enough space for lots of information
Buying guide: How to choose the best dissolvable labels
Dissolvable labels are ideal when you need to label food containers and organize your kitchen storage, especially when reusing the same containers as much as possible. Ordinary stickers and labels leave a sticky residue that builds up over time. It isn't as easy to wash off as you'd like!
Choosing the best dissolvable food labels is easy when you're just using them for food storage. When I need to block off the food in the cupboard and pantry, I don't have to give much thought to what I actually need. As long as it dissolves and there's enough space to write, why wouldn't I just buy the cheapest product?
But not all labels work for all kinds of storage. Or all pens.
Most people will use a Sharpie marker or ball-point pen to write on labels – but markers often bleed or run, especially with thin labels or different kinds of surfaces. Your handwriting is important too. Can you fit "curry 6/30" on one label without having to squeeze in letters? Probably, but it becomes trickier the more you need to write. Especially if you write use-by dates as well.
There are two questions you need to ask yourself before buying dissolvable labels:
What will I use it for?
Is there enough space to write everything?
Somebody who makes a lot of jam will want the cheapest bulk option for labels, but if you're intending to sell what you're canning you need to think about branding. An intricate design will look more inviting to a customer than a plain label or one with someone else's logo on it.
Labels for food storage and canning overlap a lot – there's not much to stop you from using canning labels for general food storage or food labels for canning, other than what you plan on writing and where you're storing them. Not all canning labels are suitable for the freezer. The more detailed you are, the more space you need, so you don't want something with a large label or border.
If you're looking to label your freezer storage, many food labels are also dissolvable freezer labels. Check what temperatures they work at before purchasing. It's important to only apply the sticker to the container surface when it's dry. Any condensation or damp will result in the adhesive not activating properly and result in it falling off or dissolving prematurely.
The best dissolvable freezer labels are those that work within temperatures of -40°F to 176°F.
Because dissolvable stickers can be so similar, one of their main differences is appearance, from what they're made of, to their size, and finally to their color. Better quality material doesn't necessarily connect to a higher quality sticker though, and if you're trying to be as sustainable as possible it's better to pick a plant-based (usually made from cornstarch) label.
Canning labels have more variety when it comes to appearance as well, with many different designs and colors to choose from. These can make you look more professional or just beautify your canning – you'll be the envy of everybody stuck with boring plain rectangles.
The best dissolvable label will always be the one that suits your current needs. For general food storage, especially for leftovers, something simple and cheap (per label) is always going to be ideal. If you're buying dissolvable labels and then selling or giving away food, find something that suits exactly what you need it for. You probably don't want a small circular label if you're writing "strawberry rhubarb pie filling" and want to be clear about what's inside.
Frequently Asked Questions
Conclusion
Figuring out which the best label is for food storage and canning should be much easier now. While many are very similar, it's all about what you really need the label for. Personal food storage and canning might mean you have less to think about when it comes to what the label looks like, but you still need to take care that you've got enough space to write.
Many food labels are similar in specification, the material used for them is very important, particularly if you're looking to buy the most eco-friendly labels. Sometimes this can affect how well you can write on them.
There isn't much difference between food labels and canning labels, but if you want more variety in style and you're only planning to use them on glass, canning labels are the way to go.
Remember to keep dry-fingered and only apply to dry surfaces when using dissolvable food labels!