The 6 Best Biodegradable Dog Poop Bags With Handles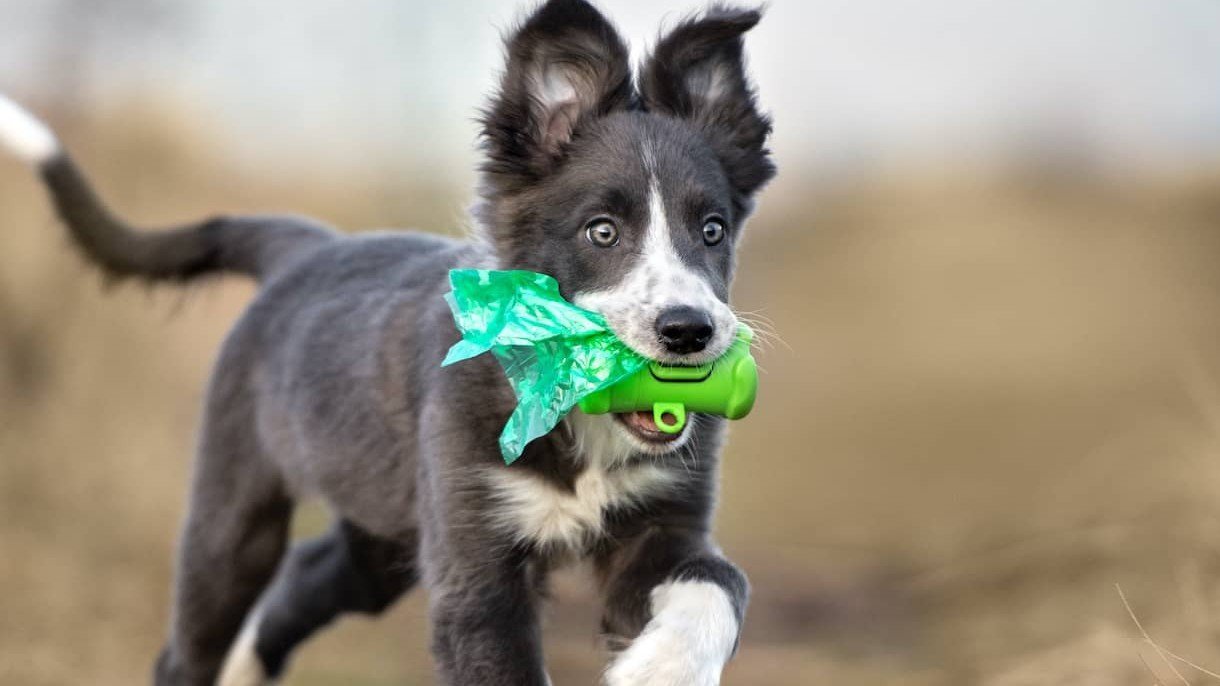 Finding the best biodegradable dog poop bag is hard enough without factoring in handles! There are so many pet waste bags with handles out there, but how many of them are good for the environment? Unfortunately, not as many as you'd hope. So I've done the work for you to find the best biodegradable poop bags with handles out there, making sure they are environmentally friendly and good products!
It's easy to find yourself overwhelmed by all the different products out there. Not only that, but many products claim to be "earth-friendly" when they contain toxic chemicals.
In this article, you'll find 6 of the best biodegradable dog poop bags with handles to help find the best product for you. If you're still stuck for choice, you can follow my buying guide found underneath the reviews. By the end of this article, you'll know exactly what you're looking for!
The 6 best biodegradable dog poop bags with handles
Doggy Do Good Biodegradable Dog Poop Bags
Doggy Do Good's biodegradable dog poop bags are vegetable-based with several sizes suitable for all kinds of dog breeds, with their small bags with handles perfect for small dogs and puppies.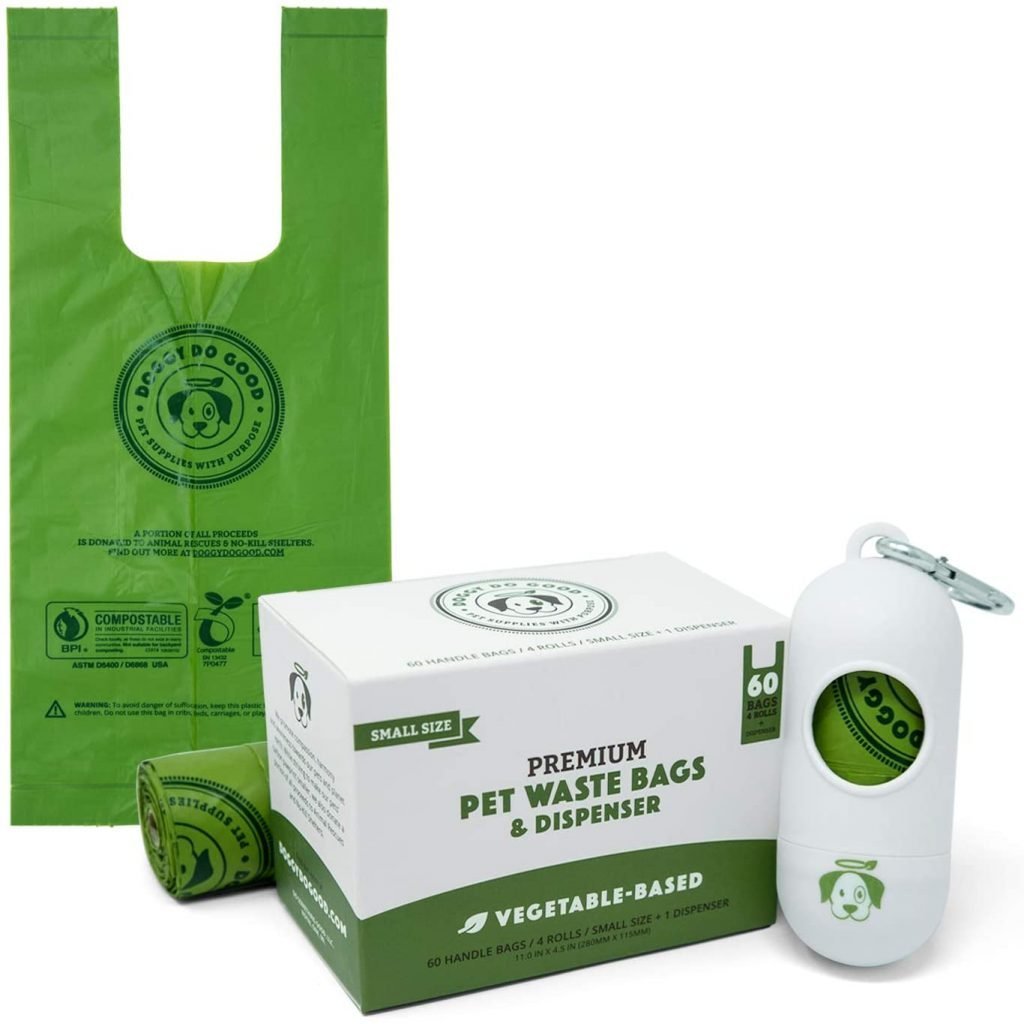 The brand Doggy Do Good was founded after rescuing two dogs, with the purpose of donating to rescues, sanctuaries, and no-kill shelters. They provide green dog poop bags safe for the planet to keep parks and landfills free from plastic.
These degradable poop bags are made from corn starch and other bio-based proprietary components. Thanks to their vegetable-based material, they are certified compostable in a composting facility.
Coming in three varieties, the Doggy Do Good dog poop bags have three main sizes to pick from, each with handles. The small bags are 8.5 x 11 inches in size and come with a bag dispenser as well. A standard bag is a bit bigger at 11 x 13.4 inches and is more suitable for medium and large dog breeds. If you're looking for a bag for a compost bin or to hold more waste than just one, Doggy Do Good's XL bags with handles are the size of a grocery bag at 11.8 x 2 x 17.7 inches.
Doggy Do Good further proves its commitment to being compassionate by offering a 30-day no-hassle return policy and 100% Satisfaction Guarantee. If you're looking to support a small business dedicated to being environmentally-safe, this is one of the best businesses to take a look at.
Quite soft with a pleasant feel
Easy to tie the handles
Multiple sizes available for different dog breeds or needs
30-day no-hassle return policy
Removing the tape can rip the first bag
Too thin and can tear along the seams with too much weight
Handles are too large and unnecessary
PLANET POOP Compostable Dog Poop Bag
These compostable dog poop bags from PLANET POOP are longer than most and certified compostable, made of GMO-free plant-based ingredients.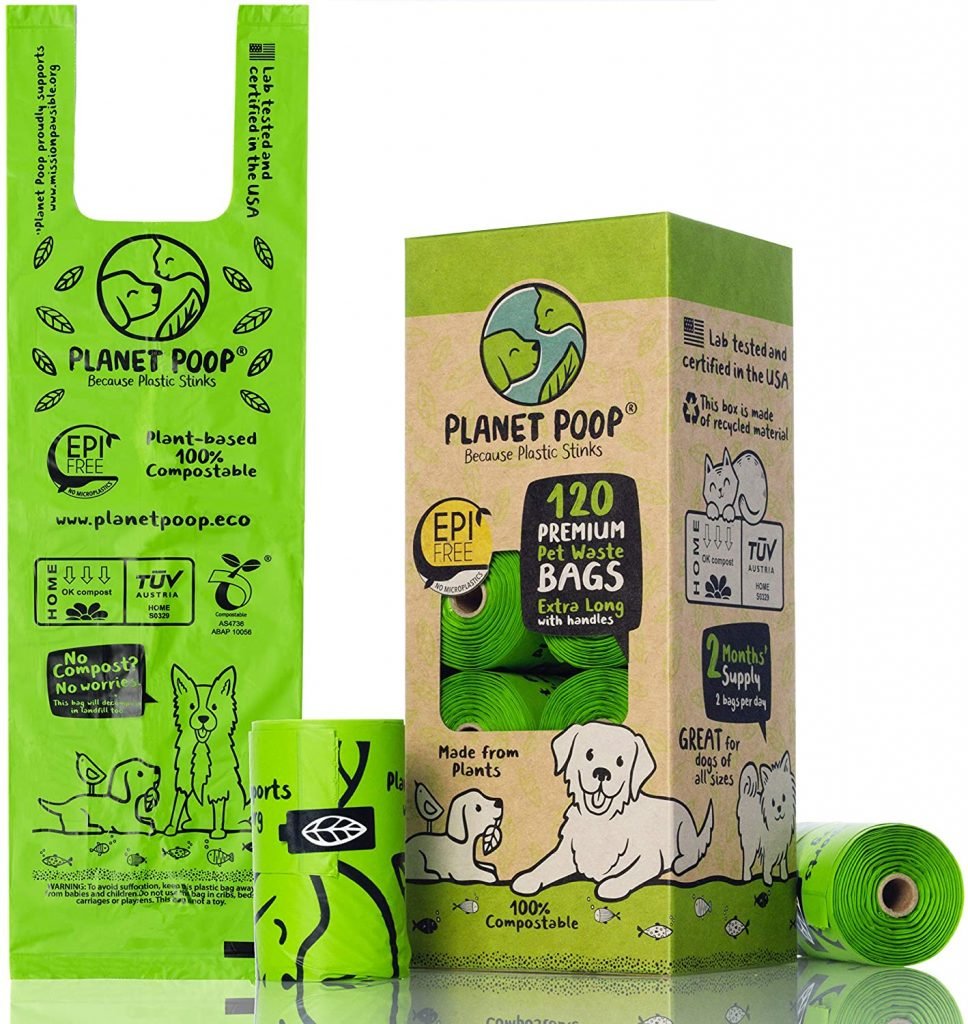 Being extra long means you're safe from getting any muck up your arm, while still having plenty of room for your hand. While this means their rolls are thicker than most they can still fit in most dispensers. Their handles are shorter than most but are still easy to tie with some space left over. The bags measure 8.5 x 16 inches.
The PLANET POOP compostable dog poop bag is made from a combination of cornstarch, cassava, and other renewable resources without any trace of EPI additives, plastic, or microplastics. These bags break down into water, CO2, and biomass when sent to a composting factory, but they can also be added to home composting. Their dedication to being non-toxic and compostable is shown in all of their advertising, showing true commitment to providing eco-friendly and compostable products to pet owners.
To back up their claims, PLANET POOP has added their certification from OK Composting Home by TÜV Austria. Just remember, dog poop itself isn't safe for composting!
This company supports Mission Pawsible in Bali, Indonesia every month. This not-for-profit organization is dedicated to dog rescues, rehabilitation, and rehoming. Every purchase helps support this fantastic cause.
Stretch instead of tearing at the seams
Impeccable customer service
Easy to tear perforations
Certified compostable and can compost at home
Handles can tear when tying
Small neck means you cannot invert the bags easily
Short handles
Moonygreen Dog Poop Bag with Easy Tie Handles
Moonygreen has checked and certified their dog poop bags three separate times to guarantee and prove their dedication to selling 100% compostable bags.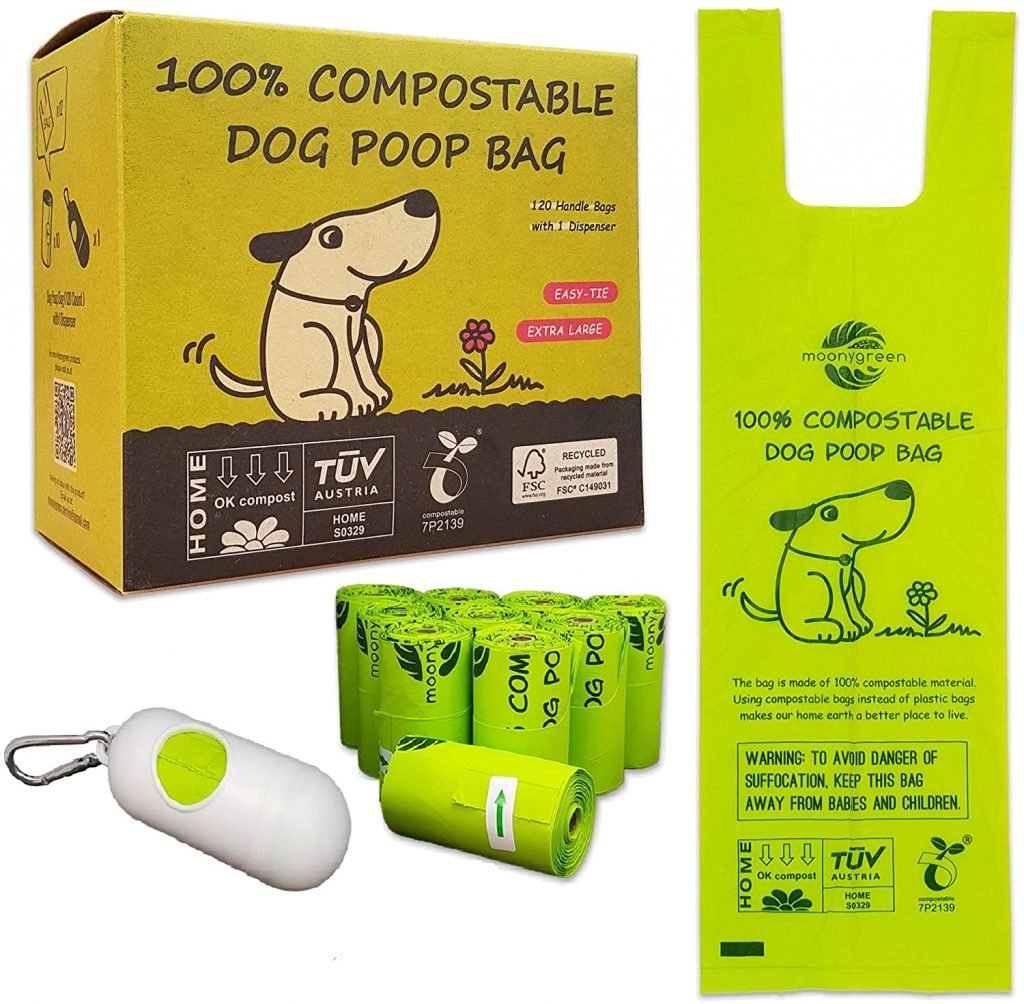 These pet waste bags with handles have certifications for ASTM D6400, European standard EN 13432, and OK Compost Home. This means that three separate organizations have proved that these bags compost in 90 days even with home composting. Made from vegetable-based materials, Moonygreen's bags will become carbon dioxide and water with zero toxic chemicals released.
There are three sizes to choose from. The most popular choice has 120 dog poop bags that come with a dispenser you can attach to a lead, with each bag 9.8 x 16 inches. The smallest size also comes with a dispenser but only 60 bags of 4 x 16 inches in dimension. You definitely don't need a dispenser with their large size which is more suitable for bins or multiple uses at 11.8 x 17.7 inches.
Moonygreen believes that "by offering a good consumption choice … we can make our environment better", and seems dedicated to providing green products. They are a subsidiary brand of Moonybaby, which manufactures baby monitors. While trying to reduce plastics in their main brand, they began to develop 100% compostable dog poop bags as well. They also claim that for every bit of feedback from a customer they will donate $1 to nonprofits who plant trees around the world.
Convenient and deep size
Easy to open
Sturdy and strong
Perfect sized handles
Not suitable for stockpiling due to their biodegradability
Feels like you're touching poop through the bag due to the texture
Dispenser doesn't clasp to retractable lead handles
BANMODER Biodegradable Dog Poop Bags
BANMODER biodegradable dog poop bags are one of the more recent products to go up on Amazon, available since only August 2020.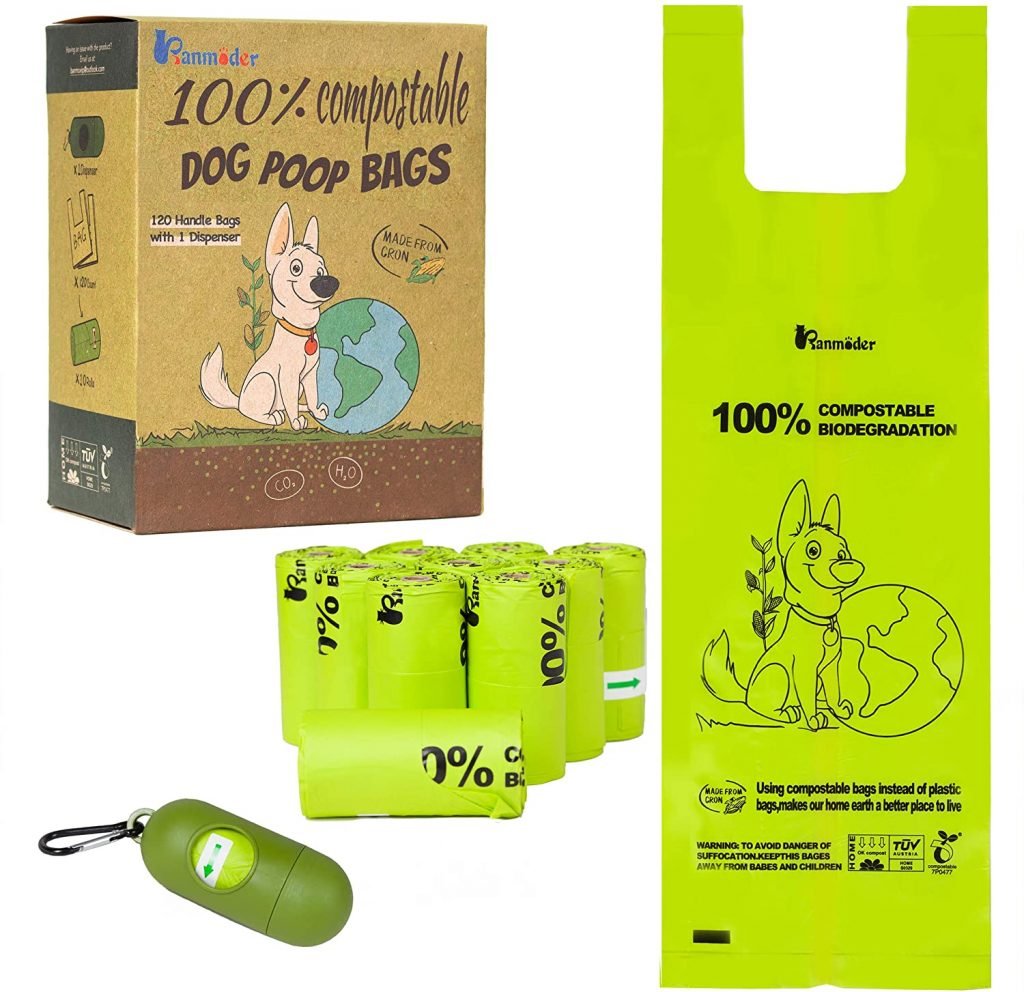 Certified by OK Compost Home and EN 13432, these compostable dog bags are free from EPI additives and are completely non-toxic. They're guaranteed not to break down into microplastics or pollutants, and make sure to use recycled paper-based materials for their packaging. When you're not using them for pet waste you can safely bury used bags in the soil and they will break down.
BANMODER only produces one size with one dispenser, but gives 120 bags, enough to last almost a third of the year if you're economical and reusing bags where possible. They are 9.2 x 16 inches in size, smaller than regular, and best used for small dog breeds and puppies.
These dog poop bags also come with a Full Refund Warranty, as BANMODER considers a customer's needs and concerns a top priority. Not only do they want to make the earth greener, but they also seek to provide the best customer and shopping experience.
Includes a reusable dispenser
Unscented means no chemicals
Full Refund Warranty
Compatible with most dispensers
Not certified ASTM D6400
Small size
Small amount of reviews
Ley's Dog Poop Bags
Ley's dog poop bags are some of the best value for money among compostable dog poop bags, with three certifications.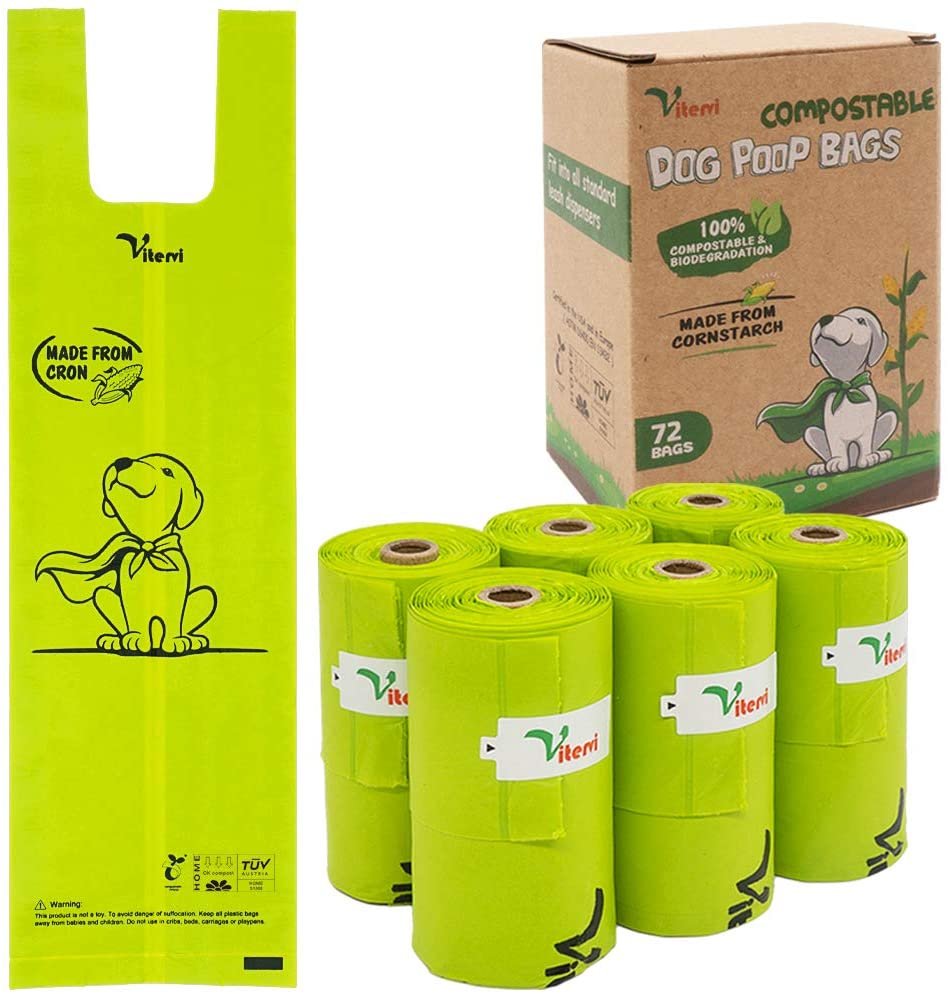 These bags have OK Compost Home Certification and have passed standards for ASTM D6400 and EN 13432 – having all three means these bags are guaranteed to be good for the environment! They will compost into water, carbon dioxide, and biomass within 90 days, whether put into home composting or a composting facility. There are no harmful chemicals released because Ley's compostable poop bags are made from vegetable starch.
At 9 x 16 inches, these large dog waste bags with handles have plenty of space for easy handling and can still fit in most standard dispensers. They are built thick enough to contain odors and keep durability even with water inside.
If you're browsing Ley's dog poop bags on Amazon, it's very important to make sure you click on their compostable bags, as the brand sadly also produces oxo-biodegradable dog poop bags.
Sturdy and flexible
Long enough to protect your arm
Convenient handles
Easier to open than most other bags, even in the cold
Can be easily mixed up with their oxo-biodegradable products
Small neck makes it hard to use with a pooper scooper
BioBag Compostable Pet Waste Bags with Handles
BioBag compostable pet waste bags are made by a company dedicated to eco-friendly bags for organic waste, so you know you're supporting a good brand.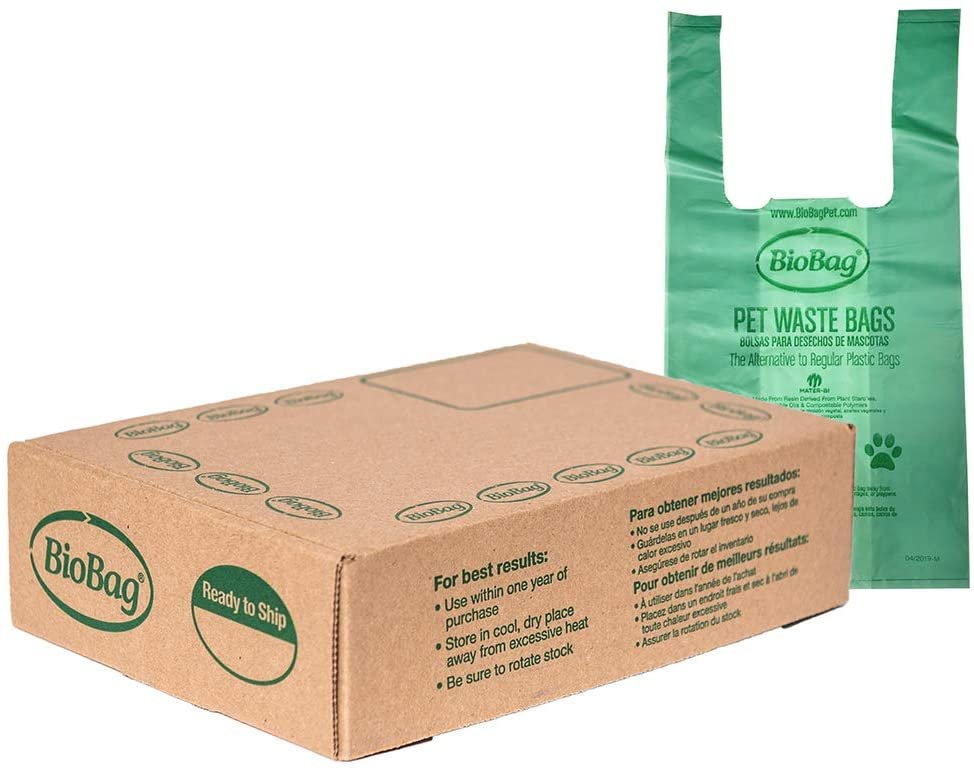 Made from plant resin, vegetable oils, and polymers, these bags don't follow the more conventional corn starch route. This means they will feel different from other compostable bags and plastic bags but are still a much better alternative to plastic. They also don't use any toxic chemicals.
These pet waste bags come in batches of 150. Measuring at 11.5 x 13.5 inches, these bags are about one-third handle so if you prefer long handles, these will be perfect for you. BioBag prides themselves on their "frustration-free packaging", using a recyclable box with no struggles pulling a bag out of its packaging.
BioBag compostable dog poop bags are BPI certified and meet the ASTM D6400 standard, so they're guaranteed to break down in a commercial composting facility. While they can't be home composted, they still advise using them within a year to ensure they don't begin to weaken and break while using them to pick up dog mess.
Softer and thicker than plastic bags
Great customer service
Easy to tie handles
Easily opened
Guaranteed compostable in industrial compostable facilities only
Hot weather makes them sticky
Become more fragile if left in a pocket for months
Buying guide for biodegradable poop bags with handles
Plastic bags make up a lot of unrecycled waste in landfills, and dog poop bags are unfortunately a part of that. When looking for an eco-friendly alternative, it's important that the bag maintains exactly what you're looking for. The last thing you want is dog muck on your hands.
We all know the ideal dog poop bag needs to be sturdy and durable. If a bag breaks easily or tears at the seams, it's going to cause more mess than not. Being leak-proof is also ideal, especially when you have to deal with the unmentionable fumble in the grass. Convenience should be highly prized as well. Nobody wants to struggle to open a bag while keeping hold of a lead and if you can't tie the handles properly you're going to end up with a foul odor and a struggle with juggling dog lead and bag.
Handles provide a lot of convenience for people, especially those who struggle with tying or have a big dog. Reusable dispensers can be very handy for storing bags but a lot of biodegradable dog poop bag manufacturers have forgotten those of us who prefer handles.
How to decide between compostable dog bags?
Deciding between all the different products out there can be difficult so I've made this guide to help you find the best biodegradable dog poop bags.
These compostable dog waste bags with handles seem very similar but there are some questions to ask yourself to find the best product for your needs.
Ask yourself:
Do you find short handles or long handles easier to use?
Do you use a pooper scooper?
Would you prefer a thick bag or are you okay with thin material?
Do you prefer long bags that cover past your wrist or do you wear watches that might catch on them?
Would you prefer good customer service if you had trouble with the product?
Does supporting nonprofits through buying products appeal to you?
Every one of the six compostable poop bags reviewed in this article has different pros and cons and finding the right combination for you is made easier if you answer even a few questions.
Both Doggy Do Good and PLANET POOP support dog-focused nonprofits regularly, while Moonygreen supports nonprofits planting trees when they receive feedback. Immediately you've chopped six choices into three with just one question!
Checking reviews by 'most recent' is also beneficial, because then you can see if there have been any bad batches lately or if something in the product has changed. Regular buyers will usually review again if something has improved or gotten worse.
Can dog poop bags really be eco-friendly?
The six biodegradable dog poop bags reviewed above are the absolute best I've found that are genuinely compostable and safe for the environment. Compostable bags are always better than bags advertised as biodegradable because compostability has to be certified by certain standards.
Unfortunately, a lot of products available contain harmful chemicals either to speed up degradation or to add scent. I have vetted the products to make sure they are truly eco-friendly and aren't tricking people into buying damaging products.
It's easy for brands to market "biodegradable" pet waste bags because they meet the bare minimum of expectations. Oxo-biodegradable bags are the worst offenders of this because they break up into microplastics.
Certified compostable dog poop bags are guaranteed to be eco-friendly. Made from vegetable products like corn starch, they can biodegrade naturally more quickly and safely than plastic, breaking down into water, carbon dioxide, and biomass – without any traces of pollutant chemicals.
Any scented dog poop bags are going to contain toxic chemicals due to the powder or perfume used to give this scent. The ideal bag should block the majority of odor when properly tied. If you store your bags in a bin, prepare for it to be smelly and maybe look into buying an eco-friendly air freshener.
In 2018, Kaitlin Lovering prepared a Comparative Analysis of Dog Waste Processing Methods for Metro Vancouver and found that composting was the only processing method with "the ability to reduce plastic use".
With more compostable alternatives, less plastic will be used and more facilities are likely to accept pet waste. Similarly, more pet owners buying compostable dog bags will increase the amount offered and help sway the market away from plastic single-use bags.
Storage tips for compostable dog poop bags
The big downside with genuine compostable poop bags is how long you can keep them stored away. If you store them near too much heat or moisture, they could start breaking down before you've even used them. Even frequent exposure to sunlight could weaken the material if you live in a hot climate.
Make sure to store your poop bags in a cool dry place out of direct sunlight. If you're using a dispenser, the same goes for the dispenser – especially if it gets too warm because the whole roll will start warming up.
Frequently Asked Questions
Conclusion
Buying the right biodegradable bags for you has two main factors: finding a truly eco-friendly product and making sure it fits your needs. Compostable dog poop bags with handles are the best option to guarantee that you're not damaging the environment.
The compostable dog poop bags I've reviewed in this article are all environmentally friendly and high-quality products. Choosing between them shouldn't be too difficult thanks to the handy pros and cons included for each product. Ask yourself the questions from the buying guide and you'll be able to narrow down which fits your needs and why.
Remember to dispose of your pet waste properly, whether you're throwing it, composting it, or flushing it – depending on what's available for you! Hopefully, there will be many more eco-friendly ways of disposing dog poop in the future. Until then, it's best to pick the most convenient and compostable poop bags.